Whether you're looking for inspiration for a new kitchen or you simple want to update your existing one, lighting is a great place to start. Kitchen lighting is not only a practical source of illumination but it helps to set the room's ambience and create a mood. We're here to help you with our kitchen lighting ideas, so let's get stuck in.
Define zones with lighting
The first of our kitchen lighting ideas is defining you zones. If your home has an open plan kitchen diner, create a space that works for every occasion with zoned lighting. An open area needs a versatile lighting scheme that helps to define the different activities that take place. Cooking and food preparation zones should be illuminated by bright task lighting whilst dining tables and entertaining areas should have a more relaxed ambience with softer lighting. Plan your room usage and choose light fittings suited to each separate area.
Add interest above a kitchen table
Create a contemporary statement look with a large light fitting above your kitchen table or island. A table is often the central hub of a kitchen diner, so a kitchen ceiling light hung above it will not only light up the area, but create a focal point as well. Choose a stylish pendant light and hang it individually or in groups of three in larger spaces.
Create a spacious look with plinth lighting
For those who don't know, a plinth is the panel at the bottom of kitchen cupboards. Adding light to plinths is a great way to bring modern illumination to a kitchen space. For instance, plinth lighting will make the room look bigger by lighting up a usually-dark area and flooding the floor with light. Place special plinth spotlights or LED strip lights along the bottom of your kitchen cupboards for a source of contemporary mood lighting that opens up the space.
Light up spaces with LED strip lighting
Strip lighting is also a versatile way to add interest to a kitchen. If you have shelves or an alcove in your kitchen, why not make a feature by illuminating them? LED strip lights come in 1 metre strips with tiny individual energy saving LED lights and can be bent and cut to shape to fit any space. To create a contemporary lighting effect, place a strip of lights along the back of a shelf or under a cabinet for a hidden source of illumination. LED strip lights often feature colour changing light for a colourful display that will wow guests.
Philips Hue LightStrips are also a great choice for lighting up kitchens. This clever lighting source is interactive and comes with an app that allows you to change the light colour from your phone and even play with amazing mood lighting features.
Utilise under cabinet lighting

The kitchen is one of the most practical areas of the home, so lighting should reflect that. In addition to this, worktops can often be dark and shadowed which isn't ideal when you're trying to prepare food. Under cabinet lighting will illuminate work surfaces and add a contemporary look. Choose single under cabinet spotlights or strip lighting and position them where light is most needed.
Illuminate work spaces with recessed spotlights
Recessed ceiling spotlights are a popular choice for creating a modern and minimalist look in kitchens. When installing spotlights, positioning is important. Instead of spacing them equally around the room, think about which areas need the most light such as the hob, the kitchen sink or a kitchen island. Place spotlights above these areas for focused task lighting that will make things much easier in the kitchen.
Use exposed filament bulbs
Exposed filament bulbs are a huge interior trend right now – they're a popular choice for restaurants and bars but look amazing in the home too. Squirrel cage bulbs and will add a contemporary look to kitchens. Alternatively, hang multiple bulbs above a kitchen island or dining room table for an edgy look.
Consider colour changing LED lighting
If you love to entertain and you're looking for something a little special to wow your guests, add colour changing lighting to your kitchen. Colour changing LEDs are a perfect source of ambient mood lighting for a kitchen. In addition to this, LED strip lights and colour changing LED lamps provide a rainbow of colours and can be placed anywhere around the room for a stylish ambience that can be adjusted to suit the occasion.
Make a statement with a kitchen chandelier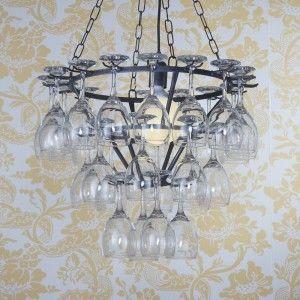 Chandeliers are no longer reserved for the dining room. For instance, Kitchen chandeliers will add a modern look and create a style statement when hung above a kitchen island. Wine glass chandeliers are an ideal choice for contemporary kitchen diners.
Add ambient lighting with lamps
Create a cosy look in kitchen/dining rooms with lamps. Whilst they might not seem like the best choice for kitchen lighting, with the right placement lamps can add ambience and make a kitchen feel more homely and less sterile. Light up dark corners with a floor lamp or place a table lamp on a sideboard. Just make sure not to clutter up busy work surfaces and keep wiring safely hidden away.
Feeling inspired? Visit Litecraft to find more examples of contemporary kitchen lighting. We hope our kitchen lighting ideas have helped you choose the perfect style for your interiors! Alternatively, follow us on Instagram for more lighting tips and ideas.