Statement pieces have the potential to liven any room and bring plenty of personality to a space. While some of us opt for vibrant feature walls, others will choose to make a statement through the furniture itself, going for eye catching colours and designs. However, another way you can indeed make a statement with your décor is through lighting. Statement pieces have indeed made a comeback for 2020, and lighting is certainly no exception. Our stunning range of chandeliers and pendants are wonderfully versatile and perfect for adding some personality to your home and are to be a feature that will wow any guests. Today we're taking a look at some of our favourites, along with a few tips to really help you nail the statement lightning trend.
Kitchen & Dining Room
Whether your kitchen/dining room decor is modern and minimalistic or rustic and traditional, statement lighting is an excellent finishing touch and is sure to be a talking point among any guests. It's important to get the balance right when it comes to kitchen lighting, as you want it to illuminate well enough for you to cook with ease, but also soft enough to create a relaxed atmosphere so you can unwind over dinner. Ceiling lights can be a great way to illuminate dining tables and worktops in your kitchen, and one of our favourites is the Visconte Bulla 5 Light Ceiling Pendant Light Bar, which is ideal for pairing with contemporary decor. The bubble effect bauble shades are sleek, modern and stylish, and feature energy saving LED bulbs that give a bright, warm white glow. Each pendant has an adjustable drop too, so you can tailor the height to your preferences.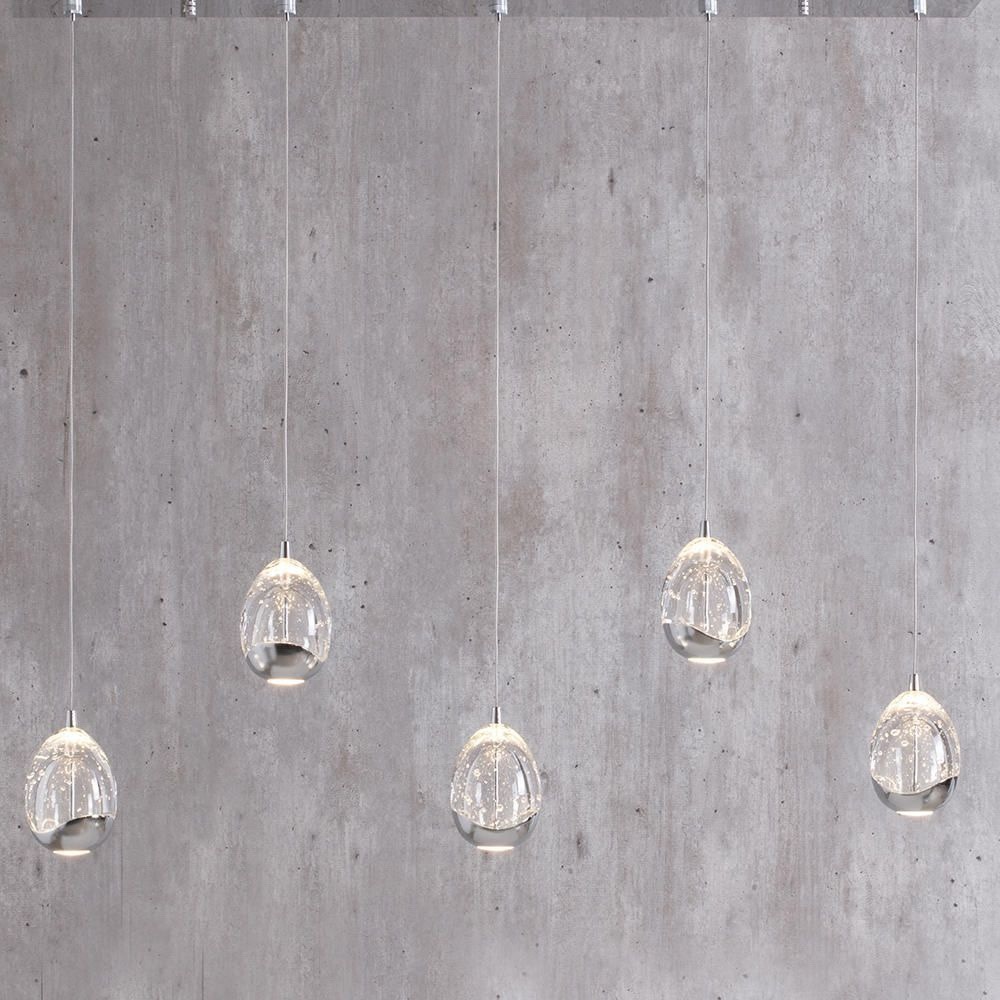 If you regularly entertain guests in your home, this 3 Tier Wine Glass Chandelier is one way to create the ultimate modern party kitchen. The metal frame, available in a choice of three colours, houses 28 wine glasses that will create a beautiful, sparkling look when lit, and it will look right at home suspended above your dining table for your guests to admire. For those who want something a little more traditional, we love this Madonna 12 Light Dual Mount Antique Brass Chandelier, which will instantly add the wow factor and create a beautiful vintage feel.
Living Room
Beautiful chandeliers are one way to create a living space that's luxurious and super stylish, and can work wonderfully with paired back decor which helps create a soft and relaxing atmosphere. For an elegant and classy look, the Marie Therese 12 Light Dual Mount Chandelier is a great choice, which gives a modern twist to the classic French inspired design, thanks to the sleek chrome mount.
If your living room features a busier, more eclectic decor, oversized pendants can be an excellent way to bring in some extra drama. We love this Visconte Corona 14 Light Spiral Pendant which will fit right in with modern decor and create the ultimate wow factor. The sparkle finish to the glass shades is perfect for bringing a touch of glamour, while the overall spiral effect is one everyone will be instantly mesmerised by. We especially love the warm copper finish which creates an almost rustic contrast with the modern design, but this stunning ceiling pendant is also available in chrome too, for those who want a fully futuristic look.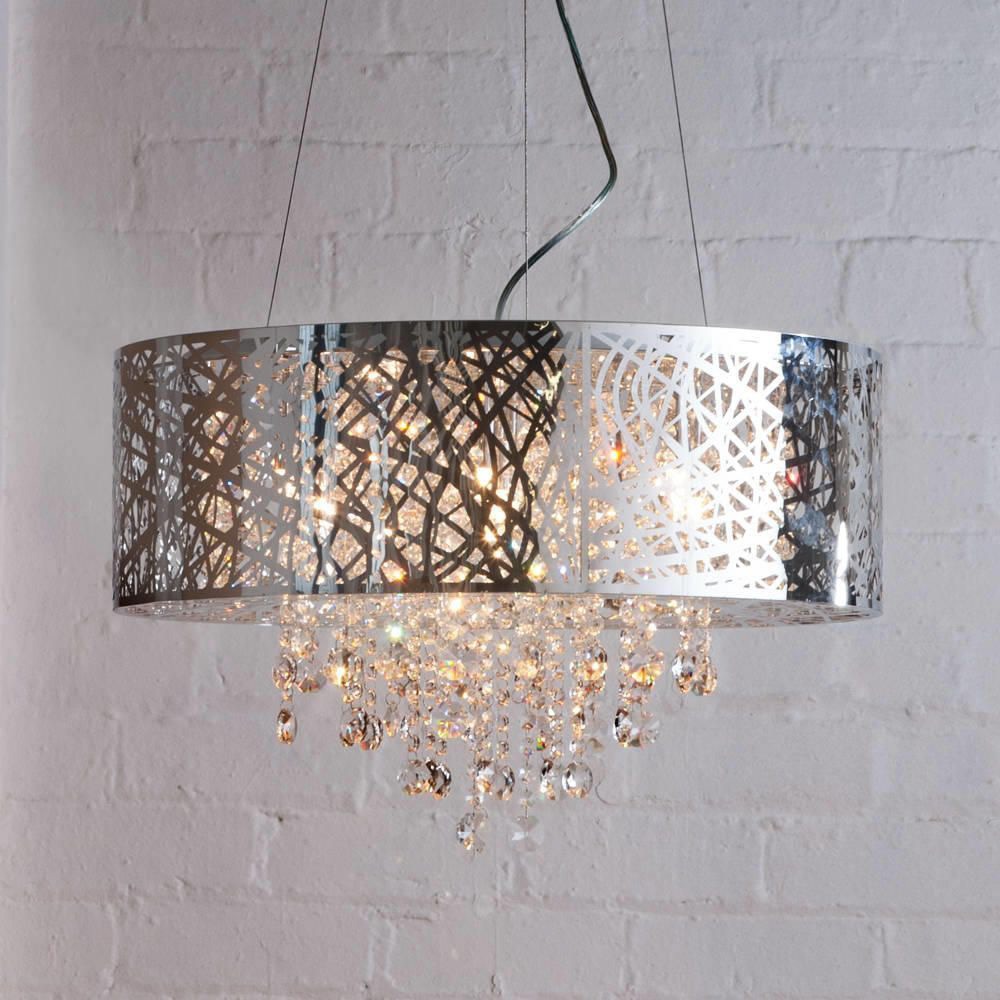 Speaking of chrome, we're big fans of this gorgeous Ashley Dual Mount Drum 9 Bulb Pendant Light which is sure to bring a contemporary feel to your living room. The cut out lattice detail is fresh and sleek, while the cascading crystal drops bring plenty of sparkle, creating a beautiful focal point for any room.
Bathroom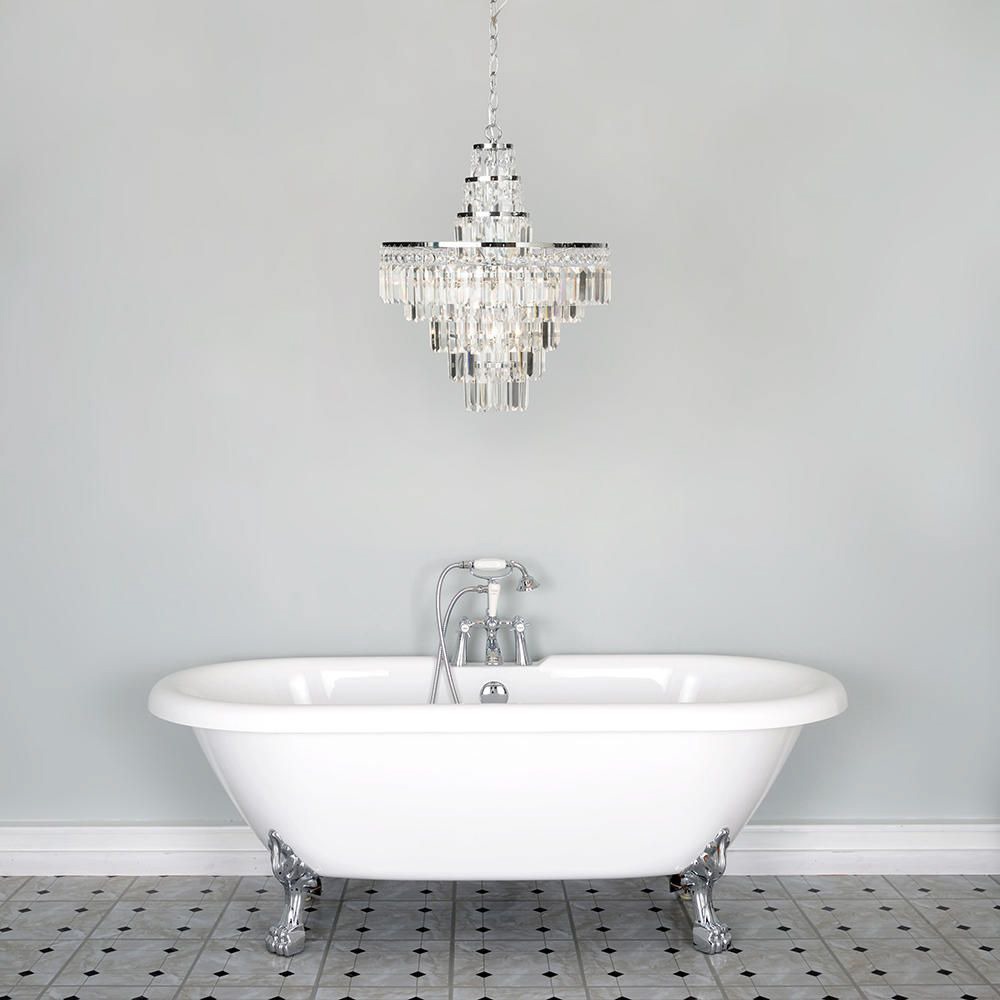 We've all dreamed of a beautiful, luxurious bathroom, haven't we? Statement chandeliers certainly have the potential to make that fantasy a reality, as you'll instantly discover when you shop our stunning range of bathroom lighting. In particular, the Vara 5 Light Bathroom Chandelier will be a glamorous addition to your bathroom, featuring crystal effect glass beads you'll be able to admire while you indulge in a luxurious bubble bath. Similarly, this Marquis by Waterford Annalee LED 8 Light Chandelier is the perfect combination of elegance and modern style, thanks to the intricate design and sparkling crystals, finished in a sleek chrome. Alternatively, for a touch of modern glamour, we love this Vasca Crystal Bar Large Bathroom Chandelier, which features 8 tiers of crystal bars that will be a show stopping finishing touch, not just to your bathroom, but any room in the house!
How to Perfect the Statement Lighting Trend
So, we've undoubtedly given you plenty of inspiration for how you can invite the statement lighting trend into your home, but you want to make sure you get it right too, so be sure to follow our top tips to ensure you perfect the trend with ease.
•Contrast is key for those who want to make a statement! Oversized pendants and chandeliers often work best when paired against a dark backdrop. This doesn't necessarily have to be the walls either - dark coloured curtains and furniture pieces will also work well at creating the effect. If you're worried about it looking a little too OTT, dial back the contrast with softer, more neutral colours instead.
•Choosing a piece that's to scale with the rest of the room and the furniture is incredibly important as it will ensure everything looks proportionate, so it's important to consider the sizing of your lights carefully. If you're not sure, blow up a few balloons to different sizes and experiment to see what looks best - it may seem silly, but it can really help with recognising if something will look too big in smaller rooms or if it will get lost in a larger space. Similarly, take into account the overall look you're trying to create too - are you wanting your light to be the main focal point of the room, or do you want it to be a secondary feature?
•Be practical with the height! There's nothing worse than hanging your gorgeous new light fitting and then having to duck and dodge whenever you walk under it. Make sure the height you hang it at is high enough to avoid any accidental bumps, but still enough to provide you with the illumination you need. Thankfully, many of our lights come with adjustable drops so that you can experiment with different heights if you need to.
If we've got you inspired to adding a statement piece to your home, be sure to check out our full range of gorgeous chandeliers and pendant lights. Whether you're planning a complete room makeover, or just wanting to give your space a lift, statement lighting is a fabulous way of bringing a little something extra into your decor.
Written by Amy Jackson - Content and Features Writer at Promo Codes For