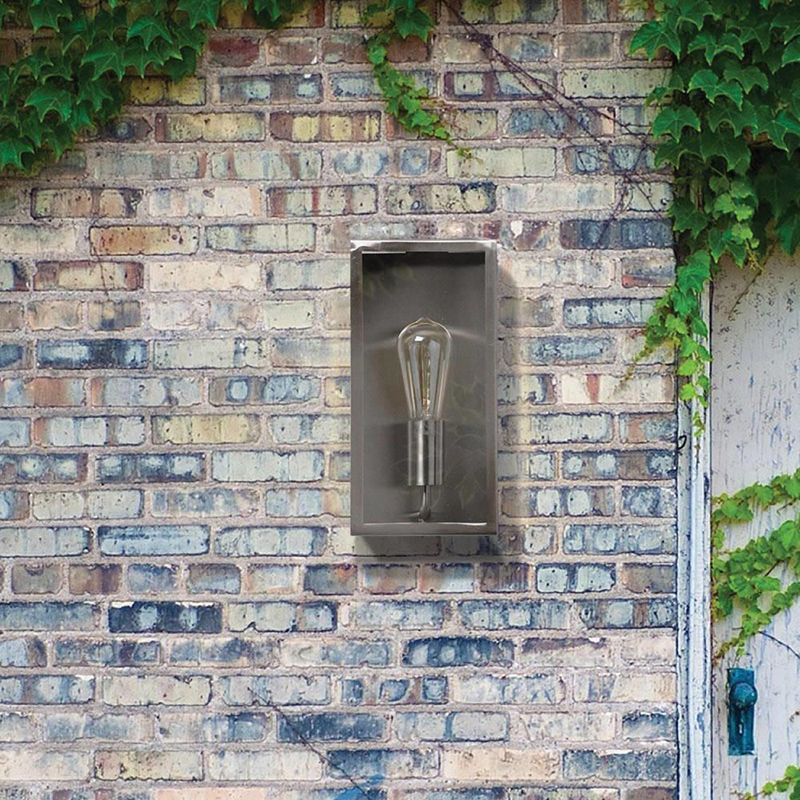 Litecraft's Exciting New Outdoor Lighting Range 2018
We're almost through April, swinging into Spring and itching for Summer! Which means in the coming weeks we'll be spending a lot more time in our gardens and outdoor spaces. It's this time of year that most of the UK get prepping on their gardens. Weeding, potting new plants, cleaning down the decking and patios and generally getting our outdoor spaces looking on top form ready for those lovely sunny days. These sunny days also bring mild mid-summer evenings, perfect for late alfresco dining in the garden and casual outdoor entertaining after the kids have gone to bed. When the sun goes down but you still want to entertain that's when you need to think about your outdoor lighting scheme.
Outdoor lights serve both a practical and a decorative purpose. Use them to light up dark corners that could potentially cause a trip or fall. Install as a guiding light to your entrance ways or add them around the perimeter of your outdoor spaces to up-light bushes and shrubbery. Install them at your doorways for a welcoming glow or hang them from decking for an ambience filled chill out area. There are so many ways to add light to your outdoor spaces and it just so happens that Litecraft have sourced a whole new outdoor lighting range to tickle your fancy. Some of our new lines are completely new designs, whilst others are existing lines but in a new finish such as our new Leto Wall Light in Polished Steel, take a look at our new lines below.
New Reeth and Astley Industrial Wall Lights
A trend that doesn't seem to be slowing down anytime soon is definitely the industrial trend. So why not add some rustic charm and nostalgia to your home exteriors with our new line of Industrial outdoor wall lights? Our super stylish Reeth and Astley Range feature a curved fisherman style tubular glass casing that allows for both a large expanse of illumination and also an exposed bulb element. The exposed bulb feature emphasises the industrial appeal and gives this range an urban feel. Our Woking version also features a black caged design around the glass shade. The Kew range is available in 3 finishes, polished steel, stainless steel and black whilst the Astley outdoor wall light is currently available in black.
Bacup Industrial Fisherman Wall Lantern
Carrying on the industrial outdoor theme is our new Bacup industrial fisherman wall lantern. A stylish Fisherman inspired lamp featuring a bulbous plastic dome incasing an exposed bulb. This lamp is finished in an anthracite grey giving an edgy urban appeal. The large plastic dome casing allows for a large expanse of light. This is an ideal fitting for lighting up an exterior entrance as it offers a welcoming and warm ambience.
Lancaster Globe Outdoor Range
A super stylish collection, our Lancaster Globe range offers a minimalist design. Featuring a large opal ball shade on a sleek black base. The large shade offers a soft diffusion of light for a more defined illumination. Our Lancaster collection is available in a wall light fitting and also a post design which enables you to create a complimenting outdoor lighting scheme for both your front entrance as well as your drive ways and path ways.
Marsden Wall Light Range
Moving on to a more sleek and contemporary look, here is our new Marsden LED outdoor range. A simple yet effective design, our Marsden lights feature a slim line rectangular fitting with energy efficient integrated LED bulb that gives an up and down illumination. We have two versions available in the Marsden Collection a 6 watt LED bulb and a 12 watt LED bulb. These lights would look great at an urban home entrance or for someone with a minimalist style, as the black finish offers an urban touch.
LED Colour Changing Wall Light Outdoor Lighting Range
Inject some fun into your outdoor spaces and liven up the party with our Colour Changing wall lights. Litecraft offer a wide range of outdoor wall lights, but sometimes it's nice to give your home some personality and pizzazz and that includes your outdoor spaces. Our colour changing wall lights are available as an uplighter with one bulb or an Up and Down option for a larger scope of light. Both lights come with a remote control which gives you a selection of colours to choose from as well as different light beams including strobe, flash and fade.
Leto Outdoor Up and Down Light in Polished Steel
We've added a new finish to our popular Leto outdoor lighting collection. Our new polished steel version joins our already popular anthracite, stainless steel and black finishes so if you're a fan of the super glam polished steel look for your exterior spaces then this outdoor wall light is for you. The up and down feature creates a long stream of light across a large expanse of surface. This fitting is ideal for lighting up the outside of your home or even an external wall. Our Leto range is a practical and affordable collection, that also provides a modern addition.
Athena 3 Sided Outdoor Lantern Wall Light
Traditional style outdoor lighting is still a popular look for a lot of homeowners, we believe it adds character and nostalgia. Whether your home is a Victorian terrace, a 1930's semi or a new build, a traditional wall lantern will give any outdoor space a smart addition. Our Athena 3 Sided outdoor lantern features a 3 panel design for optimum illumination and is finished in black for a classic look. Install near external doorways to offer a practical and welcoming guiding light.
Nelson Outdoor Spike Light
Everyone loves an outdoor spike light, so how could we not include a new one in our new outdoor lighting lines. Outdoor Spike lights are a great way of adding a quick pool of light onto a specific area, whether it be patios, walkways or even plant pots. These handy little gadgets simply stick into the ground, including grass, soil and even AstroTurf and direct a beam of light onto a specific focal point. Add depth and contrast by sticking spike lights into plant pots and rockery areas to highlight shrubbery and plants. Our new Wells Outdoor Spike light offers a discreet yet powerful beam of light. A black finish gives a stylish look, whilst the adjustable head allows for a direct illumination.
There's no time like the present to get your outdoor spaces glowing with ambience and illumination. To shop our latest outdoor collections, simply browse our online catalogue or pop into one of our UK stores today – we have stores in Manchester, Birmingham, Leeds, Newcastle, and Glasgow!