Transform your home into the cosy cabin of your dreams this autumn with our brand-new antler lighting range. We hope to inspire you to turn your home into a stylish hideaway with a toasty, atmospheric feel. So, if you're looking to put your feet up by a wood burning fire, surrounded by an abundance of blankets this season, keep reading. Check out our top tips in creating those comfy vibes that are so essential in cabin styling.
Use Our Antler Lighting To Create A Writer's Retreat Aesthetic.
Just like in the movies where the budding author goes on a charming get away to find inspiration and take a break from the world, you too can create the vintage homely feel in your very own living room. With hand finished furniture and snuggly sofas, you can guarantee a rustic style aesthetic that is sure to inspire the creativity in you.
To create the ultimate reading corner, pair a soft fabric armchair with our Rein floor lamp. The rustic floor lamp from our antler collection features a natural white linen shade. This beautifully diffuses a warm illumination outwardly, creating the perfect ambience when style next to a chair. The antler detail delicately wraps around the lamp base, displaying a glossy resin finish over the deep, dark wood colour.
How To Create A Luxury Forest Lodge Feel With Antler Décor.
Treat yourself to some traditional luxury when furnishing your home such as solid oak drawers or mahogany coffee tables. Additionally, you can add delicate ornaments to decorate your mantel piece or sideboard. Candle lit lanterns, plaid cushions and vintage wall signs can all help create an authentic woodland lodge feel. Just in time for the upcoming autumn and winter months.
Opt for a natural toned colour palette and emphasises a connection with nature and the outdoors. Soft brown and tan colours bring an earthy feel to a room, whereas beige, white and cream give a light and airy look which gorgeously bounces warm light from your fittings throughout the room for an atmospheric appearance.
The perfect statement lighting for your lounge or living room, our stunning Rein 5 light chandelier features a cartwheel design with overlapping wood effect antler detailing. The finish of the ceiling cap co-ordinates with the wood and resin finish of the chandelier and is attached to tall chain links which can be height adjusted to suit any ceiling height.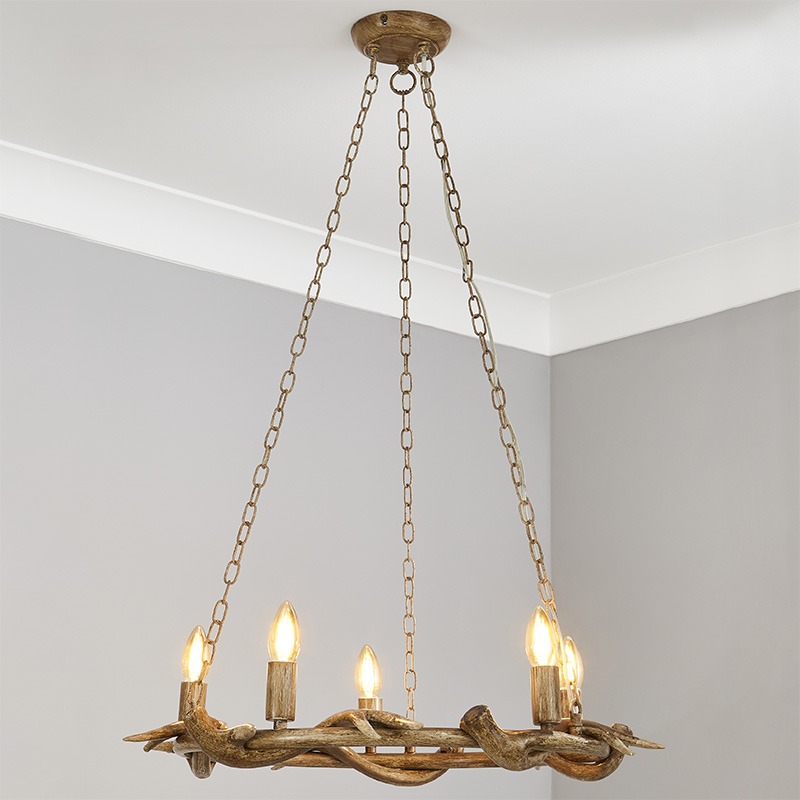 Chalet Chic.
Make a more wholesome environment for family mealtimes by redecorating your kitchen to fit a cottage or farmhouse style. For instance, wooden cabinets and countertops make for a fantastic addition to a chalet style home. The perfect way to offer a rustic charm that feels more homely than modern kitchens do.
Our Rein Diner Pendant Bar is the perfect finishing touch for this kitchen diner style. With a 4-light candle like design and overlapping wood effect antler detailing, this ceiling pendant provides a stunning statement look to your dining room that is guaranteed to make an eye-catching focal point when styled over a kitchen island, dining room table, or breakfast bar. Perfect for providing a warm, yet bright glow for your family to enjoy their dinner under.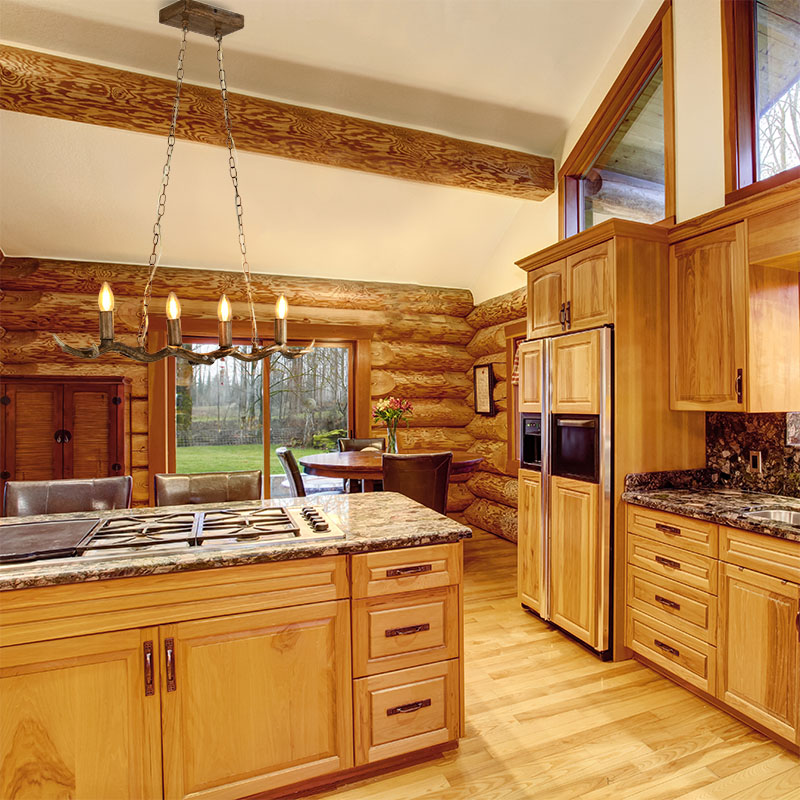 An Enchanting Escape.
Whether you're looking for a cabin-in-the-woods type vibe for Halloween, or more of a Santa's grotto feel in early preparation for Christmas, we hope this blog has inspired you to add a seasonal touch to your home with some cosy cabin styling and our gorgeous new antler lighting range.
At Litecraft we love to share pictures of our lights in your home across our social media platforms and newsletters. Don't forget to follow our Instagram @litecraftlighting and use #litecraft love when you tag us.
For updates on our exciting new lighting ranges make sure to keep up to date with the Litecraft blog page.