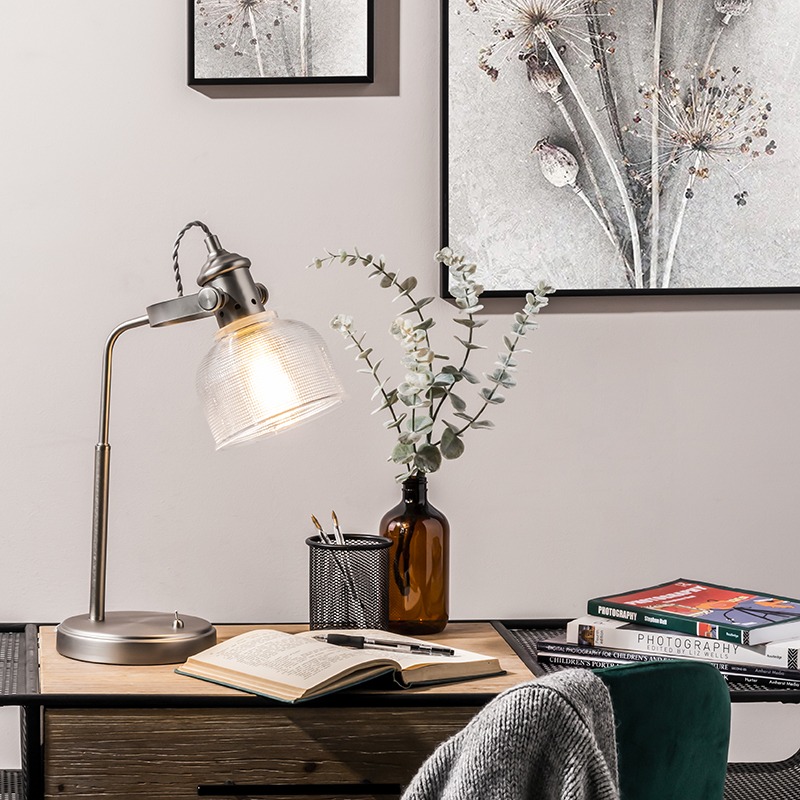 The summer of 2021 is almost over, and it's been a busy one to say the least. Filled with events like the Olympics, a slow and steady return to normality and a record-breaking year of academic achievements, it's safe to say this summer has been a season of success. With an influx of students going to colleges and universities, now is an ideal time to create your dream study space for revising in a dorm room or a quiet, peaceful home office. Whether it's for yourself or a family member, we're here to help you perfect your task lighting with some useful tips. But first, what is task lighting?
Task Lighting... What is it?
You may not have heard of the term 'task lighting' before, however we can guarantee that you will have made use of it at some point in your life. Have you ever switched on a lamp to continue reading when it begins to get dark? That's task lighting! We often refer to task lighting as a way to increase visibility and illuminance to accomplish specific tasks or activities. This can be studying, browsing the internet and anything else that involves the assistance of lighting. Task lighting can include table lamps, desk lamps, floor lamps and even decorative lighting depending on your desired aesthetic.
Create The Right Task Lighting
When it comes to task lighting, the aim is to have the right amount of lighting to allow you to effectively complete your projects, assignments, and any other tasks that you may have. If chosen incorrectly, lighting can actually have negative impacts on your ability to work. For example, harsh lighting can cause headaches whilst not enough lighting can lead to straining your eyes. The trick is to find the right balance.
To perfect your task lighting, we suggest an adjustable desk lamp that can direct light exactly where you need it. For instance, our Kenny LED Wall or Table Light has an adjustable head that's perfect for aiming over books and paperwork. It has a sleek aesthetic that's great for a range of interiors and can be adapted to become a table lamp or a wall light. The flexible design means that this task light is ideal for home offices and studies of all sizes.
Add Personality with Decorative Lighting
Just because you're studying or working doesn't mean you can't make your environment playful and fun. It's important to make sure that you feel comfortable at your desk. So what better way to do this than to add a touch of charm and character to your workstation. Adding decorative lighting is a great way to infuse personality into your space as well as providing functional task lighting.
Our Black Ampersand Table Lamp is a quirky alternative to your standard table lamps and task lights. The simple black design makes this decorative light easy to style within any room setting whilst also providing diffused ambient lighting that projects a soft glow, perfect for adding atmosphere and helping you relax within your workspace. This table lamp is battery operated, making it easy to install and move around to suit your needs. Studying doesn't have to be dull. You can light up your workspace with vibrant, quirky decorative lighting.
Convenience is Key
Spending hours at a desk can become draining and tedious, so it's a good idea to make sure that your set up is as simple as possible. There's nothing worse than fumbling around the back of your desk to flip a light switch. Especially when you're in the middle of studying. We're all guilty of having an "organised mess", so when it's the height of exam season and deadlines are fast approaching, convenience is important.
The Alabaster Shade Touch Table Lamp is a modern solution to simple lighting. With four different finishes, this practical table lamp is a versatile lighting choice for a variety of purposes. By tapping the stem or base, you can operate this light with ease, making it ideal for office lighting. The alabaster glass shade brings a traditional touch to a somewhat modern desk lamp. Whether it's to provide supportive lighting whilst using your computer or to add illumination when reading a novel, this practical table lamp is a fabulous choice for helping to keep your studying experience simple.
Indirect Lighting May Be More Effective
It may seem like the obvious choice to have "the big light" on whilst working as this is the one that we associate with being the brightest. However, this can often cause glare and sometimes headaches. To perfect your task lighting, we recommend using a more indirect approach. Lamp shades are a great way to spread light and create an atmospheric environment. They can soften harsh light as well as offer a stylish touch to the room.
Our Barcelona 1 Light Table Lamp is beautifully designed to diffuse harsh lighting and create a warm ambient glow. There are two finishes to choose from, which means you can tailor your lighting to match your décor as well as to suit your personal needs. The curving base and simple design is perfect for adding lighting to those small nooks and dull corners. The alabaster lamp shade reduces harsh light, meaning you don't have to worry about those pesky headaches. Or hangovers...
Remember...
Once you've picked your perfect task light, it's important to remember that there are a couple of things that may help you get the most out of your lighting. For example, which side to place your lamp. Depending on if you're left or right-handed, you need to make sure that your new table light is positioned correctly to avoid any shadows from your hand being cast over your work.
Again, consider the location of your windows as these also cast shadows and produce glares that can affect your studying. Especially if you're using computers, monitors, laptops, and anything else that may have a screen. Despite this, natural light is not a bad thing. It can help to add warmth to your room, you just need to ensure that you have the correct setup. Natural lighting should be in front of you. If you have a large window behind you whilst you're working, this will create overwhelming glares during the day. Positioning your desk to face north or south can also prevent sunlight from casting shadows during the day.
Finally, pair your table lamp with a suitable colour temperature light bulb. The temperature of a bulb can impact on things such as focus and the ability to concentrate. We suggest bulbs that are bright and have a cooler white to natural daylight range (between 4000K and 6500K). Choosing bulbs with these temperatures allows you to feel more alert and therefore ready to process information. If you're confused by the colour temperatures, you can get colour temperature changing lightbulbs that do the work for you.
Share the Litecraft Love
For more tips and tricks on how to perfect your lighting as well as keeping up with the latest interior trends, check out our other blog posts. We cherish our customers and love it when we see the snaps of our lighting within your homes. To feature on our Instagram feed or story, please tag us #Litecraftlove or #Litecraftlighting.