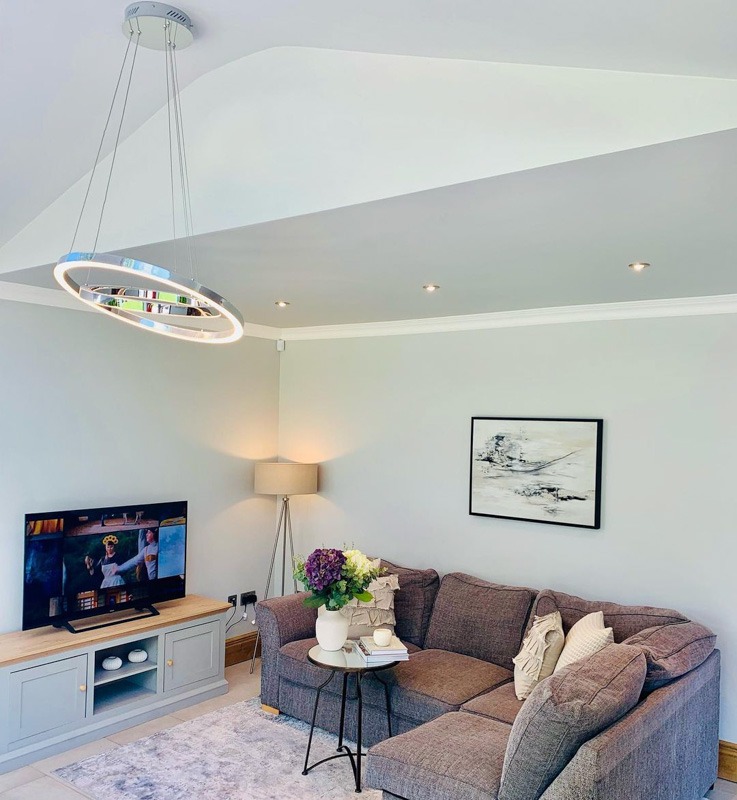 De-clutter your home with a "less is more mantra" and create a luxuriously modern space with help from our top styling tips. The minimalist aesthetic is a fantastic way to inspire a contemporary look in your home and it's also ideal for organising messy interiors to make the most of your shelves, surfaces, and storage spaces. Keep reading for inspiration on how you can incorporate some sophisticated simplicity into your home this 2022!
Understated Luxury with Minimalist Design
"New year new you". Start the year off right with a fresh, clean and understated aesthetic. Keeping statement pieces well placed and to a minimum can help to create a refined look that is guaranteed to make an impact. Dark panelled center walls, modern home ware ornaments, and minimalist-style luxury lighting are all ways you can make your interior stand out from the crowd.
The Visconte Barbarella 3 Light Cluster Ceiling Pendant perfectly encapsulates modern elegance, offering a subtle sparkle as the light shines out from the tubular crackle glass shades. Finished in chrome, this light also offers a high sheen appearance to your surroundings, creating a beautiful icicle type design.
Sleek Minimalist Kitchen Designs
Create storage options, compact cabinet designs and lighting can all contribute to a sleek and minimalist kitchen aesthetic. Integrated cabinets are a great way to instantly make you kitchen space look cleaner. Opt for cupboards and drawers with an inwardly bevelled edge rather than exterior handles, this will create the effect of clean vertical lines in your kitchen hardware for a symmetrical and visually balanced look.
Compact kitchen designs are a very on trend currently and are the ideal choice for smaller houses. By keeping your kitchen cupboards and surfaces close together rather than spacing them out, it makes the remaining space look much more open. Lighter themed interiors and minimalist designs also help in creating the illusion of a larger space as light reflects off the counters and white walls making the room appear bigger and brighter.
Complete this sleek look with the Visconte Bulla 1 Light LED Ceiling Pendant. This ceiling light features a gorgeously clear, tear drop shaped pendant with a stunning bubble effect for a decorative appearance. This pendant light is fully height adjustable, meaning that it is appropriate for both high and low ceilings, projecting a beautiful warm glow into your surroundings.
Muted Colour Palettes
Whereas minimalism doesn't mean you need a completely monochromatic look in your kitchen, a muted or matching colour scheme can offer a light and airy appearance to your interior and bring a sense of cohesiveness to your surroundings. Inspired by the Pantone colour of the year Very Peri, light blue and purple tones can usher in a feeling of calm and tranquillity within your home.
Chrome lighting perfectly complements this colour palette, offering a unique and updated aesthetic to any dining space, living area, or bedroom. The Visconte Tutti 7 Light Round Cluster Pendant features 7 individual pendant lights which cascade to create a spiralling effect. Each gorgeous pendant has a spherical design with a lattice cut glass effect, allowing for stunning patterns of light to be cast across your interior design as the integrated LED light emits a warm glow.
The Bedroom Pendant Lighting Trend
This simple but effective has taken social media by storm recently, offering a refreshing change from the traditional bedside table lamp. Instead interior decorators across the UK have taken to installing a single pendant light on either side of the bed, offering a symmetrical balance that makes your center bedroom wall even more of a focal point.
Our Visconte Gem Conical LED Glass Ceiling Pendant is the perfect mix of both glamour and simplicity, featuring a unique geometric conical type design with a chrome finish, allowing for a beautiful polished sheen in your home. These pendant lights are also fully adjustable to fit any ceiling height, and come designed with sparkle effect shades to add an extra subtle shimmer to your minimalist look.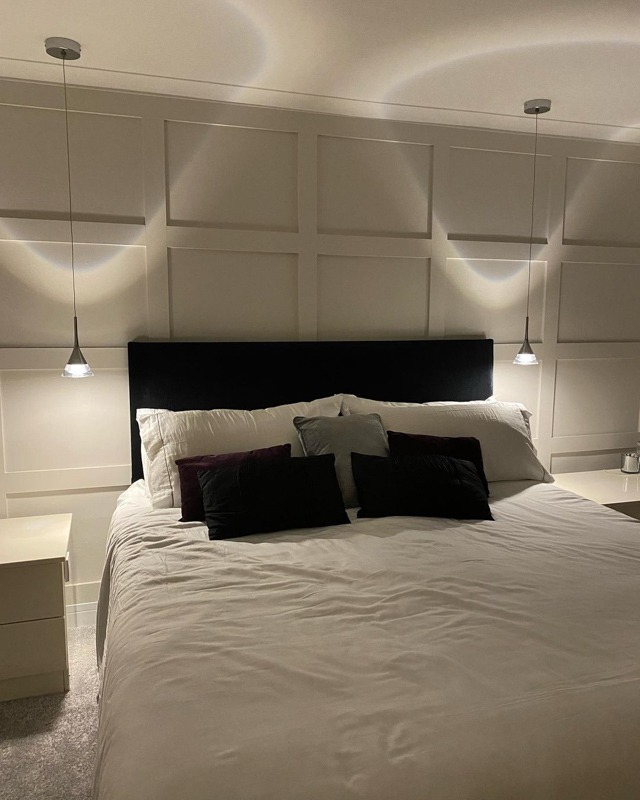 Relax and Enjoy the Luxe Minimalist Life
We hope this blog has helped you feel inspired to give your home a fresh new look in 2022. At Litecraft we love to see our products in your home images so don't forget to tag us @litecraftlighting across social media for the chance to be featured in our posts, blogs, and newsletters!
Happy New Year from everyone at Litecraft! We hope you achieve your #interiorgoals for 2022.