How to make a small room look bigger with lighting
How to make a small room look bigger with lighting. Many of us have spaces in our home that we wish were a little bigger. Whether you live in a compact apartment, or you're stuck with a smaller than average bedroom. A small room doesn't have to make you feel cramped.
There are many clever ways to make a room look spacious by using decor and choosing the right furniture and accessories. Sticking to a light colour scheme of neutrals and pastel colours is a basic way to make a small room appear larger, as is keeping the decor fuss free and minimalist. Mirrors will create the illusion of more space, and vertical stripes will elongate a room.
But how do you choose lighting for a small room?
Lighting is a key element of home decor, and making the right lighting choices can help to how to make a small room look bigger with lighting. Our tips and tricks show you how to use lighting to make a space look bigger.
1. Illuminate your room with bright light
Every small room will look larger when it's well lit, whether naturally or artificially. Therefore bright light is the best for 'how to make a small room look bigger with lighting' as it will open up a space. Also make it appear more spacious. However, if you're not blessed with a room full of natural light, or you simply want your room to look great after dark too, light fittings will help.
To maximise the light in a room and make it feel more open and spacious, use multiple light fittings in a space. Ceiling lights and spotlights can be complemented with wall lights, table lamps and floor lamps which will add extra lighting to fully illuminate a room. Hidden strip lights are a clever way to add extra light to a room without taking up any space. The brighter the better. If you want to create a cosier effect on a night, simple turn off some of these light fittings or fit a dimmer switch.
Light fittings with a very bright light output that will also help to fully illuminate your room. LED lights are a great choice for lighting up a room, as they are available in a range of brightness levels. This 7 watt LED bulb has a super bright light output of 540 lumens. What's more, LED's will provide a bright light output without using too much energy. Litecraft have a wide range of bright LED light fittings, including ceiling lights, wall lights and more.
2. Spread light evenly around the room
A single, downward facing ceiling light will pool all of the light in one area of the room. Instead, try spreading light evenly to draw the eye around the room and make it appear larger. Evenly spread light is a key element in opening up a space and lighting up dark corners.
Lights that direct light upwards and outwards, such as uplighters, will help to bounce light around a room. Recessed downlights, such as this pack of 10 chrome downlights, are another great way to achieve a bright and even spread of light. Place them across the ceiling of a small room to spread the light evenly.
One of the best ways to achieve bright and even lighting is to create a layered lighting scheme with a mix of ceiling lights, wall lights and lamps. In a small room it is tempting to think that you can rely on one single light fitting, but this is not the case. Use ambient lighting, accent lighting and task lighting to light up every area of the room and avoid shadows and dark areas.
3. Choose clear light fittings
The appearance of the light fittings you choose can have a big effect on the space of a room. If you want your room to appear larger, stay away from large opaque light fittings and dark coloured shades, which will draw in a room and take up too much space. Instead, choose light or clear materials. See through materials such as clear glass and acrylic trick the eye into thinking there's more space than there is. The Chita ceiling pendant is a great choice for small rooms, featuring a clear glass shade that allows the light to pass through. The Spiro clear acrylic pendant light will create a stunning style statement without overpowering a small room.
The Best Light Fittings on how to make a small room look bigger with lighting
Litecraft have a wide range of light fittings that are perfect for small spaces. To help you decide which light fittings would work best in your home, here are some examples of the best light fittings to choose for compact rooms.
Flush and semi flush ceiling lights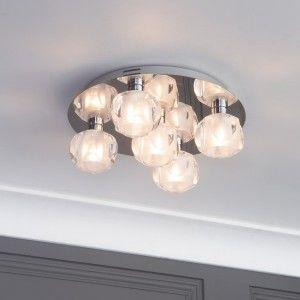 Flush and semi-flush ceiling lights are perhaps the most obvious choice when choosing light fittings for a small room. These light fittings are especially designed for rooms with low ceilings and a lack of space. Flush ceiling lights such as the Jodie decorative glass flush ceiling light sit close to the ceiling to create a streamlined look. The Diamond chrome 6 light semi-flush ceiling light is a great choice for small rooms. This is because it draws the eye upwards towards the ceiling for an illusion of extra space.
Uplighter Ceiling Lights
Create a style statement with a pendant or ceiling light. Stay away from lights that direct light downwards. Instead, choose an uplighter that will bounce light off the ceiling and diffuse it around the room. These light fittings are perfect for making a room appear bigger and brighter. The Vigo ceiling light and the Volos pendant light both feature shades that shine upwards. Thus to add a decorative touch and make your room appear more spacious.
Sleek Wall Lights
Wall lights are a great way to show how to make a small room look bigger with lighting. They will add ambient lighting to a room without taking up precious floor or surface space. In addition look for sleek and compact designs. Consequently the Maika 2 light glass wall light or the Ediso chrome wall light to keep your look clean and fuss-free. Place wall lights slightly higher than normal to draw the eye upwards and create the illusion of more height.
Compact Table Lamps
Table lamps are an essential addition to every room and small rooms are no exception. They will help to spread light around the room and light up dark corners, creating the illusion of more space. Be careful with your choice of style. Avoid a cluttered look by choosing compact designs. Such as stick lamps that won't interfere with the flow or a room. The Replica Circa 1949 lamp with clear glass shade and the white tripod table lamp are both great choices for maximising the space in small rooms.
Stick Floor Lamps
Adding vertical lines to a room will trick the eye into thinking that a space is taller than it is. Floor lamps are a great way to add a vertical element to a room. Choose a stick lamp such as the Marta chrome floor lamp or the Twist uplighter floor lamp. This will draw the eye upwards and make a room appear larger. These compact designs have the added bonus of saving space and creating a sleek and compact look.
These tips and tricks will help to make a smaller room appear larger. Just with the addition of a few new light fittings. Browse Litecraft's full range of home lighting for more ideas, inspiration... buy online today!
Check out our Facebook page for more on how to make a small room look bigger with lighting.