Bored of bland light bulbs? There is a new trend emerging for decorative light bulbs in the home. These stunning squirrel cage bulbs with exposed filaments are in high demand, and can be used in place of traditional light bulbs or on their own for an exposed look. Perfect for an industrial look inspired by antique designs with a hint of nostalgia. Take a look at our guide to decorative bulbs to find out more.
What is a squirrel cage light bulb?
Modern squirrel cage light bulbs feature an exposed filament inspired by the look of old fashioned bulbs. These light bulbs first appeared in the 20th century and were introduced by lighting companies who were developing metal filaments. The metal filament inside was threaded up and down on hooks to create this distinctive look. It was thought that the filament resembled a squirrel cage, which is where the name came from. Now, squirrel cage light bulbs are rapidly increasing in popularity thanks to antique-inspired trends. These traditional style bulbs are being used in bars and restaurants as well as being incorporated into home lighting. Squirrel cage bulbs produce a warm light temperature of 2000k, which is warmer than the colour of traditional light bulbs. This warm yellow light provides a distinct soft and cosy glow.
Types of decorative light bulb
Decorative light bulbs are available in a range of shapes and finishes. Take a look at the different types of bulb below.
Classic squirrel cage bulb
The classic squirrel cage light bulb looks just like the traditional designs from 100 years ago. It features a teardrop shape with a dimple of blown glass at the end. The squirrel cage filament glows inside for an antique look. The classic squirrel cage bulb is available with a screw cap or bayonet cap and is perfect for use in a ceiling light or an exposed fitting.
Globe squirrel cage bulb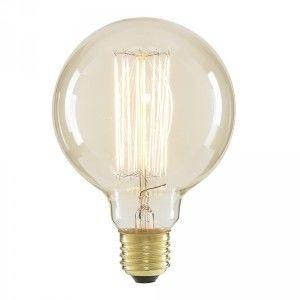 This updated version of the squirrel cage bulb feature a rounded globe shape with an exposed filament in the centre. This bulb is available with an E27 screw cap or a B22 bayonet cap to fit your existing light fittings. For a stylish look, mix the globe shaped bulb with the traditional squirrel cage bulb in a cluster.
Bent cap squirrel cage bulb
For a more unique look, the bent cap squirrel cage bulb features a candle shaped glass bulb with a bent tip. A twisted filament glows from within. This small bulb is perfect for use with chandeliers and wall lights for an elegant look and is available in clear glass or gold tinted glass.
Gold tinted squirrel cage bulb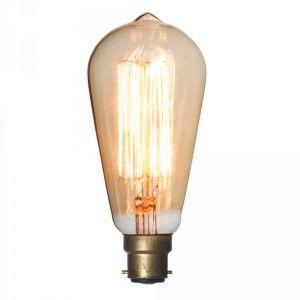 Decorative light bulbs provide a warm white light that creates a cosy, yellow hued glow in your home. To emphasise the ambient effect, some decorative bulbs are crafted from gold tinted glass. These beautifully coloured bulbs are perfect for creating that old-fashioned fireside look with traditional light fittings. Alternatively, create a style contrast with contemporary industrial style lights or exposed light fittings.
Spiral filament bulb
For a twist on the original squirrel cage bulb, new designs feature a spiral filament inside. This decorative twisted look creates a magical glow from within. Spiral filaments are commonly used in globe bulbs to emphasise the rounded look.
How to use decorative bulbs in your home
Decorative light bulbs are available with either an E27 Edison Screw cap or a B22 Bayonet cap, so they can be fitted in any lamp or ceiling light fitting with either type of cap. Decorative light bulbs are extremely versatile and can be used in a number of different ways around the home. Take a look at some of the best ways to incorporate decorative bulbs into your home decor.
Using a decorative bulb 'bare'
One of the most popular ways to style decorative or squirrel cage light bulbs is the 'naked bulb' look. This look has been embraced in many commercial settings but can also be used to create an industrial feel in your home. To achieve this look, simply attach your decorative bulb to a simple ceiling bulb holder such as the white rise and fall unit or the Tiffany ceiling chain. Simply screw the decorative light bulb into place. A single pendant is perfect for lighting up a dark area or a forgotten corner, but for added effect, multiple pendants can be grouped together. Try hanging three or more bare bulbs over a work surface or table for a stylish look. Or cluster a group or bare bulbs together to create a contemporary chandelier effect.
Using a decorative bulb in a light fitting
Decorative or squirrel cage bulbs can also replace a standard bulb inside a light fitting to enhance the overall design. This type of bulb is perfect for adding a touch of tradition to a light fitting. Squirrel cage bulbs are often paired with retro-inspired light fittings, such as the Dylan restoration diner pendant light or the Andrew enamel ceiling pendant to create an industrial style look. This look is popular in restaurants and bars. Decorative bulbs also work well in glass light fittings where the bulb is visible, such as the Nicklin star pendant light. Switching your standard bulbs for decorative bulbs is a quick and inexpensive way to update your lighting look. Find out more about styling exposed filament light bulbs in our decorative bulb style guide.
Using a decorative bulb outdoors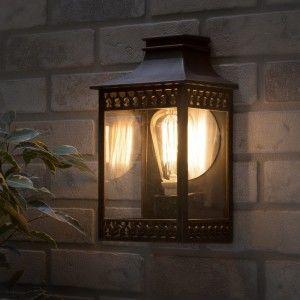 Decorative light bulbs look great indoors, but did you know they can also be used indoors too? To use these light bulbs outside, they must be fitted inside an IP44 rated outdoor light fitting to protect the bulb from water ingress. Squirrel cage light bulbs look great in both contemporary or traditional wall lights. Use decorative light bulbs inside wall lights such as the Ancora bronze outdoor wall light or the contemporary Hamble outdoor wall light to give your outdoor spaces a warm golden glow.
Litecraft have a wide range of decorative light bulbs and squirrel cage bulbs available online. Decorative bulbs are available in a range of shapes and cap types and can be purchased singularly or in multi-packs of 2 or 10. To view our full range, click here.