Interior inspiration - transparent lighting from Litecraft
There's something about transparent lighting and translucent forms whether it be glass, acrylic or any other see-through textures. They create a beautiful, whimsical and clear ambience. Transparent materials also give more light when a fitting is lit into an interior. But there's so much more to this type of lighting and today that's what we're going to talk about today.
These days contemporary lighting designs use glass and other transparent textures to create cool and practical light forms into an interior. Whilst originally seen as a more futuristic style and something you would see in a modern setting. Lately we're seeing at lot more glass used in vintage, industrial and more traditional settings for interiors. Transparent glass works best in a pendant form, used as a shade over a bulb or encasing crystal and suspended somewhere high where it can create a statement feature in the home. Or choose from our stunning range of Bell Jar Table Lamps that boast a cloche style glass dome over an exposed bulb.
Making the most of the illumination
It's clear to see that if you have a transparent shade over a bulb then the amount of light produced will be more substantial than if you were to install a light with a fabric shade. This in turn allows you to use a lower wattage of bulb. Thus reducing the cost of electricity in your interior. Using opaque or frosted glass will also give a smoother ambience.
Transparent lighting exposes the mechanisms of a light
What's appealing about transparent lighting these days is also one of the reasons why the industrial trend has made a resurgence in the world of interiors. Exposing the mechanisms and inner workings of such things whether it be a light, or a converted mill has really grabbed our imagination. We're embracing the design of a fitting and exposing how something works. Take for instance a bulb, not long ago we would make sure a bulb was covered with a pretty shade or encased in a lantern. These days we've done a full 360, hanging bulbs from decorative cables or placing them in wire cages around the interior.
Exposing the beautiful inner workings of a filament bulb and letting these little gems get some much-deserved recognition. Just like you would see the exposed beams and copper piping in a converted warehouse, transparent lighting lets you see the nuts, bolts and bulbs. For instance, our Jarr Glass Ceiling Pendant takes inspiration from an industrial style pendant. However features a transparent glass shade that exposes the bulb cap installation. Or our Star Lantern Pendant that showcases the bulb.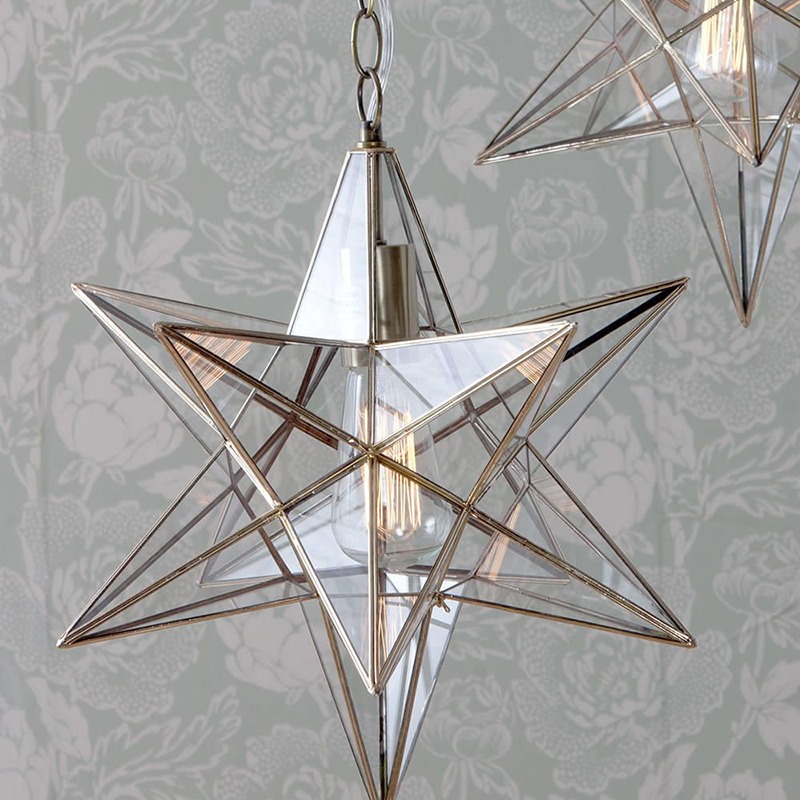 How to take care of transparent lighting
One thing you should bear in mind when choosing transparent lighting for your interior is the need to keep the glass clean and sparkling. Dirt and dust on glass can create a dimmed look to your fittings when lit. This can therefore diminish the look and quality of the piece. Litecraft advise that you include cleaning your glass lighting in with your regular cleaning routine. Also keep on top of the dust so there is minimum build -up of grime and dirt. Here are some simple glass cleaning tips.
switch off the fitting;
remove the glass fitting from the base if possible;
use soapy water and a clean cloth;
use a soft brush or cotton buds for intricate places;
buff with a dry cloth to finish;
leave to dry for a few minutes before placing back on the fitting.
Alternatively, Litecraft stock our very own crystal, glass and chandelier cleaner which will leave your fittings with a sparkling finish.
Litecraft's transparent Lighting Collection
Our buying team at LitecraftHQ take notice of current trends. This is why we're constantly updating our collections, giving you on trend designs as well as good quality lighting. And transparent lighting designs are something we've been manufacturing and sourcing for a while now. We've got an extensive range of transparent lighting, from globe glass shades to cluster glass pendants, filament bulbs to acrylic table lamps. See below for 10 of our best fittings from our transparent lighting section.
Check out our Social media pages, including Facebook, for more inspiration.