Welcome a winter style into your home that'll look amazing all year round with the uber stylish Scandinavian trend. Taking inspiration from the experts, this style emerged in the early 20th century and began to thrive in the 1950s. Most recently, with a modern update, we have seen this trend come full circle and dominate the interior design industry with a "less is more" mantra, finding beauty in its simplicity.
Style your Scandi Interior around Lighting Arrangements
During winter, Scandinavian countries can see as few as seven hours' daylight so one of the most important aspects of this style is the way in which lighting is utilised around the home.
Create a cosy space in your home with warm toned illumination, while still maintaining a feeling of fashionable minimalism through the use of pendant lighting. The Falmouth White Glass Ceiling Pendant in Copper is the perfect inspiration piece for a Scandi kitchen design. When styled over a kitchen island or breakfast bar, this light looks striking with a white glass finish and an accent of copper. Combine wooden flooring, work tops or cupboards with metallic finishes like copper and brass for a rustic and lived-in design.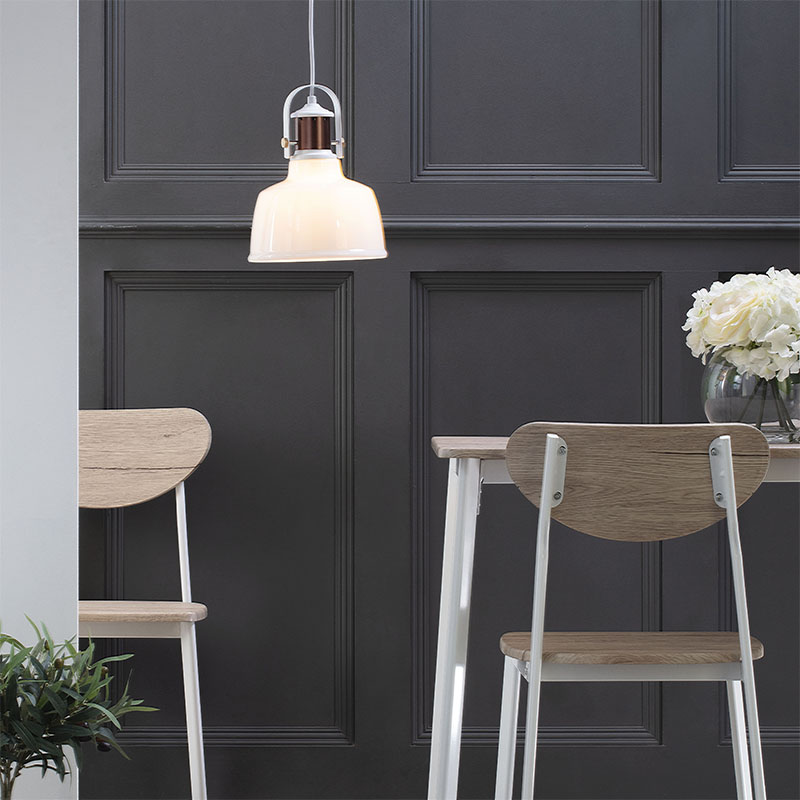 The Scandinavian colour palette focuses on neutral tones such as grey, white, brown, and black. High contrasts such as white and black are ideal to showcase a dramatic and impactful aesthetic in your interior. Why not choose a wall light to contrast the colour of your walls?
The Chobham Industrial Style Single Adjustable Spotlight is available in both black and white for a dark or lighter themed decor. Offering a minimalist appearance with great functionality via directional and adjustable lighting.
Or perhaps carry the trend through to the bathroom with the Preston 1 Light Bathroom Globe Wall Light? The matte black finish of this wall light has a striking distinction from the white opal shade on the top, embodying the Scandi look perfectly, evoking a modernistic look where ever it is placed.
Clean lines and smooth rounded edges also contribute to the Scandi aesthetic, giving an understated but refined look to your home that is very harmonious. The Small Globe Frosted Glass Vase Table Lamp has a simplistic and spherical design, making the perfect ornamental addition to a living room or lounge area. The vase design also features a brushed texture to the frosted glass which is reminiscent of hand-made traditional pottery, circling back to the rustic and wholesome ambience that Nordic styling brings.
Scandinavian interior décor brings the greatest feeling of warmth and cosiness when incorporated into the bedroom. Layer chunky knit blankets, cushions and soft rugs for a true winter look that keeps out the cold. Partner your textiles with wooden bed frames, drawers and desks and finish off the look with a simple yet eye catching pendant light, bringing the room together for a cohesive look.
This Lunar 1 Light Fabric Pendant Ceiling Light features a material structure and unique and minimalist design with a simple white finish that looks striking against darker themed walls. This pendant offers an incredibly contemporary appearance while diffusing a warm toned illumination into the room via the fabric material for a great beam of practical light throughout
It's clear that the Scandi trend is taking the interior design world by storm and with its influential style being shared widely across social media, blogs and magazines, it shows no signs of fading into the background any time soon.
For more styling tips and tricks check out our other posts on the Litecraft blog section and be sure to follow our socials for regular updates on all our latest and featured products.