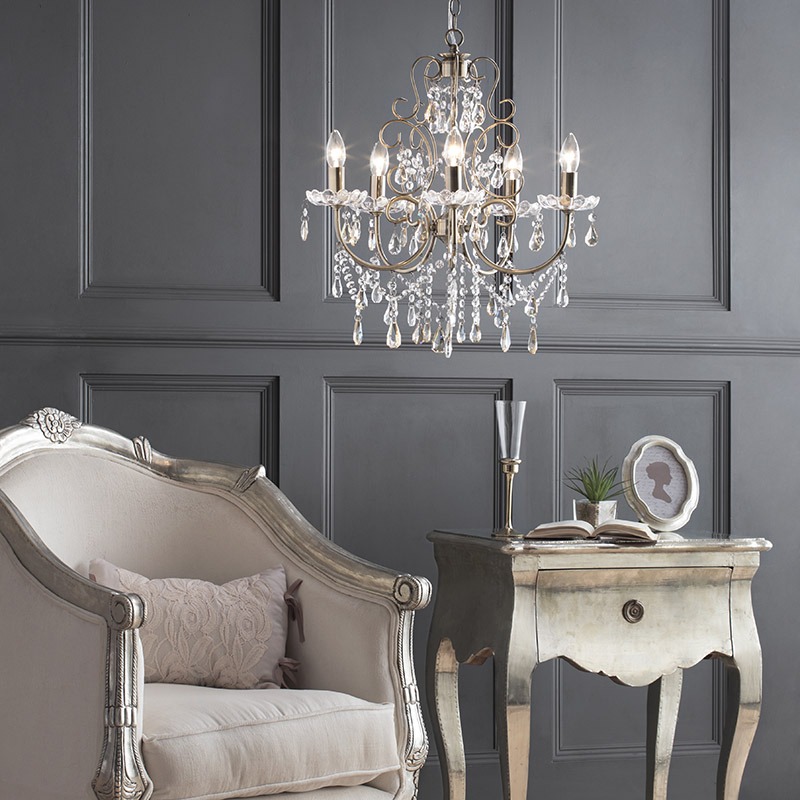 Inspired by the extravagant lifestyle of the French Monarchy throughout history, Parisian décor is the perfect trend for embracing glamorous French country living, even if you live in the city. From classy, high ceilings and tall narrow windows to decadent fireplaces and beautifully designed lighting. This elegant style ensures a shabby chic aesthetic with a touch of glamour and drama. Read our blog to find out how you can incorporate this trendy interior style into your home!
Antique Style Furniture
Quintessential French décor is defined by the antique and elegant style of furniture with a high standard of quality used. Two popular trends we see within this style are cabriole furniture frames and studded chairs, sofas and headboards. Cabriole legged furniture is often shaped of two curves creating a decorative aesthetic.
Complement this furniture style with the L'amour Easy to Fit Light Shade in Grey. This gorgeous shade features curving chrome arms that perfectly suit the cabriole style and a stunning pleated fabric effect that offers an air of delicacy to your interior. Draped in crystal effect droplets and beading, this gorgeous shade is guaranteed to bring the glamour of the Parisian style to any room it is placed in.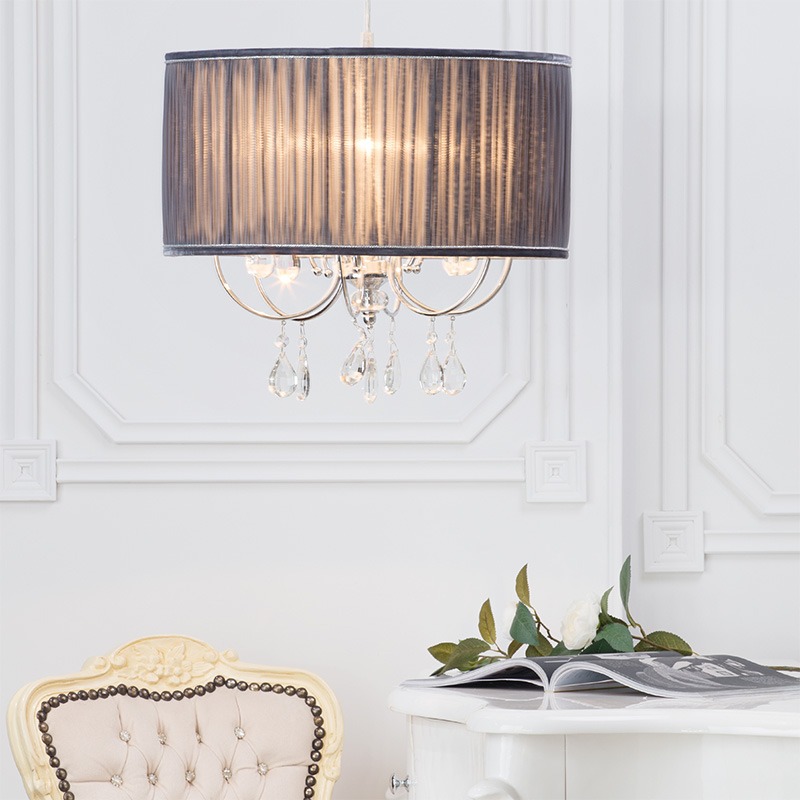 Parisian Décor: Subtle Colour Palettes
Inspire the dreamy Parisian dream in your home by incorporating a subtle colour palette into your interior décor. Creams, whites, and light pinks complemented by antique brass tones and deep oak, or mahogany sideboards and tables are the ideal ways to perfectly balance light and dark neutral tones for the classy French country ambience.
This beautiful 1 Light Twist Table Lamp Base features a stunning antique brass design with overlapping twisted detailing that wraps around the stand to create an intricate ornamental appearance. The neutral Ivory toned shade gorgeously fits any subtle colour palette, bringing a soft sheen to the room.
Accent Lighting
Create a gorgeously lit, ambient living area in your interior with the perfect accent lighting for your spaces. Using wall lamps as accent lighting is a stunning way to add a warm illumination to any darker areas that are in need of light. Not to mention they look ideal when styled in pairs on either side of a hallway, mirror, or bed. Accent lighting is perfect for highlighting and making a focal point of any standout pieces of homeware or décor.
Add shimmer and sparkle to your interior with the Madonna 2 Arm Wall Light in Antique Brass. This ornate wall light features a dainty curved frame and is also draped in champagne tinted crystal effect droppers. This offers a stunning, timeless aesthetic to your interior. The candle-like sconces give a beautiful classic appearance, bringing a soft twinkle to your surroundings.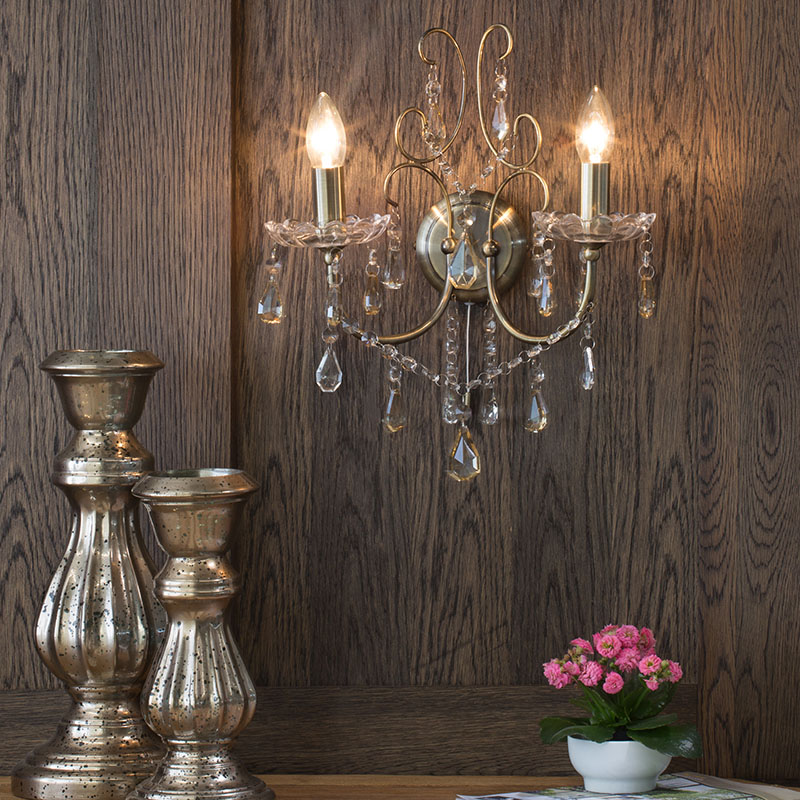 Parisian Drama
Complete the Parisian dream with a dramatic centrepiece. A classic chandelier look is perfect for creating drama within your home and bigger is better. For instance, our Marie Therese 12 Light Chandelier comes in a decadent gold finish for a feeling of extravagance and luxury. Additionally, with a dual mount feature you don't have to worry about low ceilings as the height is adjustable. The chandelier features 12 curving arms adorned with a stunning array of crystal effect droplets that sparkle when reflecting light. Style this magnificent chandelier in any entry way or stairwell to achieve a look that will make your home feel like you're in a beautiful château in the south of France. We're swooning!
Unwind In Your Parisian Style Home
From antique furniture styles that date back to the era of Louis XIII to summer château styling, there's something for everyone. We hope this blog has inspired you to try out the Parisian décor style for yourself.
We love to see you display our lights in your fabulous homes so don't forget to follow us on Instagram and tag us @litecraftlighting. You can also use #litecraftlove for the chance to be featured in our social posts, stories and even newsletters!
In addition to this, visit the main Litecraft blog page for our top trends, tips and tricks!