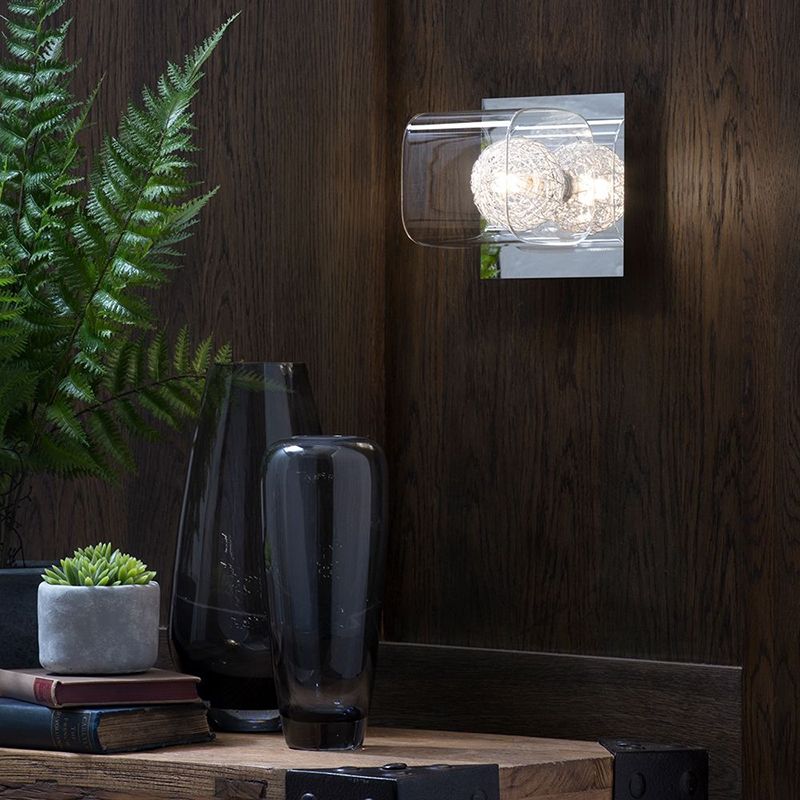 Illuminating your bedroom is a task that offers a wide range of possibilities and options, with a range of different themes and styles available to be brought into the designs of the room. This means you'll be able to create a personalised feel inside of the room which is sure to make the space a more comforting and relaxed place to spend your time. Wall lights are an excellent way to give a soft and soothing form of illumination to your bedroom, making it a wonderful place to unwind inside of at the end of the day, helping you to feel less stressed and ready for a deep and relaxing sleep that will leave you refreshed and rejuvenated in the morning. This blog will show you the simple tricks for bringing exquisite wall lighting into your home, helping to guide you towards the perfect fittings for your décor.
How to choose the right wall lights
Wall lighting comes in a wide variety of different shapes, sizes, and styles, so it is important to take your time when selecting the fittings you are going to use inside of your home. The right wall lights for the bedroom will offer a soft and relaxing glow to the room, whilst also giving a useful spread of light that can be utilised for reading a book or creating a more comforting atmosphere, so warm white light is definitely the right choice. Modern wall lights tend to have a simplistic urban design, featuring sleek curves and straight edges for a contemporary look. Our modern lighting also usually have clean and fresh finishes, such as a smooth chrome effect.
Litecraft's top modern wall lights
Finding the ideal modern wall fittings from your home can be quite a difficult task with so many different options available, so taking the time to view a wide selection of different features can help you to ensure that you've found the right piece for your interiors. Here at Litecraft, we have a truly stunning range of wall lights for the bedroom, each of which brings its own unique design and tone to an interior, helping to produce a more personalised feel and a wonderful sense of character inside of the room. Here are our top picks for modern bedroom wall lighting:
Normandy 1 Light Glass Wall Light – Chrome: This fashionable modern wall lights is the perfect way to give an elegant and contemporary image to your bedroom, with the combination of sleek urban design meeting a sophisticated shine in a truly brilliant manner. The fitting features a simple chrome base with a rounded smoke shade, which encases a set of gorgeous droplets around the light for a unique and elegant shine inside of your bedroom;
Monet 1 Light Champagne Tinted Glass Wall Light – Chrome: For a more unusual modern image inside of your bedroom, this 1 light Monet fitting is a fantastic fit, with the sleek chrome structure and champagne tinted glass shade giving a unique shine to the piece, resulting in a sophisticated contemporary theme inside of the interior. This wall light will give a soft glow, with the tinted shade offering a soothing feel to your bedroom;
Industrial 1 Light Diner Style Wall Light – Copper: To give an alternative look to your bedroom's designs, why not consider a more industrial style image by introducing this diner style wall light in copper to your home! This light has a robust mechanical inspired design and is great for use in any bedroom looking for a practical style of light and a unique urban look. Finished in copper and featuring a braided cable wire, this adjustable light will give the ideal style of light for reading and relaxing before you drift off to sleep.
If you are looking for a fitting that gives a more elegant and modern feel to the room, why not browse our stunning range of bedroom chandeliers.
Shopping for the perfect lights here at Litecraft has never been easier, with our dedicated blog page offering information and guidance on a range of different themes and rooms, with a huge online catalogue providing a quick and convenient look at every fitting we have to offer. You can visit us either online or in store to browse our range, where you can also chat to one of our representatives who are more than happy to help you find the right fittings for your interiors.