If you've been looking for a way to jazz up your home décor with a fun seasonal look, Valentines Day is the perfect holiday for you! We hope our Cupid approved interior ideas get you in the mood for the season to create an Instagram-worthy loved up look in your home.
February is often seen as a transitional period and is recognised in some parts of the world as the beginning of Spring. There may still be the odd grey sky but brighter days are definitely ahead. The feast of St Valentine is great for adding a splash of colour. When we think of love and the warm, fuzzy feelings it stirs in us, the hues of red and pink instantly spring to mind.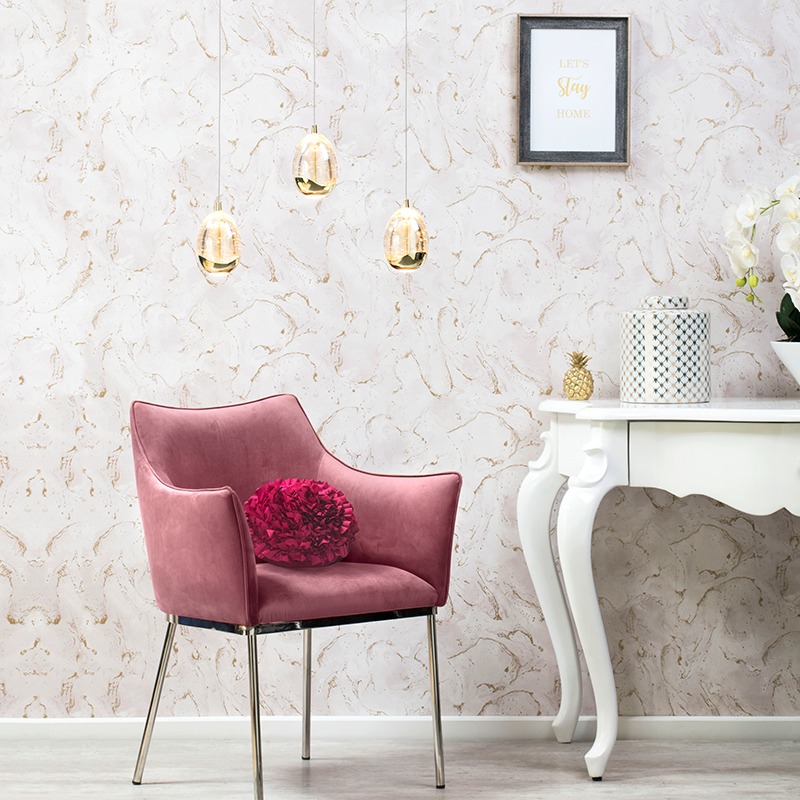 Get Cosy With Cushions This Valentines Day
Add a touch of amour to your space with our Venus Round Cushion. With a vibrant pink finish and a gorgeous, ruffled design, the cushion imitates a rose petal texture, giving a quaint and charming look to your room, perfect for snuggling up with your loved one. Double up on this design for a stylish, matching appearance either side of a bed or couch, offering an extra layer of comfort to your interior.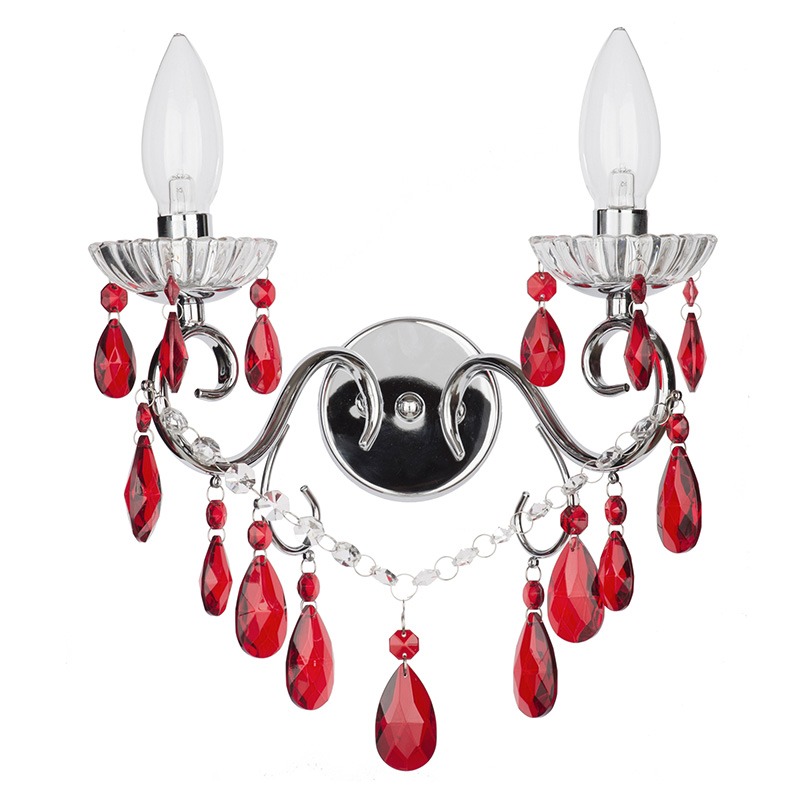 Set The Mood
Mood lighting is key to setting the ambience of a room. Opt for a bold wall lighting accent such as our Vara 2 Light Wall Light in chrome, bejewelled with stunning passion red crystal-effect droplets that drape from the curved structure. This wall light creates a subtle, warm illumination across your room and gives a gorgeous decorative aesthetic, bringing a hint of romance wherever it is placed.
Be bold and accentuate your lighting features even further with the Vara 9 Light Chandelier, also adorned with striking red crystal-effect beading, for an elegant and timeless aesthetic that offers a stunning contrast to neutral-coloured interiors. This fitting is IP44 rated, meaning you can have style and safety whilst creating a Valentine vision in your bathroom. This chandelier would look equally as stunning placed above a dining table as a dramatic centrepiece, sure to wow any dinner guests you invite over.
Add A Scent
Our diffusers and candles are the perfect gifts to the senses. Our romantic recommendation would be the Geometric Rosehip and Berries Reed Diffuser, which offers a delightfully natural and fruity aroma. Fragrant layers of lily of the valley and jasmine create a musky wood base, complemented by a sparkling blend of refreshing red berries and a zingy heart of rosehip. Essential for creating a lush and relaxing ambience in your home.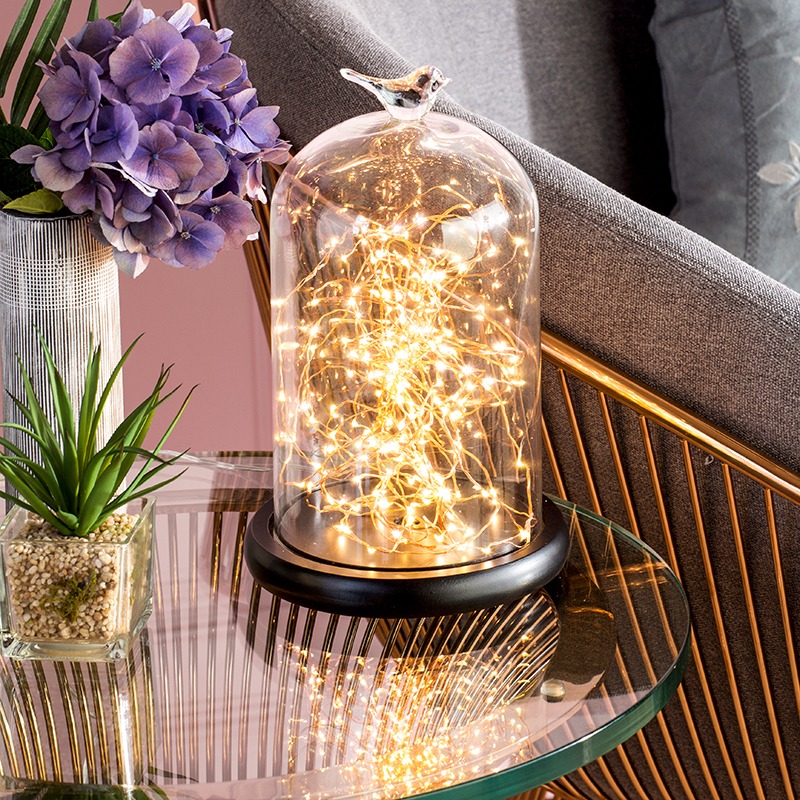 Looking For Something A Little Different?
Looking for something unique to emulate some fairy tale sparkle in your living or dining room? Our boutique Bell Jar Table Light is the ideal choice for bringing some shimmer to the dinner table. Ornate yet practical, this gorgeous lamp features a dark wood and copper base and an array of twinkly fairy lights encased in a bell jar inspired glass cover. Sitting atop the glass case is a decorative bird, which gives it a really homely and twee finish.
If you're looking for a simple and stylish addition to your décor this Valentine's, our Empire Silk Easyfit Shade is all you need. It comes in an eye-catching cranberry colour with a glossy finish that offers an understated glam touch to the room and can be easily positioned on any pre-existing light fitting.
Bring some zest to the room with a fun and quirky sign light. We are in love with the Love Wall Light Box. This cool light is a nod to 50's diner signage and is the perfect addition to a party of two. Our wall light features a beautiful rustic frame and a vibrant red colour, projecting a soft glow that is warm and welcoming. This vivacious light box is fantastic for Valentines Day but would add a stylish retro vibe any day of the year.
Subtle & Seductive
Alternatively, if you are seeking something less cliché, our lighting can also offer a more subtle look that still creates a relaxed and romantic atmosphere. Why not try a vintage filament lightbulb to emit a gorgeous warm glow across your interior? The Dimmable Oversized Pear Bulb for instance, features an amber tinted glass and a beautiful brass finish for a homely feel that would work well as a bedside light or even along a corridor.
Complete the less is more look by adding the Paris 1 Light Stack Table Lamp, now back in stock by popular demand after a break away from the shelves because like true love itself - timeless, classic designs always find their way back.
Have We Inspired You?
If you're staying in for Valentines Day this year, surprise your loved one with these dreamy decor ideas and set the mood in any room. Whether it be a night curled up on the sofa or a romantic home cooked meal, Litecraft has you covered!
Did we inspire you today? Let us know if we gave you all the feels by tagging us in your posts on social media. You may even be featured on our Instagram! Visit the blog page to find more up to date tips, tricks and trends for your home. Whether you are in a couple or flying solo, we hope you feel the love this Valentines Day ❤️.