Creative Dining Room Lighting Blog
The dining room can often be one of the main social hubs of the household. Being the space where you host dinner parties with friends. Or perhaps just chat whilst having your tea with your family after a busy day at work and school. One of the major features that you simply NEED to get right in the dining room is the dining room lighting. With its ability to control tone and mood making it so important for this space in particular. This doesn't have to mean that you have to sacrifice style.
However, with a huge selection of different shapes, sizes, and styles to choose from to suit absolutely any décor. We've picked out some of our favourite dining room styles and given a few ideas that look great in each of those. So take a look and let us know which ones take your fancy!
On-Trend Industrial Dining Room Lights
Let's start with one of the most popular interiors styles from the past year. Which is showing no signs of slowing down yet, the industrial look! Industrial style has taken the world by storm recently. With the robust, authentic feel that it creates resonating wonderfully in a modern household. Bringing an industrial theme into the dining room opens up a world of possibilities. But here are our top picks for the industrial dining room look:
Steamer 18 Light Industrial Pipe Style Ceiling Pendant – Rust
Up first, the 18 light Steamer pendant at Litecraft. This light incorporates a structure of robust pipework design and a retro rust finish into any décor. The piece hangs from the ceiling via a sturdy chain. Furthermore, with each of the 18 lights coming away from the central cylinder to give a wide, even coverage across the room. The bold piece looks great in any dining room décor. More so , it is sure to be a bold, eye-catching focal point for the room.
Cable Suspension Kit Ceiling Pendant – Pewter
Another industrial option, our cable kits are a simpler. More authentic choice that looks great individually or as a set, making them a versatile style of illumination that is ideal as dining room lighting. For larger dining rooms, consider an odd-numbered cluster of cable lights.
Giving a more comprehensive coverage to the wider space, however, a single pendant over the centre of a small, round dining table also works brilliantly! The black cable has a simple, modern look. With a pewter finish on the mechanical style bulb holder giving a clean urban feel to the fitting.
3 Bar Pendant Light Brooklyn Light – White
Our last industrial offering is the Brooklyn 3 light pendant in white, which brings a clean, bright look to the décor for a more upbeat feel throughout the dining room. The diner-style pendant has a minimalist design, with 3 large shades deflecting the light downwards for a more direct, purposeful shine. The metallic finish maintains a tough industrial image, however, this is given a more delicate and modern tone thanks to the white finish. You can take a look at our Brooklyn dining room pendant here : www.litecraft.co.uk/Brooklyn-Pendant-White.
Refined Minimalistic Tones
When it comes to minimalism, there's a fine line between simple elegance and lack of personality, so you'll need to ensure that you keep on the right side of the boundary to avoid a dull, drab feel in the space. In the dining room, this line is pivotal, as it can be the difference between a relaxed dining experience and a busy, distracting, or boring atmosphere, so attention to detail is key.
We've got loads of stylish pendants for the kitchen capable of adding to your minimalist décor, so check out our top 3 picks for minimalist dining room lighting!
Rise and Fall Cream Pendant Light – Fisherman Style
The first thing that'll strike you about the Litecraft Fisherman Style Ceiling Pendant is the immense practicality that it offers to your home – the pull-cord allows you to instantly adjust the drop height of the fitting to give better-tailored light to the spaces that need it. The pendant has a white finish, creating a cleaner, sleeker image, alongside the herringbone cable, which gives a monochrome theme to the fitting. The larger fisherman style shade is crafted from metal and gives effective direction to the light as it illuminates your dining room table.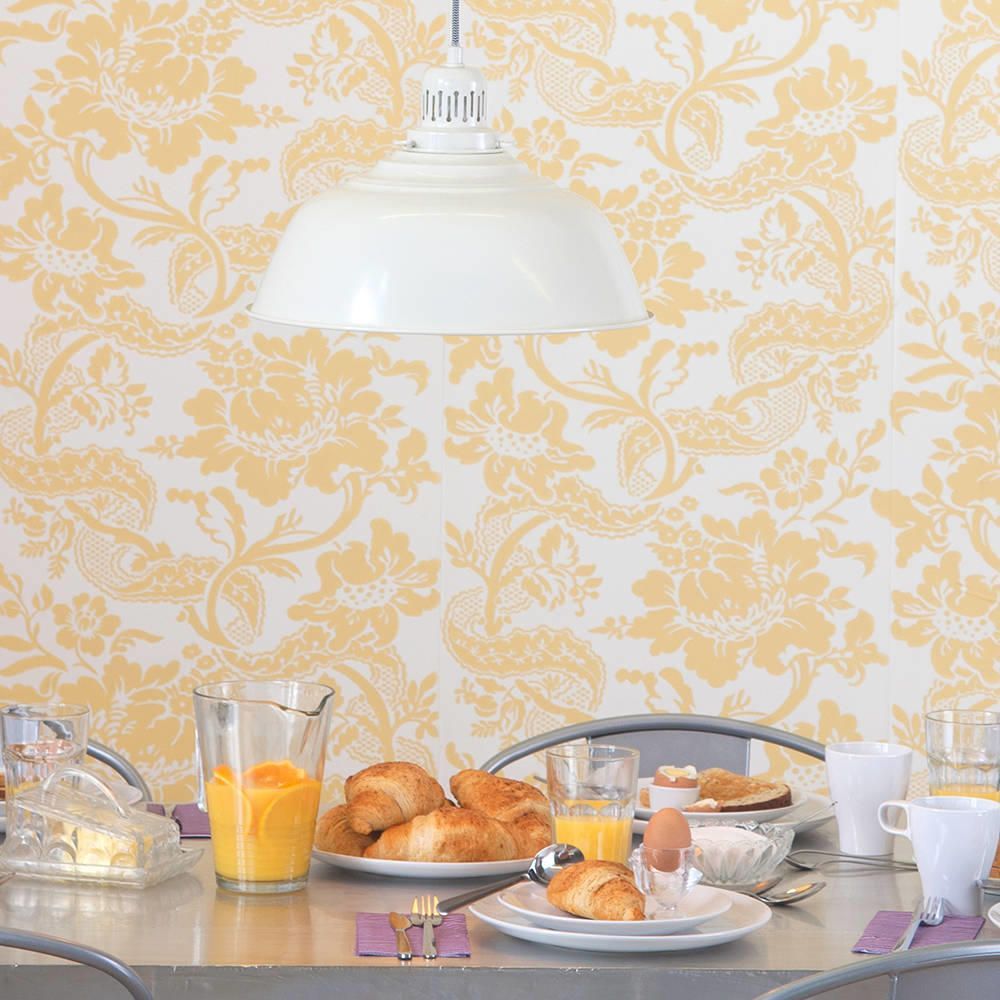 Ledino 1 Light Pendant Ceiling Light – Grey
Ledino is a sleek, modern pendant light that can easily fit into almost any décor's designs thanks to its unrivalled simplicity and stylish grey finish. The fitting hangs from the ceiling by a slim, slender stem, which can be adjusted to suit the ceiling height of your dining room to ensure that the light is as practical as possible.
A flat shade directs the integrated LED light downwards for a more purposeful form of illumination over the dining table – integrated LED is an energy-efficient lighting option that gives durable, cost-effective light to your home. Ideal for a modern dining room, the light looks fantastic as a standalone piece or when used in a cluster over a longer, larger table. Click here to find out more about our Ledino pendant!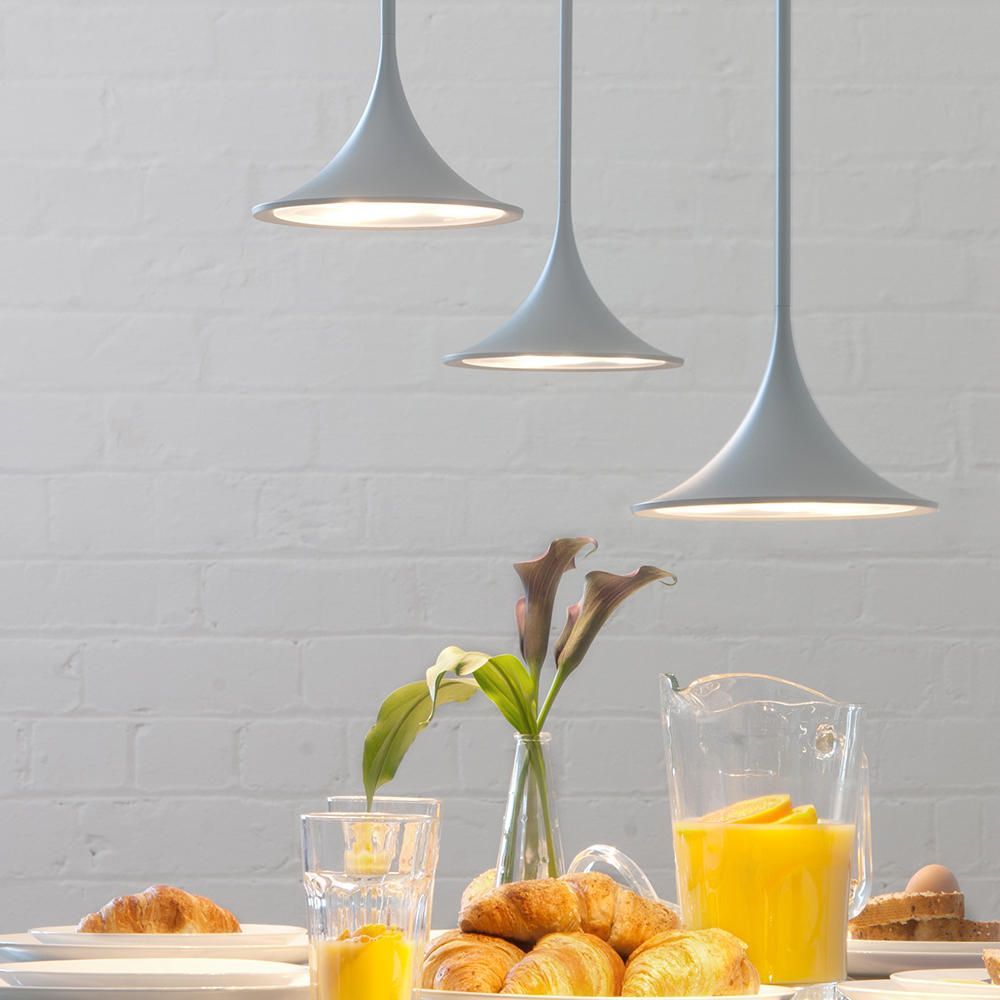 Preston 1 Light Bathroom Pendant Globe Ceiling Light – Chrome
With the Preston pendant fitting, you'll be able to bring sleek, sophisticated curves into your dining room lighting designs, helping to produce an elegant environment for enjoying a relaxing meal with your family. The globe shaped shade has a frosted finish, which gives softer, more atmospheric lighting to the room. This simplistic piece features modern chrome accents that integrate into any contemporary décor, giving a fresh and updated look to the space, making it one of our best dining room lights.
Elegant Chandeliers
With chandeliers you're looking at the pinnacle of sophistication in modern dining room lighting, bringing a showstopping centre-piece to any décor they're used within. With a range of different sizes and styles available to suit any home's needs. The sheer elegance of these pieces makes them a phenomenal addition to your dining room as it helps you to create a soft, soothing environment that's perfect for hosting dinner parties and enjoying gorgeous home-cooked meals!
At Litecraft we've got a fantastic selection of chandeliers, so be sure to take a look at the full range by clicking here, or check out our top suggestions below:
Vasca Crystal Bar Large Bathroom Chandelier – Chrome
The Litecraft Vasca chandelier is one of our most popular crystal chandeliers and it isn't hard to figure out why when you take a look at the sleek chrome structure and surrounding arrangement of hanging crystal prism droplets that surround the lights to give an exquisite shimmer and sparkle out across the room. The 8 tier piece is perfect for over a dining room table, particularly those spaces with higher ceilings where you can really showcase this chandelier in its full glory!
Marta 5 Light Glass Ceiling Light – Chrome
Another sophisticated addition to a dining room décor is the Marta 5 light chandelier. Which brings a simple, modern look to an interior with hints towards a more elegant theme. The structure is comprised of sleek. Furthermore, curving chrome arms, which bend to reveal 5 cut glass frosted shades that engulf each light to produce an ambient glow across the room.
An adjustable chain allows you to alter this fitting to give the perfect light to your dining space. Therefore, making this piece a practical, fashionable piece to add to your dining room décor! The Marta chandelier from Litecraft is also available in a variety of sizes. Therefore, there's sure to be a perfect fit for any household's layout.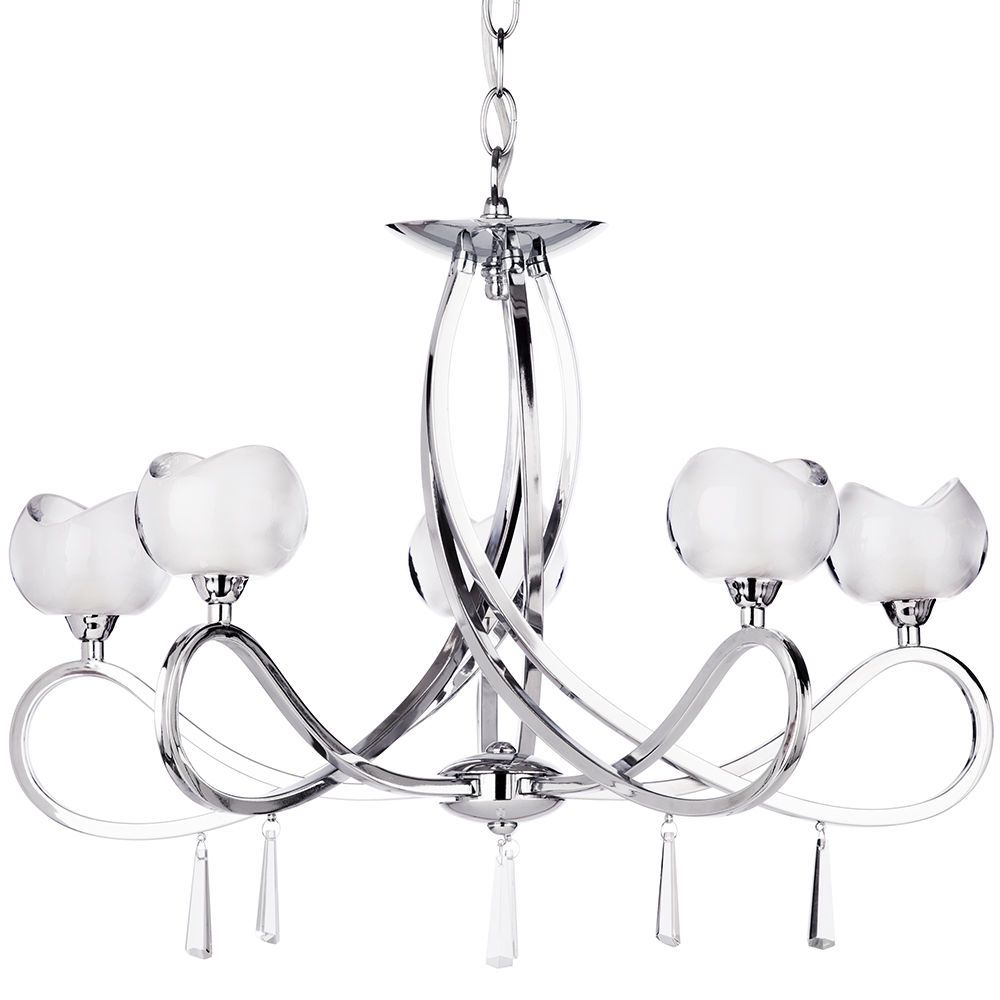 4 Tier Wine Glass Chandelier – Silver
Perhaps the most appropriate design for these spaces. Our fabulous wine glass chandeliers have a look that is just a match made in heaven for a dining room lighting décor. The bold, unusual image helps you to bring a raw and authentic image to your dining area. With the glass also reflecting and diffusing the light for a softer and more relaxing shine. Complete with a silver finish, this piece maintains a modern image that looks great in an urban setting. You can find our full range of wine glass chandeliers here:
www.litecraft.co.uk/wine-glass-chandeliers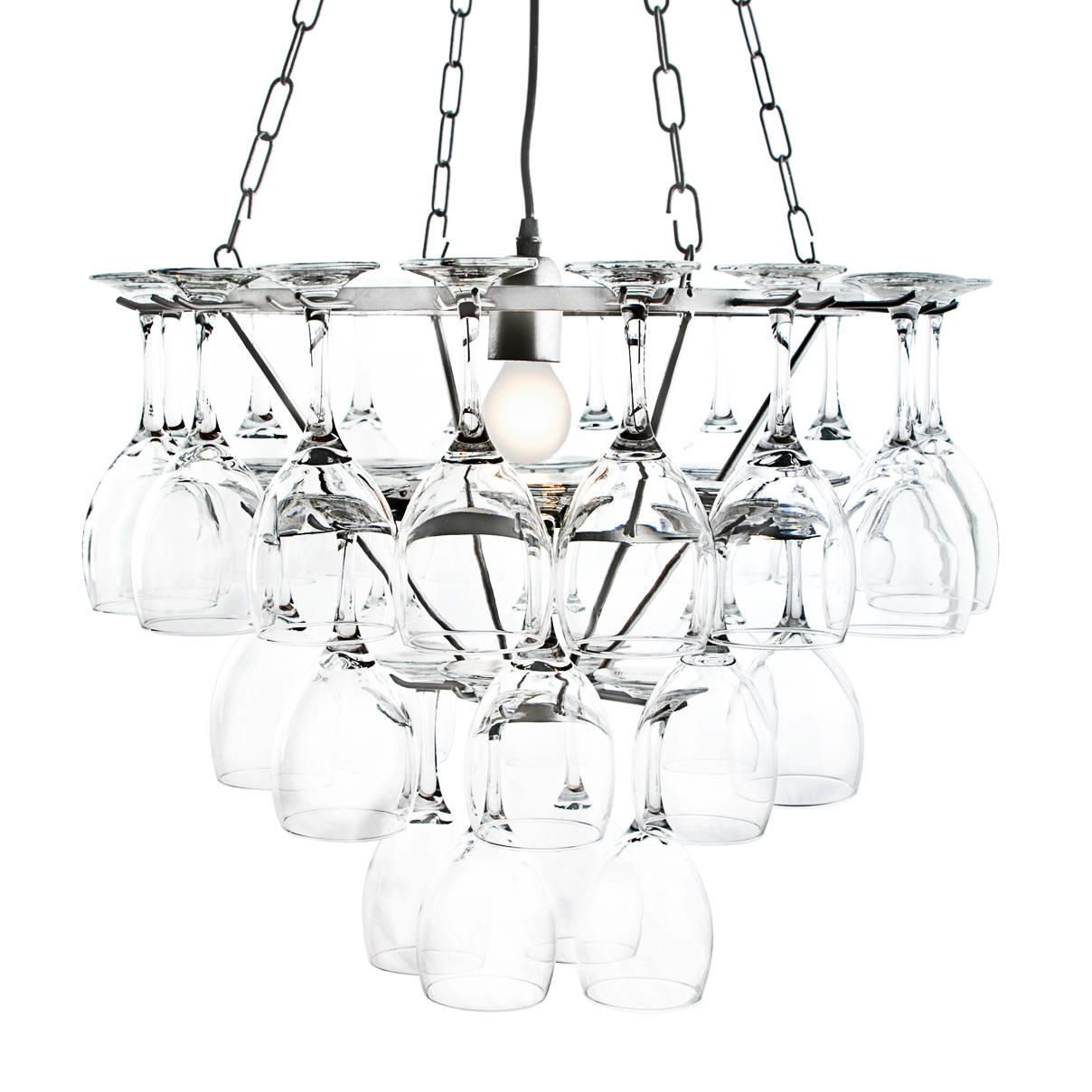 Statement Dining Room Pendant Lights
Pendant lighting is one of the boldest, most outrageous styles of lighting you can find. With huge jaw-dropping designs taking centre-stage of any décor. Especially as a grand focal point over a dining room table. We've brought together 3 of our most spectacular designs below for you to take a look at. Which all look fabulous as part of a dining room lighting décor!
Visconte Zenith 13 Light Ceiling Pendant with Ring Shades – Chrome
Zenith is perfect for those who are looking for bold statement lighting. The gorgeous chrome structure has an incredibly unique design that's ideally tailored to a contemporary décor. With integrated LED technology ensuring that you're keeping up with the times and ensuring durability and energy efficiency. The 13 light piece can be found in the Litecraft lighting range. More so this is crafted from a series of interlocking hoops. Furthermore, they are lined on their inner surface with LED light.
Giving an ambient, indirect glow for a more subdued and relaxed atmosphere. The wide design makes the fitting an ideal fit over a dining room table. With a longer design allowing the fitting to give practical illumination alongside the supremely stylish aesthetic.
Visconte Flusso Oval Adjustable Ceiling Pendant Light - Antique Brass
The Flusso oval pendant light gives contemporary elegance to any space that it is featured inside of. With a sleek antique brass structure supporting a collection of K9 crystal bars. Which act as an abstract shade to diffuse the integrated LED light to achieve a wonderful glow within your interiors. An elongated oval structure allows this fitting to give a practical shine over a long dining room table. The pendant features an adjustable drop. Which helps to tailor this elegant urban piece to your home's structural requirements.
Whilst integrated LED technology ensures that this light fitting gives energy efficient illumination to the household's designs. A selection of alternative designs are available in the Flusso range. So take a look to see if there's anything to suit your dining room lighting needs by clicking here!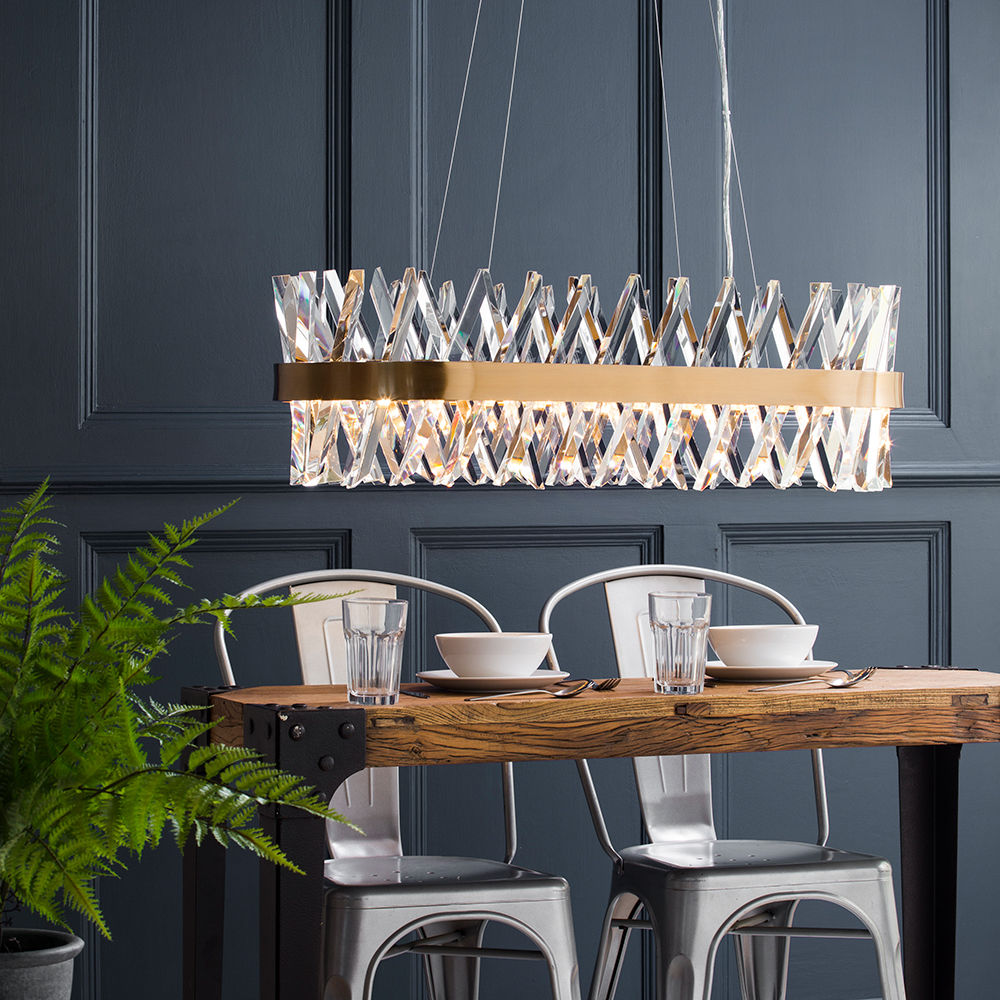 Visconte Helixio 38 Light Round Ceiling Pendant – Chrome
Our last pendant fitting to show you is, for certain, not our least intriguing piece. On the contrary, it might just be our most inventive fitting! The 38 light Helixio ceiling pendant from Litecraft is a true gem – perfect for filling large spaces or to give a jaw-dropping contemporary elegance to your dining room, with a bold interlocking structure giving unique light to the space.
The chrome structure forms a circular shape. Which will offer an even spread of illumination to the surrounding spaces. With each joint of the design featuring 2 lights. One facing upwards and one facing downwards. The lights are integrated LED lights and are finished with a bubble effect shade. Providing a softer, more unusual shine to the décor. This softer, ambient glow is ideal for creating a relaxing atmosphere. Such as enjoying a meal with family and friends, so is a wonderful dining room lighting option.
Now we've given you plenty of options to suit any décor's design. You'll be sure to be able to start to build a creative dining room lighting arrangement. Which will make the space a more relaxed, relevant space for eating meals and hosting guests. More so, let us know which of our suggestions really caught your eye in the comments section and take a look at the Litecraft Lighting Blog if you're looking for lighting inspiration for elsewhere in your home! More so, check us out on Facebook!