We are all familiar with the iconic Farmhouse décor. The distressed, bright and airy aesthetic inspires a cosy feeling no matter which room you are in, making it perfect for any family home. However, Farmhouse has been around long enough, and its time to reinvent the iconic style with Country Chic. Makeover your interior with this fresh, cheerful style with help from this brand new blog – teaching you all the ins and outs of 2022's up and coming interior trend.
Reinventing the Farmhouse style with Country Chic
The Farmhouse décor style has been around for years, raising in popularity ever since the early 2000s. The warm and cosy aesthetic can do no wrong with its bright, neutral colour scheme and soft feeling which makes it ideal for any family home. The heavy emphasis on distressed wood creates a not-too-perfect, lived-in style that instantly relaxes any room, while the other uses of natural materials such as marble adds a refined edge to the space. The style is perfect for giving you that 'right at home' feeling in a luxury space.
Country Chic shares many of the same characteristics: natural materials, light colour scheme, heavy emphasis on neutral tones. However, this fresh style adds more focus to the chic, luxury element of the style. The marble and stone effects add that rich, eclectic aesthetic as the wooden finishes maintain the cosy feeling. The wooden elements are the main point of change, focusing more on looking clean and fresh, rather than worn and distressed. This slight change makes a world of difference, instantly creating a more refined, glamorous space for your family to relax in and enjoy. Metallic flairs are also brought into this trendy style, with pops of chrome, brass and copper instantly adding extra depth and uniqueness to the home.
Classical lighting with a modern edge
When it comes to Country Chic, the beauty is in the simplicity. Rather than having an abstract statement light over your dining room table, or a contemporary floor lamp in the living room, this style sticks to the classics. A quintessential chandelier will do perfectly well in this style. The glamorous design plays to the luxury element of the décor while maintaining that homely, cosy feeling with its recognisable look.
One change you can make to your lighting is updating those classical fittings with a more modern edge. Ensuring your lighting keeps up the same vintage aesthetic, a modern revamp is very welcome. For example, swap your crystal effect chandelier for an all-black alternative. Our Somerset Chandeliers are the perfect way of achieving this. The unique rustic styling works perfectly among your Country Chic décor while inspiring a slight modern flair. The black finish has a stylish, contemporary edge with its sleek design, but still keeps the cosy feeling alive.
Match the dark tones and incorporate some deeper accent tones into your interior, such as a black dining table, a deep blue cabinet or just some darker wall art. This depth of colours will add an extra dynamic to your interior décor and create a more updated fashion.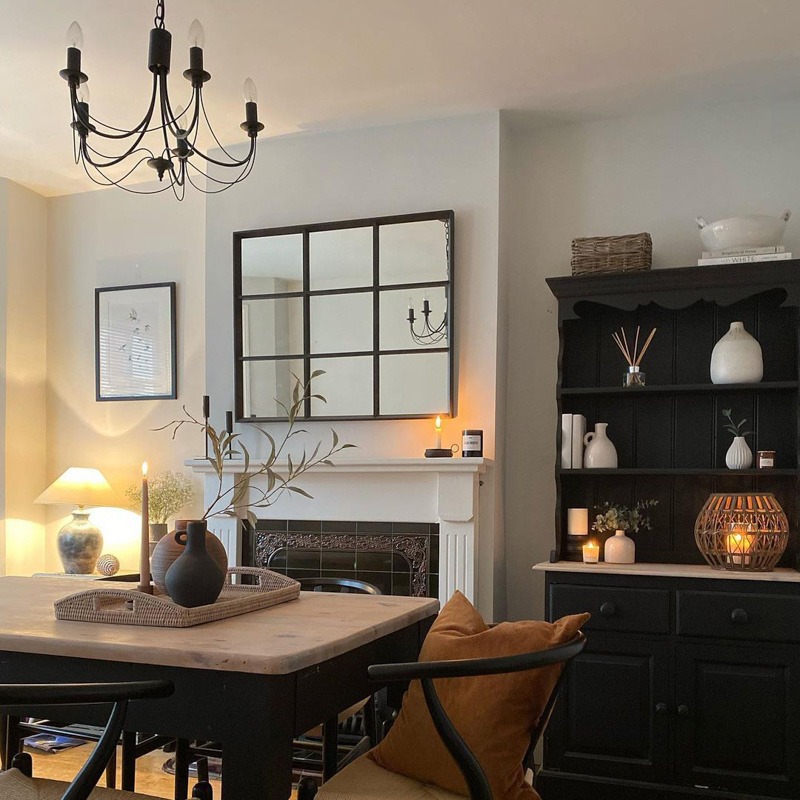 Playing with materials
As we've mentioned, Country Chic sticks to the wood and stone emphasis from Farmhouse décor; however, it also creates much more space for further customisation and the ability to play around with the textures and materials within your home.
When it comes to the wooden tones, we recommend aiming towards birch or oak. This lighter wood will keep the rustic style while making sure you still have that light and airy aesthetic crucial to successfully integrating this décor style. Another crucial aspect of this updated trend is ensuring the wood is fully finished. Distressed wood is the key characteristic of Farmhouse interiors, so its important to keep your wood clean, polished and whole for Country Chic.
Stone effects such as marble and granite are also a huge aspect of the look. These harder materials can be easily incorporated into any kitchen, with a gorgeous marble worktop or a granite backsplash. No matter how you choose to incorporate stone into your décor, its important to get the perfect match. Lighter tones such as white, creams and other neutral blends will suit this interior style extremely well with their inviting, homely look. A darker stone is perfect for eclectic styling, but may feel a bit cold or disconnected when used in this style.
Finally, implement some metals. As mentioned previously, a darker metal hint can add that extra depth to your interior, while a lighter tone opens up the space with a brighter appearance. If you are looking for that bright, light and inviting feeling, we would highly recommend chrome accents. Chrome has a stunning polished finish that gorgeously shines when interacting with light. The silver tone of chrome provides a modern, sleek and clean visual when compared to its brass or copper counterparts. A fantastic way to add this metallic flair is through lighting. Check out the gorgeous kitchen below featuring our Visconte Gem Conical LED 7 Light Cluster Pendant. The chrome finish adds that signature contemporary twist while creating an elegant statement over this kitchen island. The warm-toned worktops match the whitewashed cabinets and drawers to establish a welcoming environment.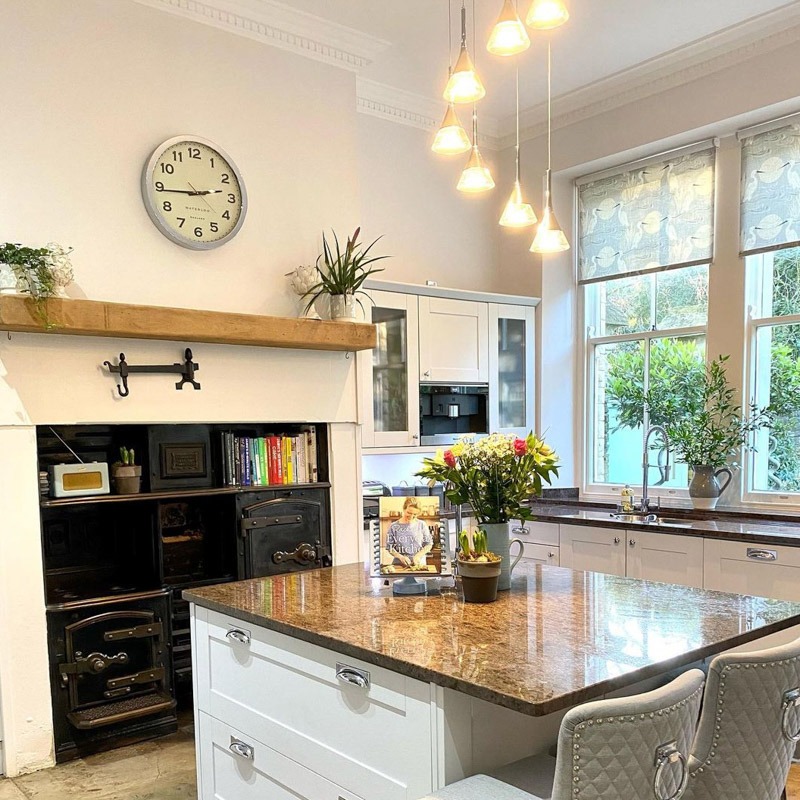 Take in the relaxing feeling
We hope you have enjoyed this insightful look into Country Chic – the biggest up and coming interior trend. This bright and welcoming style is ideal coming into the Spring and Summer months, allowing your interiors to glow as the sun starts to shine through our windows once again.
Make sure you follow us on all of our social media platforms to keep up with the latest product launches, sales and styling inspiration, and don't forget to sign up to our newsletter for 10% off your first purchase!