There are lots of different obstacles that you might be faced with when it comes to lighting up your home, each of which needs to be tackled in order to create a wonderful theme and impact for the interiors. This blog looks to help you to overcome the issues faced when illuminating a room with low ceilings, which is a unique challenge, but one which can be dealt with effectively if you have the know how to do so. Here are our top 4 tips for lighting up a low ceilinged interior!
1) Fixation points
Fixation points are an important part of any household's lighting designs, as they are the spots that the light shines from, meaning they must be selected with a degree of thought and caution to create the most effective light coverage possible. The floor is a great fixation point, as the lights shine upwards from here, giving an elongated effect to the wall and ceiling, making the room look much larger as they do so. Walls also act as an ideal fixation point, shining light up to the ceiling from above eye level, again helping to give a larger feel to the interior. The Litecraft catalogue features a huge range of wall lights that would be perfect for helping to offer an extended look to your low ceilings.
2)Uplighting for low ceilings
Simple yet incredibly effective, uplighters are the perfect addition to homes with low ceilings, as they help to divert attention upwards to help the room seem much larger than it actually is. Uplighters come in a range of different shapes and styles so it is important to find a piece that suits the overall look and tone of the décor. From floor lamps to wall lights, uplighters come in a variety of guises, letting you choose one which will be stylish and practical inside of your home. This fantastic Jewel Conical LED IP44 Rated Wall Light - Chrome gives a beam of sparkling light up towards your ceiling, giving a sophisticated and contemporary look to the décor.
3) Flush lighting for low ceilings
The most effective style of ceiling light for a low ceiling is a flush light, as they help to bring the same sense of style that a larger fitting might whilst also giving practical light to the room without requiring the bigger drop height or ceiling space that many other fittings may need. The lower ceiling height can sometimes mean you can't get a wide spread of light across a room, but flush lights help to solve this by offering more effective light coverage which will help the interior to fulfil its purpose. Here are a few marvellous flush lights that are sure to have a brilliant effect inside of your home:
Brittany 7 Light Crystal Effect Chrome Flush Ceiling Light: This elegant modern piece is a wonderful addition to an interior with lower ceilings, helping to create an incredibly stylish lighting arrangement inside of the room whilst also giving a wide spread of effective light to the areas below. This light has a sleek chrome structure and features a set of hanging droplets around the light which gives a unique sparkle and shine to the light that is projected across the interior;
4 Tier 5 Light Flush Ceiling Light with Smoke Chisel Prism Bars – Chrome: For a slightly more eye-catching piece within your home, this tiered piece is a marvellous fitting, giving a smooth, simplistic, and stylish look to the interiors. The 4 tiers are made up of hanging smoke coloured prisms, which give a sophisticated tint to the light, offering an elegant twist to a modern interior;
Dijon 4 Light Flush Ceiling Light with Copper Mesh and Glass Shades – Chrome: This ceiling light features 4 individual lights, offering excellent coverage, with a unique contemporary design that makes them ideal for giving an updated look to your home. The lights are encased within 2 outer structures, one mesh copper piece, which brings an industrial image, and one glass shade which helps to diffuse the light for a softer and more comforting glow.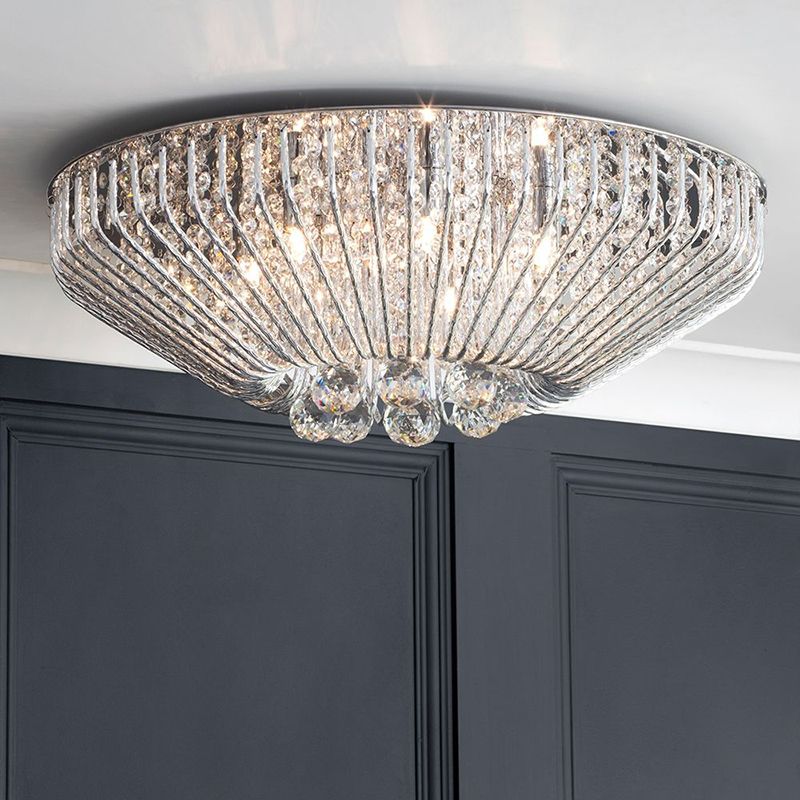 4) Lights to avoid for low ceilings
Now, this section may seem a little obvious but it's worth going over just to make sure nobody falls into the simplest of pitfalls. The lights to avoid are those that either take up to much ceiling space or which require a larger drop height in order to be effective. This means pendant lights and chandeliers are usually off limits due to their hanging style, however some semi-flush lights may be suitable depending on their size.
You can find a whole range of lights for any ceiling size at your local Litecraft store, or alternatively you can shop online where you'll also be able to take a look at our full blog page for inspiration on a huge variety of rooms, themes, and fittings!
Alternatively, you can share your lighting with us on Instagram to get the chance to feature on our feed!