There is no better way to add elegance and luxury to a home than with a chandelier. Chandeliers come in a range of stunning designs and finishes that will create a bold style statement in any room. These decorative ceiling light fittings commonly feature multiple arms that hold a number of bulbs. They are often embellished with beading and crystal effect drops. Chandeliers can be the perfect finishing touch to a room, but if chosen wrong they could overwhelm a space and stick out like a sore thumb. With so much choice available, the decision can be hard. Read on to find out how to choose the perfect chandelier for your home.
1. Decide where to hang your chandelier
One of the most important factors when choosing a chandelier is the room in which it will hang in. The style and function of a room will help to determine the kind of style you should choose.
For living rooms and dining rooms, choose a chandelier that will create a beautiful focal point. These leisurely rooms generally require a decorative light fitting that provides bright ambience, so a sparkling crystal-effect chandelier is a perfect choice.
Dining room styles look amazing when hung central over the dining table. An elegant and decorative design such as the L'amour double with grey shade will create a beautiful centre piece for dinner parties.
In the kitchen, look for a design that is a little less decorative and a little more streamlined or functional in design. As the kitchen is generally a functional space, this style will work best. A wine glass chandelier is a perfect kitchen choice; not only does it look great but the wine glasses can be used! Place one above a central island to bring a touch of contemporary glamour to the kitchen.
Why not add an unexpected touch of opulence to your bathroom with a chandelier? If you're looking for a chandelier for the bathroom, make sure that it is protected from water and safe for use in the bathroom. A specially design bathroom chandelier such as the Vara chandelier is a great choice as it is IP44 rated for safe bathroom installation.
It is also a good idea to think about the lighting for your hallway. If you want to make a lasting first impression, you can chose hallway chandeliers that will set a tone for your home and give a warm welcoming feel.
2. Determine a suitable size
The size of your perfect chandelier will depend on the size of your room. It should be a key feature of a room and complement the area and furniture around it. Too big and it will overpower the room, too small and it will look lost and out of place.
To avoid this, make sure to buy a chandelier that is in proportion with your room. The general rule of thumb is to measure height and width of your room in feet and then add each number together. The same number in inches is the perfect diameter for this room. E.g. 10' high and 16' wide equals 26'. The perfect chandelier would be around 26" in diameter.
In terms of the height and drop, a chandelier suspended from a chain can be adjusted by shortening the chain. For rooms with low ceilings, choose a chandelier that can be fitted flush to the ceiling such as the Marie Therese. This will create a statement without taking up too much room.
3. Choose a style to suit your home
A chandelier should complement the overall style of a room, from the décor to the fittings and the furniture. Whether your style is modern or traditional, decorative or minimalist there will be a chandelier to suit your home.
A classic style is the type that comes to mind when you imagine a chandelier; a decorative design inspired by the designs of the past. This type of chandelier is timeless in design and is still very popular today. If your style is traditional or decorative, a classic chandelier is the perfect choice. Traditional chandeliers are available in a range of finishes and sizes, such as the elegant Madonna Range, available in chrome, antique brass and even red crystal.
The elaborate designs of a traditional-inspired chandelier may not sit well in a very modern and minimalist home. Instead, opt for a more contemporary design to work with the theme of the room whilst still adding a little glamour and sophistication. Consider the Emily 6 light chandelier, featuring crystal effect prism bars, or the Cygnet chrome chandelier with curved metal arms for a sleek and sophisticated look.
4. Pick the perfect colour & finish
Think carefully about materials and finishes when choosing a chandelier to suit your home. What will match your existing light fittings and decor?
Most chandelier frames are crafted in metal and are available in a range of finishes. Antique brass is a great choice for traditional interiors and is a perfect complement to dark wood furniture and rich coloured walls. For a more contemporary twist on a classic design, choose a high-shine, polished chrome finish. Try to match the finish to other metal accents around the room, such as door handles and accessories.
Perhaps the most important part of a chandelier is the crystal effect drops. These days, most chandeliers feature glass drops and beading that reflect the light beautifully. Glass drops are available in a wide range of styles including tear drop and prism. You can even opt for coloured glass drops and beading in shades such as champagne and smoke grey glass.
Other materials can also be considered for a non-traditional look. Why not opt for a stylish and affordable acrylic chandelier? The Marie Therese gives you the glamour and elegance of a traditional glass or crystal chandelier but it is much easier to care for and much lower in price.
Acrylic also gives you the option of bright colours. A coloured chandelier such as the Marie Therese multi coloured chandelier or the plum chandelier will add a pop of colour to your room for extra wow factor. Or why not opt for a dramatic black acrylic chandelier for a mysterious look.
How to hang a chandelier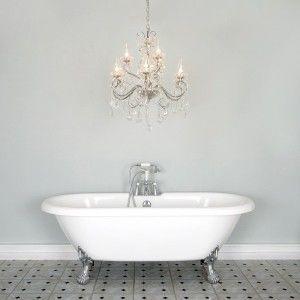 Most chandeliers feature an adjustable chain or cord that allows you to pick the perfect drop height for your room.
If hanging above a dining room table allow around 30 inches in between the chandelier and the table. This will allow for optimal illumination and prevent blocked views and bumped heads.  In the centre of a room or an open space, hang a chandelier so there is a gap of at least 7 feet below the lowest point.
A chandelier will need to be wired to the electricity supply and attached securely to the ceiling. Very large ones may need additional ceiling support to hold their weight. We recommend hiring a professional to hang your chandeliers safely.
How to care for a chandelier
Chandeliers need to be cleaned regularly to remove dust and keep them shining. Most chandeliers are crafted from delicate glass or crystal and feature many small intricate beads and other detailing. Take time and care when cleaning them to avoid damage. First, make sure that the chandelier is turned off and the light bulbs have cooled. Then use a soft cloth or a cotton glove with a small amount of Litecraft's crystal cleaner and gently run over each crystal drop to remove the dust and dirt.
Litecraft have a wide range of modern and traditional chandeliers, including bathroom chandeliers, wine glass chandeliers, contemporary acrylic chandeliers and more. Browse our range online here and choose the perfect chandelier to suit your home.