With the Bake Off on our tellies and Macmillan Coffee Morning just hours away the kitchen has become a central point for many homes. Whether you're baking a 4 layer botanical inspired cake or simply making a cup of tea to go with biscuits you got from your local supermarket, make sure your kitchen feels cosy and welcoming. Here's some kitchen inspiration to make sure you Bake Off in Style.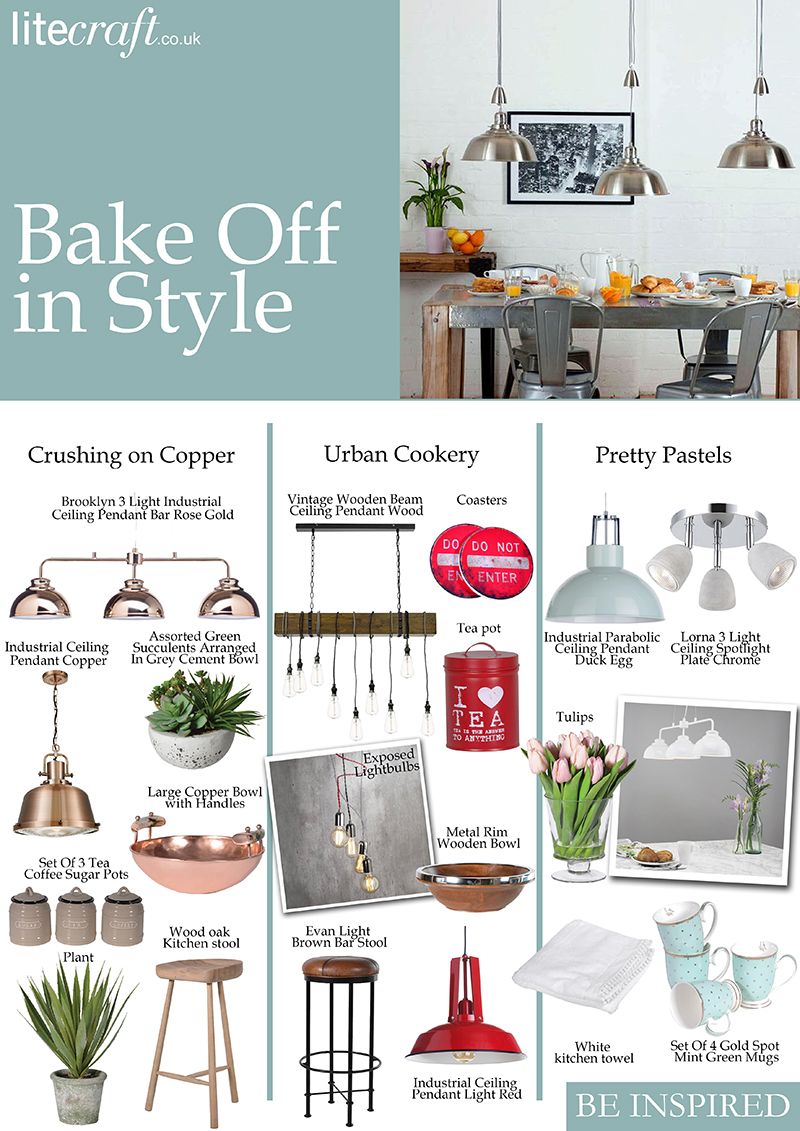 Crushing on Copper
At the moment we are seriously crushing on copper. It's just such a warm and welcoming element to integrate in your kitchen design. Copper works very well with most of neutral colour schemes and you can easily create a cosy industrial feel by combining copper light fittings with natural wood and concrete accessories.
We've all seen those pretty pictures on Pinterest of 3 pendant lights above kitchen islands. Our Brooklyn 3 Light ceiling Pendant Bar offers a new take on this popular interior trend. Instead of installing 3 separate pendants you can achieve the same effect with this snazzy piece. For smaller kitchens opt for our Industrial Ceiling Pendant light in Copper. The warm copper finish tones down the industrial design and creates a welcoming feel. Add greenery and natural wood accessories to finish this look.
Urban Cookery
If you're not a fan of pastel tones or reflective metal finishes you might like the Urban Cookery look that embraces the industrial loft living style. Exposed bulbs and weathered finishes are key ingredients for this spicy look.
Our new Vintage Wooden Beam Ceiling Pendant would be a fantastic addition to large open planned kitchens and dining areas. 9 industrial style exposed filament bulbs that hang from the wooden beam will fill your kitchen with lots of light and industrial style. Leather elements, such as bar stools will create a sense of affluence while pops of red to make your interiors stand out.
Pretty Pastels
Pretty pastel tones are made for kitchens. The soft colour scheme makes your kitchen resemble a delicious cupcake. Even industrial designs can be made feminine with pastel toned finishes. Have you seen our new Industrial Parabolic Ceiling Pendants? 40 centimetres wide and adjustable in height, these lights are perfect for lighting up your kitchen!
If you are limited on ceiling space consider adjustable spotlights that will help you illuminate key areas of the kitchen. Our Lorna 3 Light Spotlight Plate is a fantastic choice. Don't forget to pull out your pretty vintage tea cup set and put some fresh pink flowers on your table, they are made for this style.
Let us know your favourite bake off inspired style in the comments below. For more delicious interiors looks visit our latest Pinterest board.