Top 10 affordable lighting ideas under £50
Whether you're a first time buyer on a budget, or you just want to give your home a refresh without breaking the bank, you don't need to compromise on style or quality to find affordable lighting ideas. Here we take a look at our top 10 affordable lighting ideas for a stylish home. All of these budget busting lights are under just £50.
Marie Therese 5 Light Chandelier
You may think that all chandeliers come with a large price tag, but with the Marie Therese range, that's not the case. At just £39, this chandelier is elegant and affordable. The Marie Therese features a compact design and is crafted from acrylic, with crystal-effect beading that sparkles and shines. Perfect for creating a stylish new look in bedrooms and dining rooms. The Marie Therese comes in a range of colours and finishes, including classic silver, plum and dramatic black. It features a dual mount design that can be fitted close to the ceiling or hung at any height between 45 and 145cm.
Small Ribbon Easy Fit Shade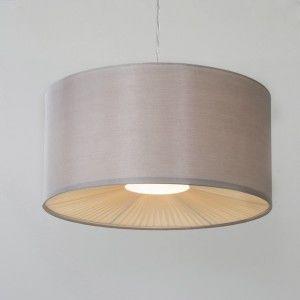 Easy fit shades are a quick and simple way to update your home lighting. And they're affordable too! Further more this ribbon drum shade features a classic look to give any room a chic and stylish makeover for under £40. It features a ribbon diffuser for a soft and delicate light effect, perfect for adding a cosy new feel to your living room or bedroom.
Gem Ball 3 Light Semi Flush Ceiling Light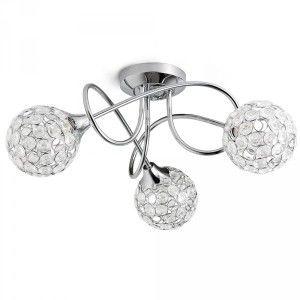 Want to update your ceiling lighting without spending an arm and a leg? At just £39, the Gem Ball semi flush ceiling light is an affordable and fashionable choice. Finished in contemporary polished chrome, this stunning ceiling light features sparkling gem-encrusted balls on the end of spiralling arms. In addition the Gem Ball ceiling light will add a touch of affordable glitz and glamour to your home lighting.
Rothko 5 Light Ceiling Light
Budget lighting doesn't have to be boring. Further more the Rothko ceiling light features an amazing design that will add a style statement to any room for under £40. Finished in polished chrome, it boasts an array of arms that branch outwards from the central ceiling plate, with shiny black beads to complete the look.
Madrid 3 Light Semi Flush Ceiling Light
For a more classic look, take a look at the Madrid 3 light semi flush ceiling light. As a result this luxurious-looking light fitting is a great choice for living room or dining room lighting and comes in under budget at £39. Further more the chic curved light fitting features a satin nickel finish with opal glass shades.
Bamboo Easy Fit Pendant Shade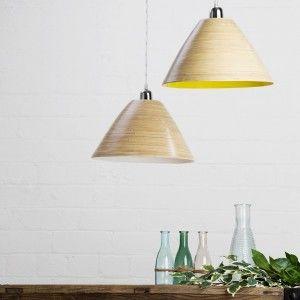 Creating a statement look doesn't have to cost the earth. In addition this funky light shade features a bamboo exterior and a hidden coloured interior - choose from classic white or sunny yellow. Priced under £20, these bamboo light shades are an ideal way to spruce up your home without spending a fortune.
Logan Copper Ceiling Pendant Light
Get an on-trend look with the Logan copper ceiling pendant light. Copper is one of the biggest interior trends of the year. Further more this stylish pendant light features a worn copper effect with a white interior. Consequently the pendant style light would look great hung above a table or a kitchen island; a chic and stylish way to refresh your kitchen or dining room on a budget.
Devon Glass Ball Table Lamp
Table lamps are the perfect way to update your lighting for less. further more a few new table lamps dotted around a room with spruce up a space without costing a fortune. As a result this Devon table lamp features a sleek polished chrome base with four clear glass balls for a stylish look. In addition place it on a side table or beside your bed for a source of soft accent lighting.
Carly Damask Floor Lamp
Floor lamps are ideal for illuminating dark corners of a room. If you're looking for a way to brighten your space on budget, the Carly floor lamp is just what you need. The stylish floor lamp features a polished chrome base and a pretty damask print shade, all for under £40. Consequently a perfect way to update your living room lighting.
Eyeball Table Lamp
If you're looking for affordable lighting ideas in the office that are also stylish, this eye ball table lamp ticks all the right boxes. In addition it is available in white, silver or black to suit any room. At £19, you can enjoy practical lighting for less. The eye ball lamp would also make a great budget bedside lamp.
As a result, you don't need to spend a lot to get stylish and quality lighting for your home. Visit Litecraft for more affordable lighting ideas.
You can also check out our Instagram page for more inspiration.