Top 7 Retro Lighting Pendants and Easy Fit Shades for the dining room
It can sometimes be difficult to describe a Retro style interior. Retro styles span decades and can really describe any eclectic style of interior from industrial to vintage. Today we're going to look at 60's inspired lighting designs, in particular ceiling lighting and retro pendants that feature bold designs and eccentric shapes best suited for a dining room. It is said that retro grew from post-war design around the 1960's when the youth of the era were trying to create a sense of fun and spreading peace and love after the hardships of the war. It's a fun and free style featuring bold designs usually in bright and cheerful colours. It should be busy, loud and demand attention.
When it comes to choosing the right retro lighting such as a pendant or easy to fit ceiling shade for your dining room, there are a few factors to take into consideration. For instance, what style of dining table do you have? Is it a large rectangular table where you'll be mostly hosting large diner parties or is it a compact round or square four-seater mainly used for a quick breakfast? For larger dining tables that fill up most of the dining room Litecraft recommend installing a pendant bar fitting or clustering two or three single pendants together. This way you're able to distribute an even amount of light across the table. On the other hand, if your dining room is more compact and features a smaller dining table, then a single large pendant hung low over the table will suffice.
1)Mid Century Inspired Ceiling Pendant with Smoke Glass Shades
Capturing all the essence of Mid Century Modern style is this stunning statement glass pendant. A smoke glass cylinder shade with a brass plate top makes this an easy option to install in any dining room as it combines classic style with a mid century retro twist. Accompany this light with our Mid Century Table Lamp for more retro accents.
2) Ruffle Ribbon Effect Easy to Fit Ceiling Shade
Want a quick dose of retro but on a budget? Then this beautiful ribbon effect shade is just the one for you. A drum style shade in a reinforced plastic fabric with intricately woven ribbon entwined all the way inside and outside the shade. This natural toned ceiling shade will add that hint of retro lighting without breaking the bank. Hang low over your dining table or double up and create a statement area above your breakfast bar.
3) Industrial 3 Light Diner Style Ceiling Pendant in Brass
Our new Diner Pendant Bar is ideal for rectangular dining tables and this one can be adjusted to the perfect height for your ceiling. For a smart installation, hang each pendant at the same height. Or if you want a more unique look, stagger each pendant, as shown in the below image. Featuring a simple glass shade exposing a vintage filament bulb with a brass cap and braided cable, this piece has all the aspects of industrial design but can also fit well within a retro interior. Our new Diner range is also available in a traditional Copper finish as well as single pendants for a more minimal look. Increase the retro lighting style and choose our matching Industrial Diner Wall Light too.
4) Ruffle Tiered Easy to Fit Ceiling Shade in White
Embrace your inner flower power status with this white beauty. A tiered structure featuring pretty, reinforced fabric ruffles makes this a great statement piece for any dining room. Either double up over a long dining table or hang low as a single fitting over a smaller table. This fitting combines a neutral off white finish with a more adventurous shape, making it the ideal addition for a retro home. As this piece is an easy to fit fitting it will simply attach to your existing ceiling bulb which means if you ever move house or fancy a switch around this fitting can be easily removed.
5) Visconte Leo 1 Light Ceiling Pendant in Copper
Retro lighting is all about bold and loud statement pieces so don't shy away from a large fitting. Our Leo Pendant in Copper adds character and personality as well as a retro style. A large ball shade in a copper finish gives a large scope of light. The copper finish also gives this fitting a contemporary aspect as well as capturing the disco vibe of the 60's, encompassing a retro style. Choose from one large pendant or opt for our smaller fitting and double or triple up over a long dining table. Perfect for using as a retro pendants.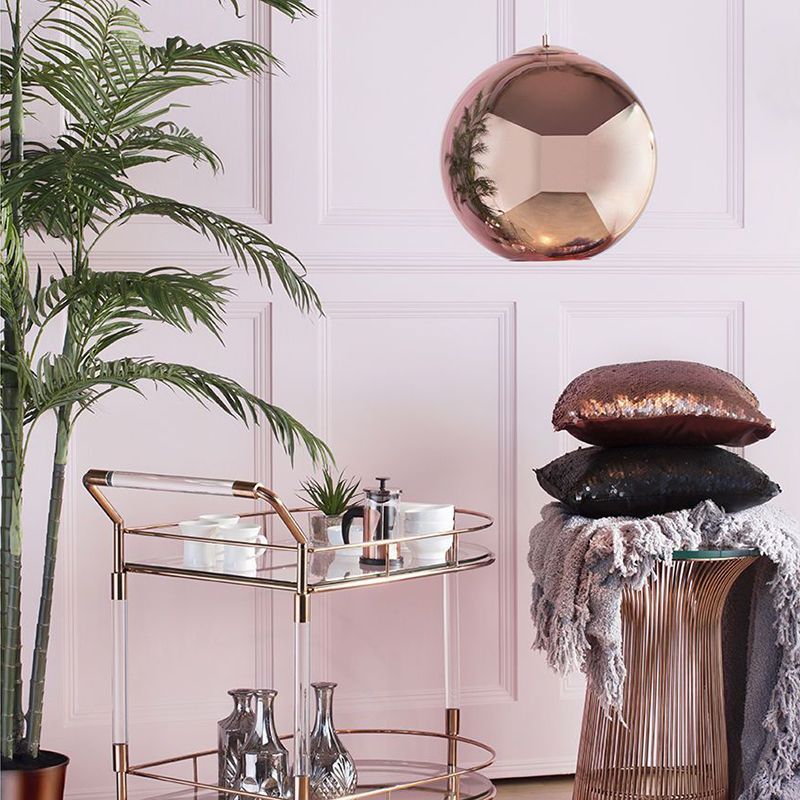 6) Bamboo Glossy Easy to Fit Cone Shade in Grey
You can't have a 60's style retro dining room without a bit of bamboo, wicker or rattan. Add some retro flare with our Bamboo Glossy Cone Shade. A simple cone shade easy to fit fitting in a neutral grey gloss finish with a bamboo inner. The cone design allows for a wide expanse of illumination. We love this piece as it adds a simple touch of retro. This is a great piece for a small dining room with a more compact dining table or breakfast bar.
7) 1 Light Gourd Drop Shaped Ceiling Pendant in White
Bold shapes were a must during the retro era, they represented the fun and carefree nature of postwar 60's. Therefore, choose oversized pendants that command attention such as our Gourd Pendant to create a statement and feature for your dining room. These retro pendants are inspired by the bulbous nature of a gourd, a beautiful curved structure that is ideal for giving off a large pool of light. This piece has a scandi aspect to it, which enables the pendant to fit in well with a variety of styles including, mid century modern, retro and even a contemporary interior. Install our Gourd Drop Shaped Pendant above a stylish mid century table for a minimal yet impactful statement.
Choose one of our top pick retro pendants and you'll be sure to give your dining room that 1960's vibe. If this post helped with your styling and you'd like to check out more of our guides and top picks, you can see articles covering every topic imaginable on our blog page! To shop with Litecraft, simply browse our online catalogue or pop into one of our UK stores today – we have stores in Manchester, Birmingham, Leeds, Newcastle, and Glasgow!
Alternatively, follow us on social media! You can be featured on our Instagram by tagging us @litecraftlighting.