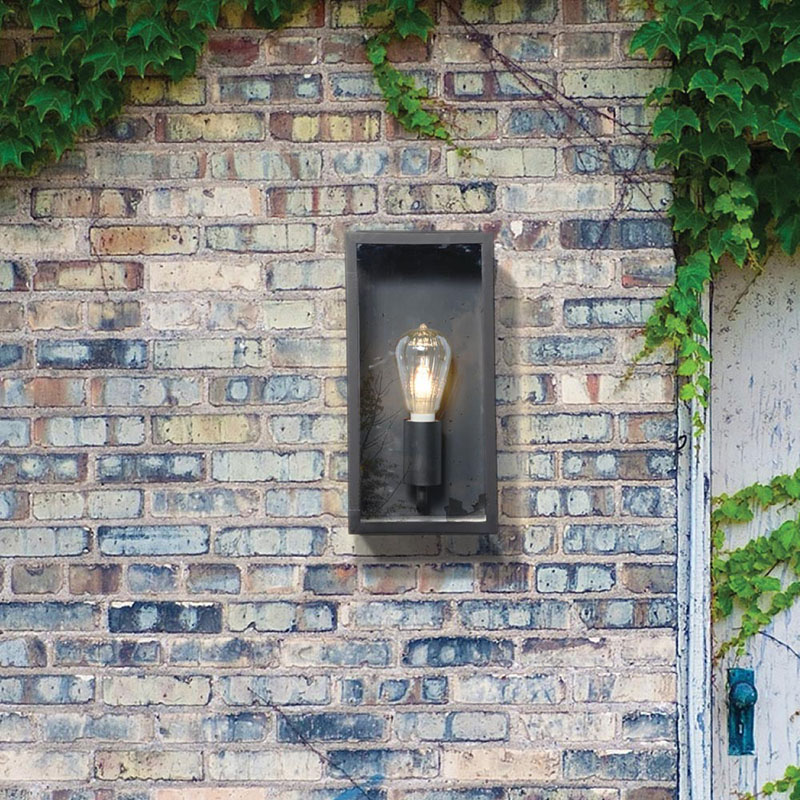 Outdoor & Garden Lighting
There is no better way to spend the spring and summer months than relaxing in your outdoor spaces on weekends or after a hard day at work. The evenings are longer, and the weather is warmer as we move past spring equinox and enter daylight saving time.
In this blog, we will help you to make the most of the space you have at home by providing the best tips and tricks for lighting up your porch, patio, garden, or driveway. Creating a gorgeous, illuminated oasis in the comfort of your own back garden.
Photocell Lighting
Sit back and enjoy the sunset thanks to cutting-edge photocell technology. Dusk 'til dawn sensors cleverly detect the light levels outside and adjust accordingly to brighten up as the sun goes down, allowing you to continue to appreciate your garden spaces without even getting up from your seat.
To keep a modern theme with the outside of your home, the Kenn 2 Light Outdoor Wall Light features an innovative photocell sensor and comes in a sleek stainless-steel finish, offering a contemporary appearance that is ideal for urban households. Why not use two of our up and down wall lights on either side of a pathway to creat a stunning pool of light cast across your walls?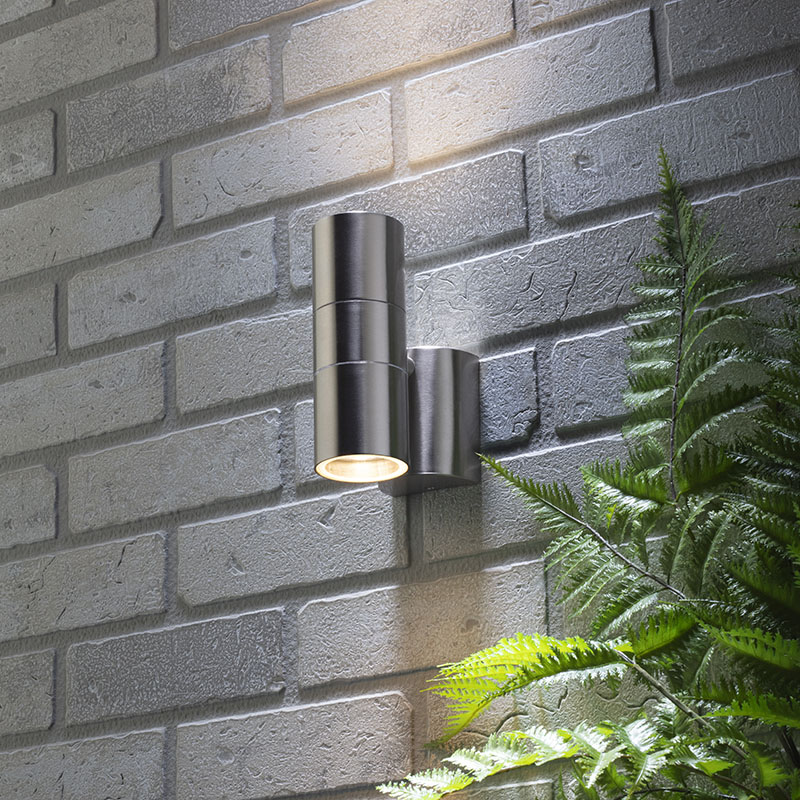 Post, Pedestal and Bollard Lighting
Make your driveway stand out with the use of post and pedestal lighting. These lights can give your home a sophisticated and refined look while also providing a 360° illumination to your outside spaces. The Neri Outdoor Polycarbonate Short Post Light has a sleek black finish and a traditional lantern design, offering a classic look that complements stone patios and pathways. Combine this standing lantern with one of our vintage filament light bulbs to achieve a lovely warm glow in your garden.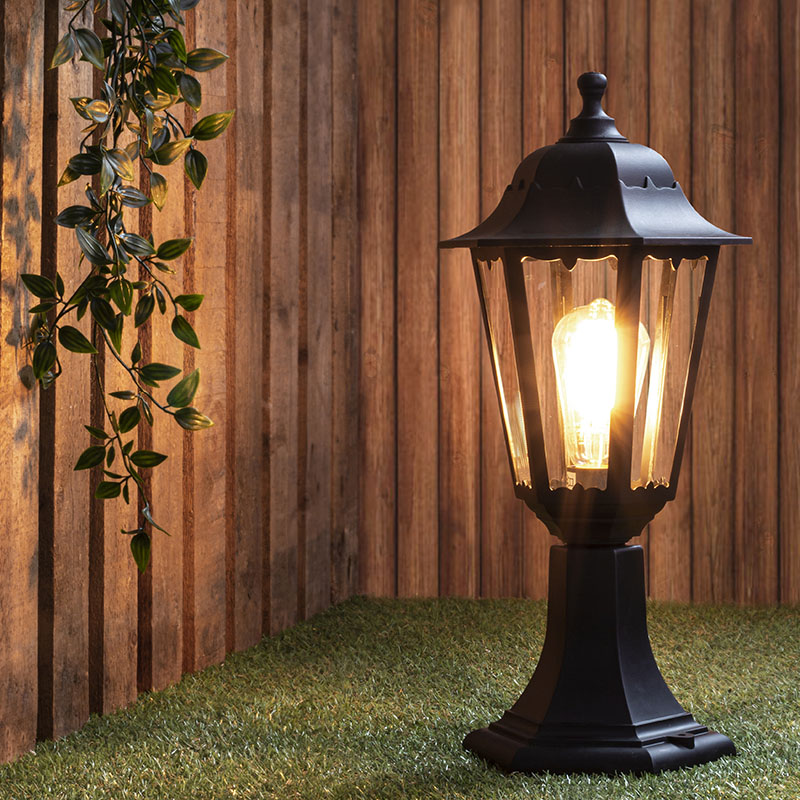 In contrast to the traditional lantern design, the Nura LED 360° Post Bollard Light is the ideal addition to your home if you are looking for a more modern outdoor lighting solution. This bollard light has a slim, minimalist design and is finished in a sleek stainless-steel colour, giving your home an urban aesthetic. This contemporary outdoor light also incorporates LED technology into its design, providing efficient and long-lasting lighting that can help you save money on your energy bills.
Garden Lighting
Garden pathways that lead to concealed areas can create the illusion of a bigger garden even with a small space. Minimalist garden lighting can help lead the eye down your garden path, creating a whimsical trail of lights that looks beautifully decorative.
Ground lights can be used as uplighters to illuminate any trees or tall plants, giving the appearance of a larger spread of light, and if you have a water feature in your garden, spike lights can easily be positioned out of the way and directed to shine across the water, creating a stunning reflective effect at night.
Spike lights are an especially great way to brighten up your flower beds and garden borders. The Nelson Outdoor Adjustable Spike Light comes in a discreet black finish and has an adjustable spotlight head that allows for a focused beam of light to be directed at any angle of your choosing. Because this light can be fitted to flat surfaces, it can be used on decking or driveways, as well as in the ground, making it an incredibly functional lighting option for the outside of your home.
Industrial Outdoor Wall Lighting
One of the top trends in outdoor lighting this season is the industrial look. This style often takes traditional lantern designs and puts a modern spin on them combining urban and retro for a robust appearance. Glass panels and casing is often a key feature with this look, displaying an exposed bulb with a vintage filament, bringing an industrial edge, and creating a warm toned illumination across the walls of your home.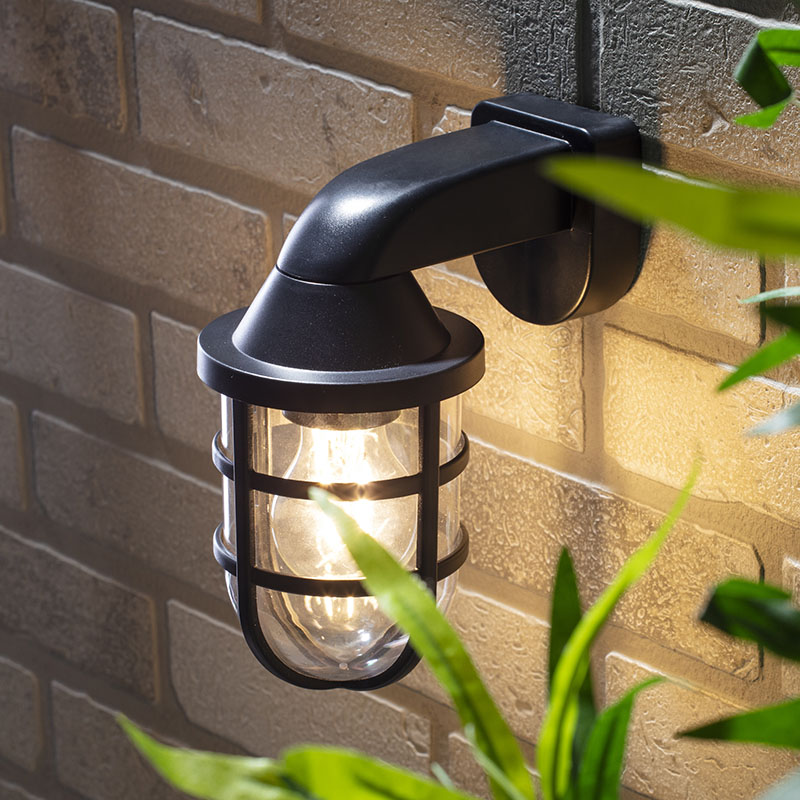 This Hamo 1 Light Outdoor Wall Light is finished in a sleek black colour and has a caged lantern design that creates beautiful patterns of light across your porch or entryway. This outdoor wall light fits the industrial trend perfectly and is guaranteed to bring a modern appearance to any outside space.
Outdoor Security Lights
PIR motion sensor lights are ideal for adding an extra layer of security to your outside areas. These outdoor security lights intelligently detect movement outside your home and instantly trigger the light to switch on, giving maximum visibility of your outdoor spaces. This acts as a deterrent for any unwanted intruders outside your home but also serves multiple functions as it also illuminates your driveway as you drive up to it, giving a bright illumination to assist your parking.
This Alma Twin 20-Watt LED Outdoor Flood Light comes with an inbuilt PIR sensor and features a double flood light head design, both of which can be turned wherever you need, offering a powerful and adjustable lighting solution to your garden area.
Modern Outdoor LED Lighting
LED outdoor wall lights are one of the most efficient ways you can illuminate the inside and outside of your home. Outside wall lights with integrated LED technology have an incredibly long-lasting lifespan, proving to be much safer and more durable than both halogen and incandescent lighting.
Incorporating LED technology when selecting your garden wall lights can prove cost-effective for your energy bills while also providing a modern glow to your outdoor spaces. The Ringo 16-Watt Outdoor LED Wall Light has a contemporary design and comes in a black finish for a simple, minimalist look. It also has a small but powerful LED light on the inside of the ring that projects a bright illumination backwards, resulting in a striking display of light across your walls.
This light is especially durable due to its IP65 rating, which protects it from harsh weather conditions, and is made from corrosion-resistant polycarbonate, making it ideal for coastal areas.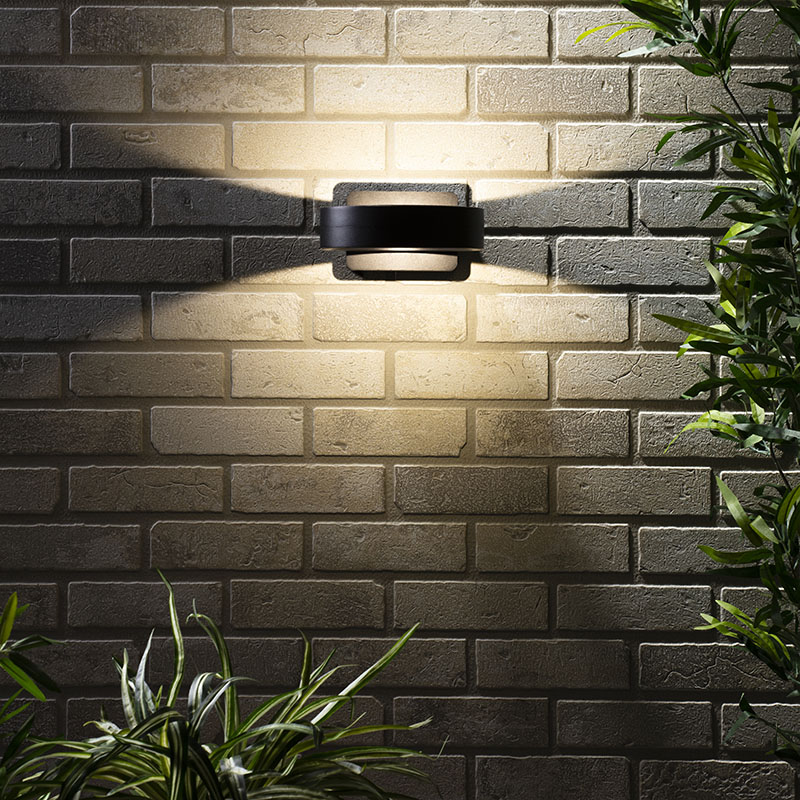 Relax in your Gorgeously Illuminated Garden Spaces
We hope that you're feeling inspired by our garden lighting tips and that you feel ready to revamp your outdoor spaces for the summer months! We love to see your social media posts of our products in and around your home, so don't forget to follow us on social media and tag us @litecraftlighting on Instagram when you post, for a chance to feature on our feed or in our stories.
If you're looking for more on the top trends for this year, why not browse our other blog posts to read up on our favourite styles of the season and see if they fit your interior design?