Top Picks: Bright Purples & Natural Greens
Firstly, decorating your home can be such an exciting experience. For instance, you get to choose the colour scheme you love and the different designs that will express your personality. Further more, there are so many colour combinations to choose from. More so, in case you are looking for some inspiration on pairing hues we have a pretty succulent and bright colour duo for you to look at.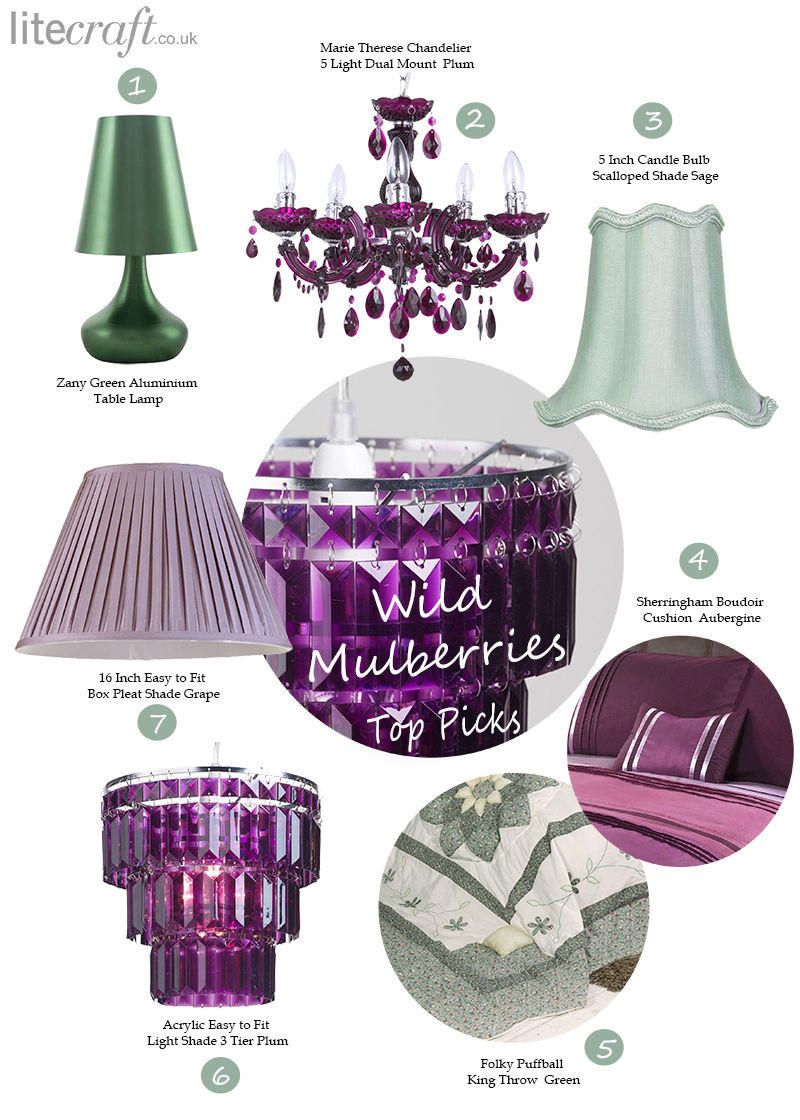 Bring a fresh and laid-back feel into your interiors by pairing the bright purple with some natural greens. This colour combination doesn't need much testing to know it works great. Just look at the breath taking lavender fields, wild mulberries, and plum trees filled with sweet plums. Also, these hues complement each other so well and will make your interiors pop. As a result, without a further ado here's our top picks inspired by these lush tones.
Zany Green Aluminium Table lamp
We might have mentioned it before, but our Zany Green Aluminium Table lamp is such an elegant design. Further more, we think it would look great in a green and purple coloured bedroom. This handy table lamp finished in metallic green has a slick design and will look chic both on and off.
Marie Therese 5 Light Chandelier in Purple Plum
Chandeliers offer plenty of bright ambience and a maximum style impact. Did you know that our Marie Therese 5 Light Chandelier in Purple Plum Finish is suitable for dimming with a dimmer switch? With a simple turn of a switch you can change the atmosphere of the room from bright & lively to low lit & relaxed.
5 Inch Candle Bulb Scalloped Shade
Mix in lighter tones of green for a more subtle interior look. Our new 5 Inch Candle Bulb Scalloped Shade is Sage has a traditional design. This will sit elegantly on a small table lamp base. Or if you have a plain looking chandelier with candle bulbs you can easily upgrade the look of it by adding candle shades! See full range of our Scalloped Shades here.
Sherringham Bedding Range
Home décor and accessories are an alternative way of bringing colour and style in your room without having to change key furniture pieces or wall colour. In addition, when it comes to bedroom bedding is one of the most important décor elements. A stylish and snug set of bedding is key to making you bedroom look neat and cosy. Our Sherringham bedding range is available in 3 stunning colours, and the Aubergine purple is our current favourite. In addition, the pin tuck and ribbon detail adds a contemporary style to this bedding range.
Folky Puffball King Throw in Green
For those of you looking for something a bit more traditional we have selected our Folky Puffball King Throw in Greens. Further more, it would be a great addition to any bedroom, dainty and extra snug. Featuring embroidery detail and a quilted flower design in the centre this beautiful throw will fill your bedroom with some vintage charm.
3 Tier Acrylic Easy Fit Light Shade in Plum
Embrace the vibrant tones and choose a striking ceiling light fitting in purple plum colour to create a bright and cheerful atmosphere. In addition, our 3 Tier Acrylic Easy Fit Light Shade in Plum has a modern design that will compliment any contemporary home.
16 Inch Easy fit Box Pleat Shade in Grape
Our 16 Inch Easy fit Box Pleat Shade in Grape colour is a more toned down take on the bright purples. The stylish design will make it a great addition to any room. The size of the shade allows you to use it as a ceiling light shade, large table lamp shade or even as a floor lamp shade… Or pair it with one of the other 6 sizes we have in this extensive range, the choice is yours!
What do you think of this colour duo?
Here's our Wild Mulberries Pinterest Board in case you want to see more!