We're absolutely crushing over our new arrivals, this week it's all about easy to fit ceiling light shades . They're the quickest and easiest way to add that touch of glamour without breaking the bank. To get you in the mood for some everyday luxury we have two new shade designs.
Ballagio Easy to Fit Light Shade
Firstly, introducing our Ballagio Easy to Fit Light Shade – Silver, this is the perfect antidote for just that touch of glamour. This piece features a subtle silver shade, but all is not as it seems, our Ballagio fitting boasts a removable metal plate holding together a plethora of circular crystal effect glass that twinkles and sparkles when hit with a dusting of light. This versatile piece can be fitted with or without the crystal design but we think a little bit of glamour is key for a welcoming interior and is perfect for the festive season. The easy fit design enables a quick fitting so look for this option when renting or updating on a  budget. Our shade chandeliers are ideal for a modern yet elegant look, great for that hint of bling without going over board.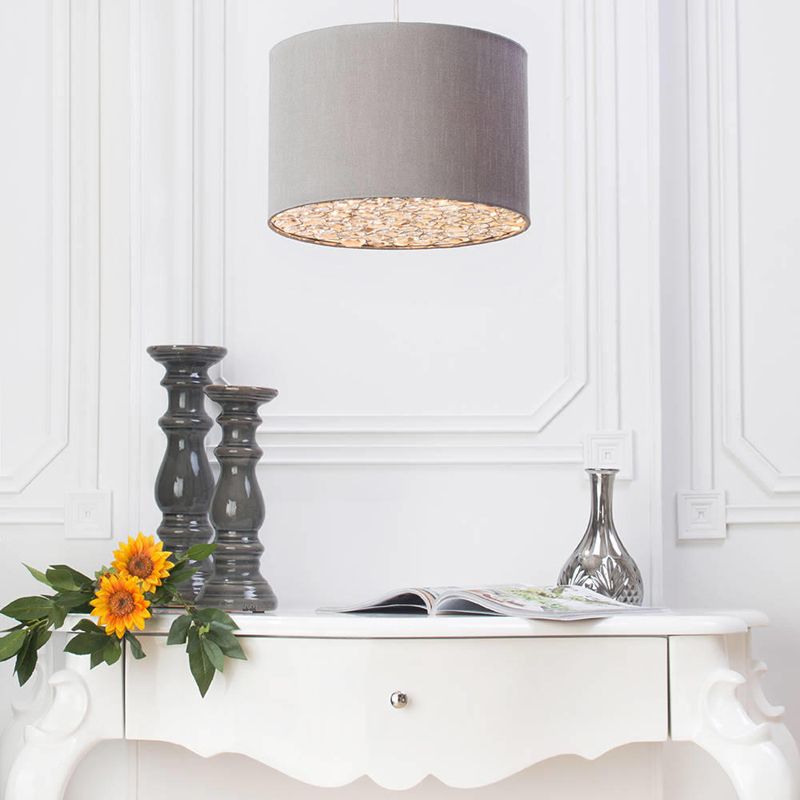 Damask Print Easy to Fit Light Shade Collection
For the ultimate boutique look there's one pattern that is key when creating an elegant interior. A rich design such as damask just oozes glamour so be sure to include this somewhere in your home, whether it be printed on a feature wall, embroidered on a scatter cushion or thrown over a plump bed. You'll find this design in many boutique hotels and stunning stately homes that's why our next shade collection had to be adorned with a glam damask design. We've listened to our customer feedback and designed a stunning collection of subtle yet sultry damask print shades, you wanted elegant designs at reasonable prices so that's what we've given you. Our Damask Print Easy to Fit Light Shade is available in a neutral Ivory for a fresh subtle injection of colour and a Lavender hue for a more feminine touch. A modern take on a classic print this is a must for everyday luxury with a hint of boutique style.
Which everyday luxury style light is your favourite?