Gathering up our winter warmers we ventured over to Manchester's Annual Christmas Market this week to glug some Glühwein, taste some yummy grub and have a mooch around the stalls, Manchester is the first City in the UK to introduce European inspired Markets,  they have been going for the past 15 years and run from the middle of November right through to the 22nd December. There are 9 separate areas across the city centre each showcasing a slightly different theme. King Street focuses on the Gallic French theme with hand-made French crafts and cuisine, Exchange Square has a stunning vintage tea room with crafts and jewellery stalls lining Exchange Street whilst Albert Square boasts a new two-storey beer hall and of course the giant Santa takes centre stage at the Manchester Town Hall.
We made our way down through Corporation street taking in the gingerbread Swiss style chalets, a row of mini huts reminiscent of an alpine village, minus some needed frosting.  Each stall has it's own unique characteristics, hand knitted wholly hats or hand-crafted wooden toys,  home-made chocolate crepes or hearty continental cuisine and with the backdrop of strong pine smelling Christmas trees to give your nose a tingly it feels like Christmas all wrapped up in a bow.
Once at Exchange Square, the mouthwatering smell of garlic filled the air and we were quickly drawn to the Cuisine Provencale stall serving a selection of yummy French inspired chicken stews and garlic side dishes. We opted for the Chicken Provençal with garlic potatoes, £6 for a generous size "small" tray.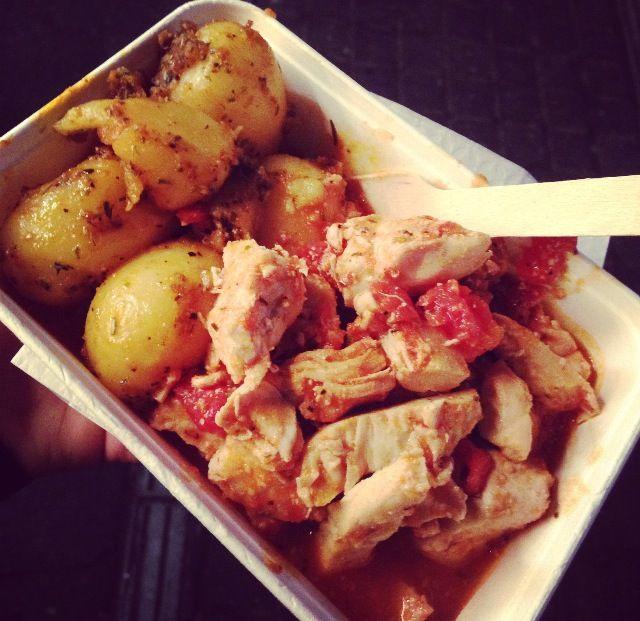 The stalls surround a magnificent 16ft Christmas Pyramid structure that takes centre stage and really gives the notion of European festivities, the Windmill bar sits at the foot of the Pyramid and showcases a selection of beers and wines, we decided on a traditional Glühwein to warm our cockels. We loved the structure, it features four wooden levels and derives from the tradition of hanging Christmas Pyramids in houses in Erzgebirge (the Ore Mountains of Germany). Most carousels feature wooden symbols and characters from biblical times such as angels and mangers or folk lore characters such as mountain folk and forest animals. The look really takes you to a magical place of whimsical feelings, the traditional roots of Santa Claus and Lapland.
The whole atmosphere at the markets really digs deep into the European feel of Christmas. The combination of alpine huts with twinkling fairy lights, dancing wooden folk figures and merry drinkers creates a warm and welcoming tone.
To recreate an element of European Christmas here's our Look Book:
Click on Image to Enlarge