Artisan Natural and Black Interior Inspiration
This week we headed over to Manchester's Spinningfields to have a drool at trendy Artisan Kitchen and Bar's interior delights. Another of Living Venture's successful projects. The Artisan is known for its rustic flamed pizzas, meat and fish as well as a whole host of other delights on the menu. Situated opposite The Oast House, the development opened in June 2013. It is set in a substantial sized semi-industrial space on the first floor of The Avenue North building.
On first entering you're greeted with a small foyer. Above head is a collection of cast iron ceiling pendants and a graphic mural art installation is featured on the wall. The look feels very open, trendy and art orientated, with a natural black and white theme apparent.
Make your way up stairs to the first floor and you'll find the vast space that is the main restaurant and bar area. The overall look is very industrialised with a stripped back feel. A subtle ambience of low level lighting, dark toned natural wood and the introduction of two huge open plan ovens scaling one wall creates a warm and intimate feeling, perfect for cold autumn nights.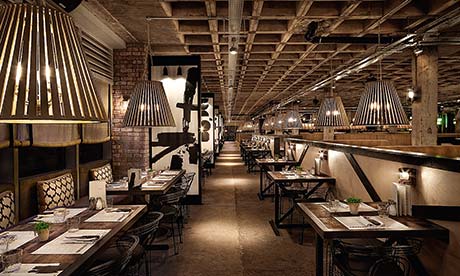 Exposed brick walls and stripped back concrete pillars, ceilings and floor give the feeling of an airy industrial mill. Whilst cream scatter cushions at the eating areas, earthy green plants and art installations soften the atmosphere creating a warm cosy feeling. The semi open kitchen plays on the notion of the artisanal. Skilled chefs' work upfront, rustling up flaming recipes before your eyes.
The bar area
The bar area comprises of a row of antique looking low tables lined up together in front of a wall of cabinets showcasing the drinks menu, over head a line of authentic looking exposed filament bulb pendants are suspended. The rustic look mixed with an edge of antiquarian chic follows through to the private dining studio. Ideal for parties and business conferences it features exposed walls and wooden apothecary style cabinets. Opposite, the window features bric-a-brac filled racking whilst more low level lighting lines the long chunky dining table.
If you're a female then take a look at the aptly named 'bitchin' room'. This cosy snug houses rococo style seating together with a padded chaise longue. More filament bulb pendants and rise and falls suspend from the low ceiling. In addition a large traditional rug taking centre stage. Overall the look was very cosy, a great intimate space for an intimate evening.
Have you been lucky enough to dine at this homely establishment? Let us know your thoughts.
Here's our Look Book to help you recreate the Artisan feel.
Click on image to Enlarge