You might remember our city guide interior inspiration post a few weeks back where we visited the stunning Botanist in Leeds, well after our post we were invited to a preview meal at their newly opened The Botanist bar/restaurant in Manchester . The main concept is the same, a mix of horticultural and Botanical finds and granddad shed tools mixed with a hint of shabby chic and faded decadence. Check out our post on The Latest Interior Trend, Botanical Beauties. Once again Living Ventures have succeeded with another exciting concept to add to their ever expanding list of bars and restaurants. They really are taking over Manchester and the North West scene with the likes of The Oast House, Alchemist, Australasia and Artisan in Spinningfields, Smugglers Cove at Liverpool's Albert Docks and The Botanist in Chester, Alderley Edge and Leeds.
For The Botanist, Living Ventures CEO Tim Bacon decided to move away from the well established Spinningfields site and give some much needed love to a somewhat forgotten area of the city centre. Manchester's Deansgate had become a little stagnant over the past few years with the success of Spinningfields and the trendy laid-back Northern Quarter. So it's great to see this section of Manchester getting a touch of Living Ventures, you'll find this new venue situated on Deansgate next door to The Living Room which was one of Living Ventures first projects back in the 90's.
Walking down Deansgate it's hard to miss the new venue, a large black canopy stretches out onto the pavement with the Botanist logo centre, this shelters a stunning display of giant copper leaves entwined along a black metal terrace, a great alfresco area.
Interior Inspiration – Terrace
We made our way into a side entrance where we got a glimpse of a stunning orangery style conservatory, but before we had chance to investigate further we were whisked off through a small corridor and into a slim dining area made up of distressed shabby chic chairs, lime washed slatted wood walls and squirrel cage bulb pendants dotted above. There was an air of faded decadence here that mixes with a rustic garden shed vibe, a distressed glass cabinet houses horticultural tools and trinkets whilst prints and posters of botanical diagrams are displayed on the walls.
Interior Inspiration – The Dining Room
Making our way through this section we then came to what appeared to be another dining area, this time the look was more industrial, a corrugated metal roof is held up with large wooden beams whilst more squirrel caged bulbs are entrapped in chicken coop styled ceiling cages. The lack of natural light together with low level spotlights and squirrel cage bulbs makes for quite a dark ambience, not ideal for happy snappers as you'll notice from our photos but it keeps the establishment feeling cosy and warm which is always a bonus. The centre of this section showcases a stunning 'secret garden style tunnel featuring entwining vine branches and ivy trails with berries and grapes hanging delicately above.
The theme has an overall enchanting notion about it, the walls are white washed exposed brick with wooden shelving that house more gardening paraphernalia, we sat next to a rustic garden fork, an old apple crate and some shabby terracotta plant pots.
Parking ourselves down on some more vintage distressed white chairs we were ready to order, I went for the pork crackling with chilli, spring onion and apple sauce, the sauce arrived on a miniature wheelbarrow and served on a wooden slab whilst the pan fried garlic mushrooms came served on a trowel. Our mains consisted of a rustic deli board of meats and cheese and a delicious hanging kebab, all were absolutely divine and we were soon full. These little characteristics and hints of a botanical nature really made the whole experience, who doesn't want apple sauce delivered in a miniature wheelbarrow?
Our feast was washed down with an assortment of delicious cocktails, the English Mojito was a refreshing combination of cucumber, lime, gin and apple liquer served in a tall glass and topped with mint. We finished the meal with a raspberry and sage Watering Can, an option on the menu similar to a pitcher perfect for larger parties,  which was served in (you guessed it) a quaint green watering can and a collection of crystal cut tumblers with a sprig of chive and some sage leaves. In all honesty myself and my party weren't a huge fan of this concoction, we thought it tasted a little too much like Paxo stuffing.
If you're not a fan of cocktails and prefer a more brewed beverage they have a stunningly illustrated beer menu at hand.
Throughout the meal we really felt like we'd been transported to some sort of secret garden party, a wonderland of enchanting food and whimsical concoctions, the botanical concept is definitely a winner and I have to say one of my favourite Living Venture venues.
Interior Inspiration – The Bar
We moved onto the bar for a final cocktail, here you'll find the pièce de résistance when it comes to the décor, a collection of stunning large chandeliers reminiscent of The Oast House's industrial fitting. This time the chandeliers are dressed with an eclectic mix of colour glass jars, multi-coloured glass droplets and crystal effect beads draped from a rustic metal frame. These are two stunning bespoke pieces that really bring the bar area to life. The bar lighting is finished off with bulbous hanging lanterns lined over the bar worktop and more squirrel caged bulbs in lanterns, whilst strip lights behind the bar light-up the large selection of spirits and beers on offer. To complete the look, dainty up-side-down caged lantern lights display more squirrel cage bulbs.
Interior Inspiration – The Conservatory
Once our cocktails were ready we made our way over to the pretty orangery, the room we noticed on first entering the establishment, this was my favourite room at The Botanist. A faded vintage flair filled the room with the introduction of more vintage distressed chairs, pale grey framed glass windows and more crackled white washed brick walls. The look is complete with more up-side-down wire basket lanterns, squirrel cage bulbs and to finish the botanical element, large palm tree plants and dry branches.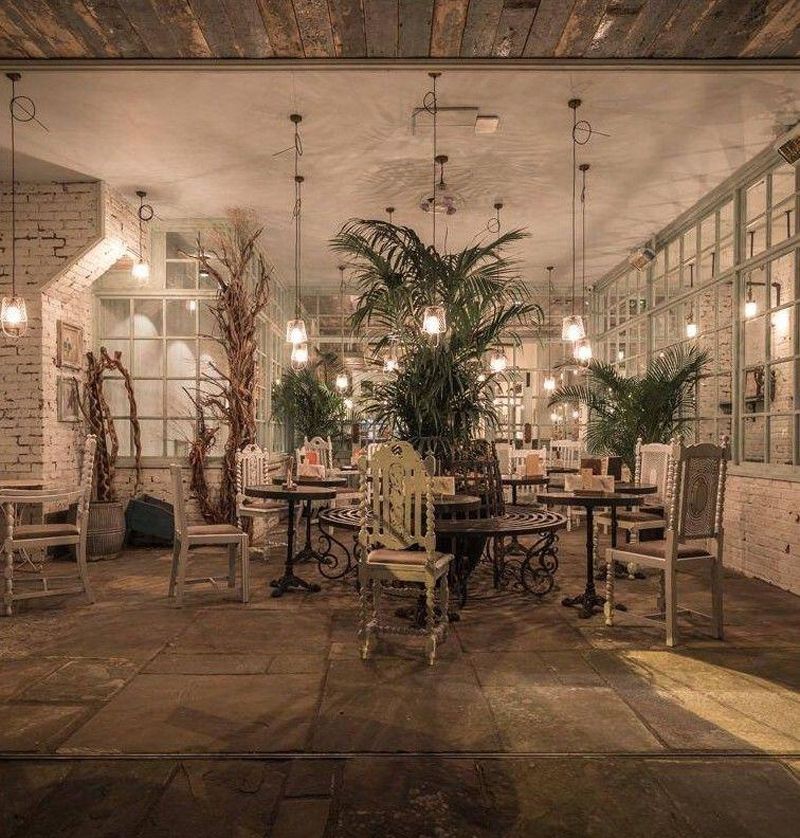 The Botanist has a whole host of interior themes to get your teeth into. You could adopt the more industrial element by introducing rustic finds, exposed brick and steel and copper metals, our Logan and Mersey fittings with a Squirrel Cage Light Bulb would be ideal for this look. Or go for a more shabby chic look by choosing distressed woods and cream finishes such as our Joshua Easy to Fit. Or simply pull both looks together for an eclectic mix. The key is to include an old fashioned touch using rustic and retro designs, and don't forget to add some plants. Check out our look book below to get the look with Litecraft Lighting…
A big thanks goes to Jodie at The Botanist, Manchester for allowing us to use your images and for the invitation.
Have you been to The Botanist yet? What did you think of the décor?