We're finally seeing some milder weather coming our way. So what better place to continue our city guide interiors posts than the English garden oasis that is Manchester's The Lawn Club. Undergoing a recent refurbishment, we couldn't wait to try out the newly laid croquet lawn and sample some tasty grub at the barbecue. From the creators of the successful pop up bars InBloom and subsequently Hibernate which popped up in the Christmas of 2013. The Lawn Club gave the Lawns of Hardman Square a laid-back country club vibe for the summer of 2014 and it's back looking even more luscious and green ready for this years foodies and beverage lovers.
Nestled within the luscious lawns in Manchester's uber trendy Spinningfields, opposite The Long Bar and within a stride away from the Alchemist sits this quintessentially English establishment. This year the décor has been stripped back offering a lighter and fresher vibe. As well as a new interior the bar/restaurant has grown in size and now boasts a large dining area with a new decked outdoor space that runs adjacent to the bar. The doors opened last week and treated guests to their new look including a private lawn.
Making your way down through Spinningfields from the likes of The Oast House and The Alchemist it's hard to miss this little gem. The front façade features large faux grass lettering, ivy trails and warm wood decking. A nautical rope fence sections off the lawn for an exclusive outdoor feel. Woven hazel wraps around the exterior like a giant wicker basket which adds to the quaint English design.
Fresh Alfresco Interiors – Bar Area
Make your way through the glossy patio doors and you're immediately greeted with a new fresh open air bar design. The bar spreads down through the elongated space which is decorated with ivy trails and clustered filament bulbs. The whole space has a fresh outdoor feeling, sun-bleached wood flooring mingles with fresh white rattan bar chairs whilst warmer oak wood shelving and bar top holds a white metro tiled bar front.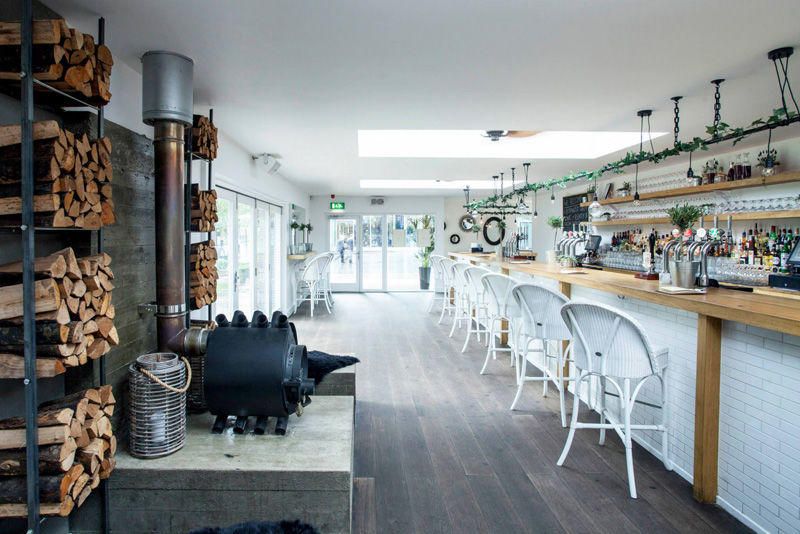 Zinc plant pots and dragonfly motifs add an alfresco feel whilst a striking black wood burner adds warmth. Chopped wood displayed high up on industrial shelving combines a natural element together with rustic. The low white ceilings give a sense of intimacy making this little gem a cosy and welcoming den. Pops of black are introduced through certain accessories such as port hole mirrors, shag pile rugs and a secluded black boothed seating area. This adds a layering and contrasting effect to the fresher white décor.
Fresh Alfresco Interiors – Dining Area
The new dining area sits separate and isolated from the bar for an intimate dining experience. The white ceiling is replaced with light bamboo screens, more filament bulbs drape above the seating area together with a line of rattan hanging baskets and flourishing foliage. Further foliage is introduced with lavender potted plants and white cut stemmed roses. Maui bay style ceiling fans and more rattan seating adds an exotic twist. The whole orangery element is finished with a scatter of green, bird motif and dragonfly print cushions. The ever popular industrial trend is present in small doses with more zinc plant pots, rustic fisherman ceiling pendants set on a concrete backdrop.
Step through the sparkling French windows onto the new outdoor decked area and here you'll get a real sense of the meaning alfresco dining. A cluster of simple white dining chairs and tables lay across the decking under three giant parasols. The likeliness of rain won't dampen this new addition. Simple outdoor candle lanterns, boxed shrubs and potted plants create an outdoor haven that spills onto the new private lawn.
Fresh Alfresco Interiors – New Decked Area
It's incredibly easy to recreate this refreshing interior in your home, ideally choose a light and open room such as the kitchen or conservatory as you'll need lots of light. Keep your base colour white or cream with additions of pastel greys and blues. The key is to use hints of natural accessories together with industrial and a splash of nautical. Dot a few fisherman lights together with exposed Squirrel Cage bulbs for an industrial twist. Soften the industrial impact with rattan and wicker accessories, wicker furniture is great for conservatories and orangeries as they are easy to maintain and very durable. Add plants such as lavender and ivy foliage to create the alfresco feel. Complete the look with by adding layers with cushions and throws, ideally keep to a garden colour palette of greens, creams and white.
Check out our Look Book below..