LED Light Fittings from Litecraft - Start using them in your home
Led Light fittings. The availability of LED lighting is dramatically increasing and here at Litecraft, we have a range of LED light fittings to suit your needs. Today's LED lights offer a safe, energy efficient lighting alternative for your home.
How to start using LED Light Fittings in your home
At Litecraft we have a variety of fittings available. Start with mood lights, chandeliers, spotlights and downlights to wall and colour changing lights we have lighting to suit any room in your home or office.They say the kitchen is the heart of the home so why not upgrade your lighting to LEDs. Bright high quality LED lighting is a must. The correct lighting will highlight the features of your kitchen and provide a bright space. LEDs also are useful in the kitchen because they don't attract insects.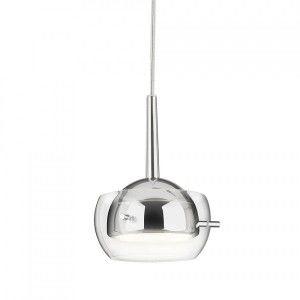 Philips Ceiling Pendant
This Phillips ceiling pendant is chrome and glass lamp suspended from a circular centre plate. The drop height is adjustable so you can create your own look. It also comes with LED bulbs with a life of up to 150,000 hours.
Bathroom lighting also shouldn't be overlooked in your home. With bright lighting, LEDs are perfect for your bathroom. Start with a ceiling light fitting that is IP44 rated for protection against splashing water.
Flush Ceiling Light IP44 Rated
This flush ceiling light comes included with LED bulbs and features a decorative suspended glass rim and large frosted glass dome diffuser.
Extra lighting can make your space feel inviting, clean and relaxing. Why not create a welcoming ambience in your living room with mood lighting or a stylish floor or table lamp.
Table Lamp with LED Bulbs

This table lamp is slim and elegant allowing the lamp to double up as an ornament. It comes with LED light bulbs included. Lamps are the easiest way to incorporate LED lights into your home.
Household LED lights are generally labelled with Warm White that are perfect for more gentle surroundings such as bedrooms and living rooms. Then Cool White for brighter light such as in your kitchen or bathroom. LED
Bulbs
come in all shapes and sizes which means you can upgrade your existing
light fittings
to LED.
Benefits of using LED lights in your home.
Cost Effective and Energy Saving
The cost of energy saving lights continues to drop while the quality continues to improve. Your bulb replacement savings will pay off over time.
LED lights in high quality designed fixtures and fittings are expected to have a useful life of up to 100,000 hours. So with bulbs here at Litecraft having a long life span it means less changing of light bulbs is needed.
They have a number of advantages over traditional light bulbs:
They are 5 times brighter - Use 80% less power than traditional light bulbs to provide the same light level.
Saving energy helps the environment by reducing the expected impacts of climate change. Efficient Lighting makes your home greener and more affordable to run.
Handy Tip: LED lights doesn't flicker, that could benefit migraine sufferers! Once you've upgraded your bulbs and LED light fittings. You can sit back and relax knowing you wont have to change them for an average of 15 years and smile knowing you've also saved money!
View our full range of led light fittings or for more inspirational images and articles, head to our Facebook Page.