Kitchens are the main place in the home for social gatherings. The place where most of us will gather to eat, talk and spend time. With this, homeowners are giving more thought to the layout and décor of their kitchens and this includes a practical but decorative lighting scheme. A good lighting scheme promotes a practical and safe kitchen environment.
These days, with the increase of home conversions and extensions, homeowners are creating bigger rooms, making way for more storage and most importantly more surface space for entertaining and preparing food. We're seeing an increasing trend of Kitchen Island and breakfast bars added to kitchens. Kitchen Islands are great, if you've got the room. A more casual place to eat and socialise, keeping the dining area separate for more formal occasions. Kitchen Islands are also ideal for a more practical Kitchen as everything is within reaching distance, chat with guests as your cooking or prepare food whilst keeping an eye on the kids.
Litecraft have an extensive range of lighting that is ideal for Kitchen Islands and breakfast bars, including Pendant bars, cluster pendants and single pendants that can be installed in multiples. Here's a handful of our lighting that's perfect for Kitchen Islands and breakfast bars. Furthermore, head over to our Kitchen Island Lighting section on our website.
Choosing Kitchen Island Lighting
Choosing the right Kitchen Island Lighting isn't rocket science. The main thing to consider is the size and layout of your Kitchen, but if you're a little wary just think big. Even in over compact Kitchen islands a larger light will work, the bigger the fitting, the more impact of light you'll create.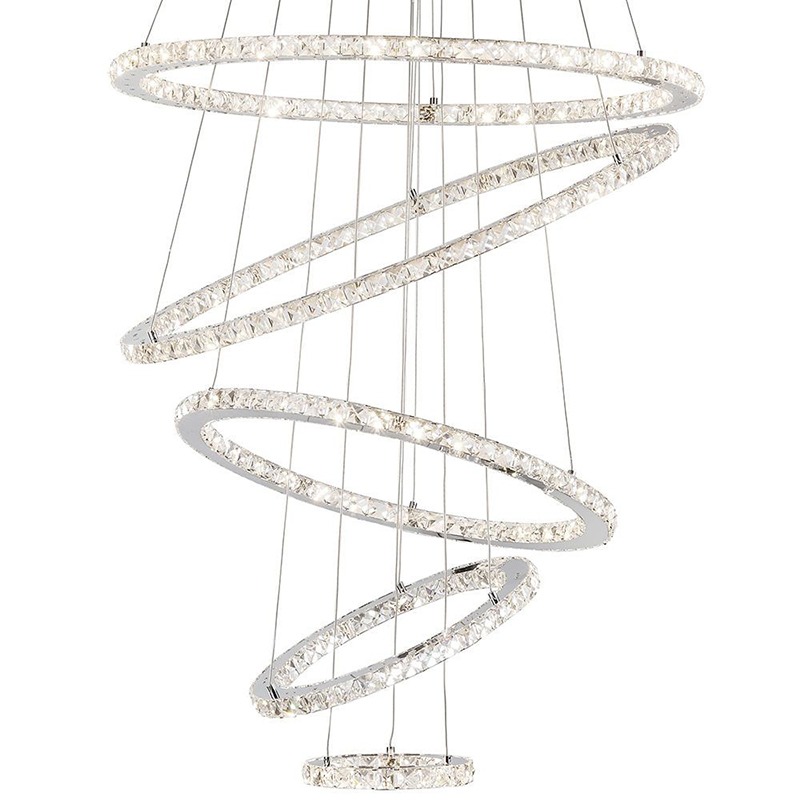 Create symmetry and balance by tripling or even quadrupling your fittings. Installing three or four separate pendants can be costly so consider a multi-armed fitting, incorporating a number of pendants in one. We have a range of over 25 Kitchen Island Lights that boast a multi-armed feature.
Spice things up in the kitchen with Kitchen Island Lighting. Most kitchen lighting schemes consist of down-lighters, spotlight bars, plates and strip lighting which can sometimes feel a little plain. By adding Kitchen Island Lighting you're creating a focal point and adding some interest to the room. Choose pendant lighting that compliments your surroundings, whether it's a glossy high tech kitchen or a more traditional décor we'll be sure to match your needs. Single ceiling pendants, whilst maybe a costly installation will still look effective, here's a few from our range.
When installing your Kitchen Island Lighting be sure to hang them at a practical yet decorative height. Around 30-35 inches above the surface of the island is the advised height. However, this will depend on the strength of the fitting and the design of the shades. Central Kitchen Islands, where you can walk fully around them will need higher pendants so they aren't in the way. For Kitchen islands with integrated hobs and sinks, consider heat and moisture issues. We advise you raise the pendants six or seven inches higher to prevent damage to the bulb and overall fitting. Also, try not to have the fitting directly above the hob as heat rising may damage the light.
Cluster pendants over a kitchen island will create a statement and a focal point to your kitchen as well as a talking piece for when you have guests around. Several of our bar pendant ceiling lights can be adjusted to create an uneven clustered appearance too.
Think about design and how much illumination and ambience you want when choosing Kitchen Island Lighting. Dainty glass shades will give a low ambience whilst cone style shades will create a larger scope of light. For cleaning purposes stick to glass or metal shades, fabric designs will be harder to clean whilst also attracting grease and other Kitchen residue. To help you when choosing Kitchen Island Lighting take a look at our current Pinterest board here.