Pendant lighting is a versatile and sometimes more affordable alternative to adding ambience to your home. In most instances, pendants are installed as a standalone statement piece, in a clustered form or in a series of 2 or 3 pendants. It's the latter with which we'll focus on today, particularly how to double up and dine with our selection of pendant lighting. We'll look at how to style a variety of our pendants for an ambience filled dining area.
---
A central part of the home, the dining room is the place where we gather for breakfast in the morning, Huddle around the table for evening dinner and that crazy room at the weekend for crafts and games. One of the key points to consider when lighting a dining room is you should always base your lighting around your dining table. As one of the main places that families congregate around, you should demarcate a section of the room as the focus and statement.
Orbital Ceiling Pendant with Crackle Shade Inner
The first of our glass pendant picks is this simple yet stylish Orbital Ceiling Pendant. This option is a fantastic addition to double up above a dining table, as styled here with lots of cactus' and tropical accents that complement the simplistic design of the pendant lighting. The unusual and intricate design of the crackled glass shade is showcased through a second layer of clear glass, creating a clean and beautiful double layer effect which further adds to the welcoming vibe of this set up.
Scandi Ceiling Pendant with Smoked Glass Shade - Black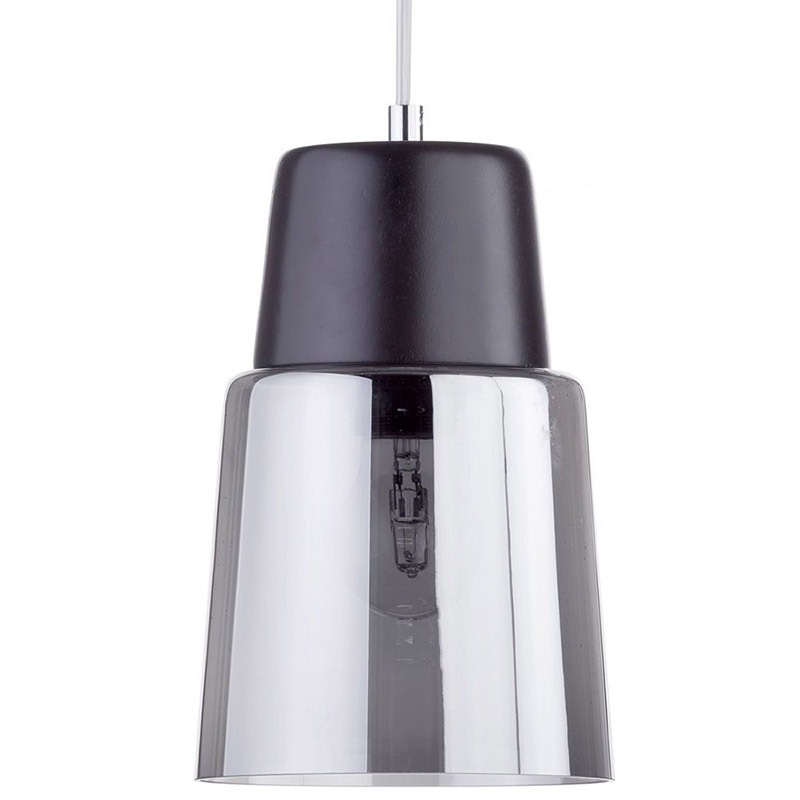 Moving onto a more modern industrial tone, our fantastic Scandi Ceiling Pendant pairs incredibly here with this farmhouse vibe which has combined more galvanized, stainless steel metals with pretty foliage and greenery which softens the look. The gorgeous exposed bulb detailing is also very on trend in more industrial chic homes and allows endless amounts of light to spread across a room too which is the true beauty of this design.
Retro Fisherman Industrial Ceiling Pendant in Grey
Another industrial style option, our sleek Retro Fisherman Ceiling Pendant in Grey has that simplistic appeal that works great in a kitchen/ diner. The soothing blue and grey tones work effortlessly with the metallic chrome accents of this room, and we have incorporated plants and textured materials such as rattan to give a more warm, homely feel that is in keeping with the farmhouse look. Doubling this up above a dining table allows floods of ambient light to spread across your room.
Hammered Copper Pendant Lighting
Simplistic, easy to style lighting is just what you need when decorating a dining room and our Hammered Copper Pendant Ceiling Light works fantastically. We have paired this with warm terracotta accents and sea grass baskets scattered throughout to give a naturally textured look that contradicts the hard metal design of the fitting and works beautifully with the copper finish. Laid-back Mediterranean is what springs to mind and we have tried to incorporate as much of that rich copper tone as possible. This fitting is available over on our eBay shop.
Cream Pendant with Bamboo Inner
We decided to create a more scandi look in this next room, that includes our fabulous Cream Pendant with Bamboo Inner. The bamboo inner of this light gave us a lot of inspiration to bring in some stunning natural textures to the room with lots of greenery for a soothing look that is very homely, a relaxing retreat after a long day. The large nature of this fitting is softened by the neutral colour pallet and we incorporated as many cream tones as possible, whilst also considering the chrome ceiling plate with the more industrial style chairs.
Honey Wicker Wave Ceiling Pendant Lighting
Create a Mediterranean vibe with our Natural Honey Wicker Wave Ceiling Pendant. We've paired this fitting with a palette of terracotta tones, light olive accents, sea grass and hyacinth textures and warm coppers. Ensuring a laid back and harmonious home. When lit, this fitting reflects a beautiful branch like design across the walls and ceilings. Add one of our Gold Tinted Vintage Filament Bulbs for some extra warm ambience.
Globe Shade Ceiling Pendant in Chrome
Alternatively, choose our transparent Globe Shade Ceiling Pendant Lighting for a more refreshing and clean lined look. The spherical glass design of our Globe Pendant creates a bright glow when lit. We've pulled together a calming greenery and foliage influenced setting. Adding glass accents to a heavily plant and foliage space allows the greenery to take centre stage whilst also maintaining a structured light source. Add cloche and bell jar designs together with dining glassware to finish the look.