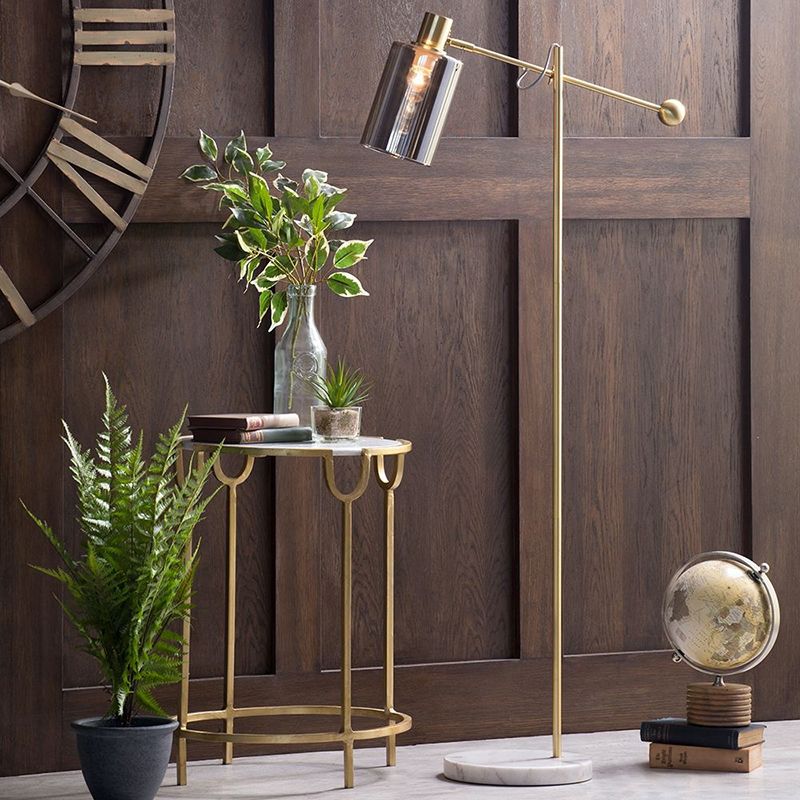 Floor lamps are a marvellous addition to the designs of any living room, helping to bring together themes and areas for a more cohesive and effective tone within an interior. These lamps are capable of giving a useful spread of light to the space that surrounds them whilst also creating a stylish and unique image inside of the interiors, making them a wonderful piece to bring into the décor. There's a huge selection to choose from when it comes to shopping for the right floor lamps, so we're going to offer a few tips to help you to find the perfect lamps for your home!
How to find the right style floor lamp
Floor lamps can be used in almost any interior, with a wide range of designs making it easy to find something suitable for your home's specific needs. One of the main factors that you need to consider when choosing a floor lamp for your interiors is the size and height that is needed, as this will have a huge impact on the style of floor lamp that you will need. A floor lamp that is too large may look out of place and will restrict the space around it too much, whereas a lamp that is too small will look almost like a table lamp and certainly won't give the desired effect on the image of the room and also won't be able to illuminate the surrounding space effectively. This means measuring your living rooms height and the space that the lamp will be put into to find a floor lamp that is the right height and size for your interiors.
Another thing that is obviously incredibly important to consider is the image of the lamp, as you will be looking for a piece which fits in with the existing décor to produce an interior with a flowing sense of style, regardless of the theme. So whether you're looking for a contemporary floor lamp to give an urban look to your home, or you're looking to bring an elegant traditional tone to an interior, there is sure to be a floor lamp that suits your unique tastes.
What is the floor lamp's purpose
There are three different styles of light that can be used inside of an interiors, ambient, task, and accent, however floor lamps are in the unusual position of being able to offer any variation of these to the interior that they are used within. Certain floor lamps may be best suited to bringing an enhances sense of style to an interior, acting as a bold statement piece within the décor, whereas other lamps may be more effective when providing a practical beam of light over a chair in a reading nook, helping you to see the book more clearly. These lamps are also more than capable of giving a soft and atmospheric glow to the surrounding area, creating a more comforting feel in the room offering the ideal environment to unwind inside of.
Litecraft's Floor Lamp suggestions
In the Litecraft catalogue we have a huge range of floor lamps in every shape and style imaginable, so it might be a little difficult to find the right lights if you don't have a rough idea of what you're looking for, which is why it is important to have already thought about the things already mentioned in this blog before you start your search. If you are still having trouble trying to identify the right style of floor lamp for your home, take a look at our top picks below and see if they match the tone and image that you are aiming to create!
Giant 1 Light Cream Task Floor Lamp: For a floor lamp that offers task lighting to your home, this giant task lamp inspired piece is a blatantly obvious choice, offering a brilliant beam of focused and purposeful lighting to your home that is idea for helping you to complete activities with greater accuracy. Coming in a simple cream colour, this lamp is sure to be an ideal addition to interiors looking for a brighter piece which offers a practical style of lighting.
2 Light Mother and Child Floor Lamp with Bulbs – Titanium: This sleek and urban mother and child lamp is a very versatile and effective piece to bring into any interior, offering a combination of task and ambient lighting to your home. With a tall and simplistic designs, this lamp would be welcome in any modern day interior, with the titanium finish giving a stylish look to the décor's designs. The upwards facing light will give a soft wash of light for a more relaxed feel within the interior, whilst the task light faces downwards and offers a more focused beam of light to give a clear and direct form of illumination to the desired area.
Corona 6 Light Vertical Chrome Spiral Floor Lamp: Last but not least we feature a floor lamp that is sure to make a bold statement within any interior's designs, with the gorgeous integrated LED and unique ball shaped lights giving a stunning look to your home. This copper lamps features 6 individual lights which spiral around the main structure of the lamp to offer a wide and even spread of light to the surrounding area. The sparkling integrated LED balls offer an elegant twist to any décor and are sure to be the perfect addition to any sophisticated contemporary home.
Bringing any of these floor lamps into your living room is a sure fire way to improve the overall tone and impact of the interior, but it's completely up to you to decide which lamp is best suited to your home's designs so don't be afraid to browse our full range by visiting us online or in store!
For more helpful hints and tips on home lighting, head over to our blog where you'll find a variety of guides and articles covering every lighting topic you could imagine!