LED strip lights are a great way to add contemporary task and ambient lighting to your kitchen. They are versatile, inexpensive and can change the look and feel of a room in an instant.  Let's find out more about this latest LED trend.
What is LED strip lighting?
Strip lighting consists of a thin, self adhesive strip with small, low voltage LED lights placed at regular intervals. The strips are flexible and can be bent around corners and curves to fit any space. They can even be cut to size. Each LED strip is connected to a driver which provides energy to power them and multiple strips can be connected to one driver. Once powered, the LED strips provide bright, focused illumination in a range of colours. LED strip lights are suitable for home and commercial use.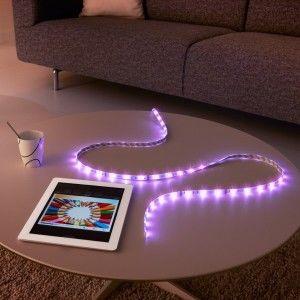 Colour changing LED strip lights
Strip lighting is often available with cool, colour changing LEDs. Choosing colour changing LED strip lights is an ideal way to add mood lighting to your kitchen. Using a remote, the colour can be changed to suit any occasion. Blue will create a cool, contemporary look, whilst yellow will add warmth to a kitchen. Red light is perfect for setting a romantic scene and white will add a classic, neutral source of illumination. With colour changing LEDs, you can change the look whenever you want and you can even select a range of amazing colour-changing effects.
Using LED strip lighting in your kitchen
LED strips are an increasingly popular choice for kitchen lighting. They create a stylish and contemporary look and add a 'wow' factor that can't be achieved with a simple ceiling or wall light. LED strip lights can also be used to add practical task lighting to a kitchen by illuminating work areas that are often darkened by shadows from overhead lighting. The options are endless when it comes to using LED strip lighting in your kitchen. These are just a few of the places you can install them:
Along kitchen plinths: A kitchen plinth is the length of wood along the bottom of a cupboard. Adding LED lighting to this space will open up a room and make it look bigger. This work by illuminating a normally dark area and flooding the floor with light.
Underneath kitchen cabinets: Kitchen work tops are often cast into shadow from cupboards, making food preparation difficult. Light up kitchen wall cabinets with hidden LED strips underneath. This will provide practical task lighting above work surfaces, making cooking easier.
Along shelves: Does your kitchen have shelving or alcoves that are left in the dark? Add strips of LED lights to the inside of alcoves and along the back of shelves for a hidden glow. Strip lighting is a great way to illuminate and highlight decorative objects that are on display.
In cupboards and display cases: Light up glass-fronted kitchen cupboards and display cases by placing LED strip lights inside. As with shelving, LED strip lights in cupboards will highlight objects and create a contemporary look.
Things to consider before buying LED strip lights
Thinking about installing LED strip lights in your kitchen? Here's a few things to think about first:
Is the surface suitable?
Because of the self-adhesive backing, LED strips need to be placed on a flat, clean and dry surface. Check that your intended surface is smooth and before applying, clean and dry the area well.
Do your strip lights need to be IP rated?
If you're placing them close to areas with water such as kitchen sinks, you may need IP safety rated lights. Some strip lights are IP65 rated which means that they are protected against splashes and jets of water and are safe for kitchen use. Make sure to check the rules and regulations before you install them.
What strip length do you need?
Measure the space you want to install LED strip lights before you purchase them. Strips of LED lights come in set lengths but they can be joined together and cut to length to fit a space.
How much light output do you need?
Think about the intended use and placement of LEDs to decide how much light you require. LED strip lights are available with different spacing. The amount of light produced will depend on how far apart the LEDs are spaced on a strip. You can also double the light output by installing a double strip of LEDs, one on top of the other.
Do you need task or accent lighting?
Consider what kind of lighting the area you wish to install LED strip lights needs. This will probably depend on where you are installing them – LED strips inside shelves and plinths are mostly decorative and therefore will be mainly used for accent lighting, so LED strips in these areas don't need to be as bright. Under cabinet lighting will illuminate the work surface below and act as task lighting, so you may want to choose brighter LEDs.
Take a look at this video of Litecraft's LED strip lights in action:
How to install LED strip lights
LED strip lights are easy to put in place using the adhesive strip on the back. You can test out placement first by temporarily sticking the strips down using masking tape or adhesive putty. Once you've chosen the correct placement, we recommend hiring a qualified electrician to install LED strip lights safely and properly.
Do you think your kitchen could benefit from some LED  lighting? Visit Litecraft to find a range of the latest LED strip lights.