Lamp shades – A quick and simple solution to home lighting
Are you thinking of updating your home lighting, but don't want the hassle of installing new light fittings? If you want a new look in an instant, easy fit lamp shades are a perfect solution.
Lamp shades require no complicated or messy electrical work; they simply attach to an existing ceiling fitting. It is easy to do and takes a few minutes to get a brand new look. Some shades can also be used on lamp bases to instantly update your accent lighting around the home.
If you like to change your style regularly and keep your look fresh, lamp shades are the perfect easy and affordable solution.
Modern lamp shades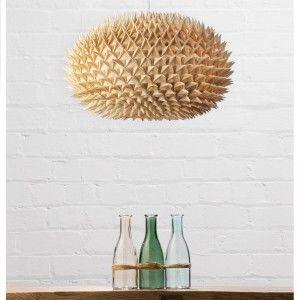 Many people think lamp shades can be uninspiring or plain, but there are many amazing, trend-inspired styles available that will add a stylish touch to your decor. Lamp shades now come in fabulous shapes, such as the Spikey ball lamp shade, and with stunning design details like the bamboo shade with a yellow interior. Lamp shades can make a real style statement in a home.
How to choose the right lamp shade
When it comes to lamp shades, making the right choice can make or break your look. Whether you want something small and subtle or a bright and bold shade, there are many styles and types available for you to choose from.
Light shades can change the look of a room as well as affecting the light output of a fitting, so there are a few elements to consider when choosing lamp shades: style, colour, shape and fabric.
1. Style
When choosing a lamp shade, consider the decor and design features in your room. The style of lamp shade you choose can help to enhance a theme and add character to your room.
If you favour a contemporary look in your home, a bold and edgy lamp shade would look great with minimalist accessories and clean lines. Modern lamp shades often feature unique shapes and use fabrics such as acrylic. Block colours will also help to create a contemporary look. Contemporary style lamp shades are perfect for kitchen spaces and modern homes.
If your look is more traditional, keep things classic; a glass shade would be a perfect choice for your room and a pleated fabric shade will add a cosy, conservative look. Chandelier style shades with crystal effect beads never go out of style, and are perfect for adding a decorative touch. Traditionally styled lamp shades are a great choice for grand hallways and classically styled dining rooms.
Children's rooms require a whole style of their own, with bright colours and cute designs. Easy fit shades are perfect for adding a touch of fun to children's rooms, that is easily changeable when their style changes.
2. Colour
Lamp shades are available in a wide range of colours, so there is something to suit every room. You might want your lamp shade to blend in and co-ordinate with your decor; in that case choose a soft block colour shade in a colour similar to your walls or decorative features, such as ivory or grey. A light coloured or white shade will diffuse light more easily for bright and diffused illumination.
Or why not choose a lamp shade in a contrasting colour such as plum or red, to create an eye-catching design feature that stands out for all the right reasons?
3. Shape

When deciding what shape of lamp shade you would like, think about the proportions of your room. A wide drum lamp shade could overpower a small room but would look great in a room with lots of space. Thin, conical shades are perfect for hallways and compact spaces.
Drum shades have an open top and bottom that casts light upwards and downwards, so they offer a bright solution to lighting, perfect if you have a dark room.
The shape of a light shade can also help to create a style statement. Choose an easy fit shade with a more unusual, sculptured shape, such as the Conch lamp shade.
4. Fabric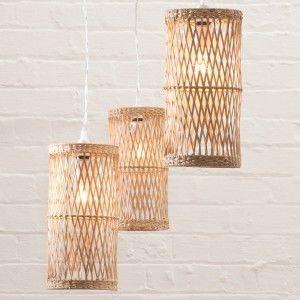 Fabric can add texture and interest to an interior space, so it is an important consideration when choosing a lamp shade. Pleated fabric adds an interesting twist to a plain fabric shade, whilst rattan and bamboo shades have a beautiful, natural look that fits perfectly with modern spaces. On the other hand, a glass shade will add elegance and a classic look to a room.
The material you choose will also have an effect on the light output of the shade. Thick, opaque materials will control and direct the light, whereas light transparent materials will provide a more even, dispersed light throughout the room. Glass shades allow a lot of light to shine through, meaning that they offer almost as much light output as a exposed bulb.
How do I fit a ceiling lamp shade?
Once you've chosen the perfect lamp shade for you room, you're ready to put it in place. The great thing about easy-fit lamp shades is that they are super simple to install! If you already have an existing light bulb fitting hanging from your ceiling, you can easily fit your lamp shade in a few minutes.
Make sure that all electricity is turned off before attempting to replace or install a ceiling light shade. When cool, unscrew the bulb from the holder. Then unscrew the bottom part of the light bulb holder. Slide the centre ring of the shade over the fitting and then screw the bottom of the light bulb holder back into place, over the shade. Replace the light bulb.
What is a reversible gimble?
Many of our lamp shades have a reversible gimble. A gimble is the inside ring of the lamp that connects it to a fitting. If the gimble is reversible, it can be hung from a bulb holder or reversed to use on a table or floor lamp base. Some shades also come with a reducer which allows them to be used on both UK and European sizes of light fitting.
If you would like to transform your home lighting with a lamp shade, Litecraft have a huge range of stunning easy-fit shades to match every room. Browse our collection of beautiful light shades here.