When you want to add that wow factor to a room, a glamorous chandelier is the perfect option. The classic, elegant design with curving arms and sparkling crystal drops create a bold style statement that's hard to beat. But what do you do if your room lacks height? When you're faced with a low ceiling, choosing a chandelier can be difficult.
In the past, chandeliers were hung with pride in the centre of grandly scaled rooms and spacious halls. But now, most modern homes are built with low ceilings.
Ceiling heights in the UK vary greatly due to the variety of modern and period properties. Nowadays, the standard ceiling height for new properties is around 8 feet. However, since 2008, building regulations have relaxed and there is currently no specialised minimum ceiling height.
Lower ceilings make it easier to light and heat a room, cutting down on energy costs compared to houses with high ceilings.  But it also makes choosing lighting more difficult. It may seem like a chandelier light fitting simple won't work in today's homes.
However, if you choose the right style, it is possible to choose a chandelier for low ceilings. They can even make a room look bigger, as they have multiple lamps and glass or crystal beads which reflect and bounce light around the room.
Here are our five picks of the best low ceiling chandeliers.
Marie Therese 5 Light Dual Mount Chandelier
The Marie Therese 5 Light chandelier features a classic design in a contemporary acrylic finish. It is decorated with elegant crystal effect beads and drops to add that luxurious feel.
The Marie Therese chandelier features a dual mount, adjustable light fitting. This means that it can be hung at variable lengths by a chain, or it can be fitted as a flush ceiling chandelier. The compact design conserves space in small rooms but still makes an impact thanks to it's stunning design. With a minimum drop of just 45cm, this makes a great choice if you're looking for a low ceiling chandelier.
The Marie Therese 5 light chandelier is available in a wide range of colour to suit every decor. For a classic look, choose chic black or stylish silver. If you're feeling more adventurous and want to add a pop of colour to your room, the Marie Therese is also available as an eye-catching multi-coloured chandelier.
Madonna 3 Light Dual Mount Chandelier
The Madonna 3 light chandelier also features a dual mount, adjustable fitting making it a perfect choice for low ceilings in modern homes. If your room has low ceilings, it can be fitted flush, to raise the drop to just 45cm.
The Madonna light has a classic chandelier design with three ornate curved arms, glass uplighters and crystal effect bead strings.  It makes a stunning style statement in both modern and traditional homes.
This stylish chandelier comes in a range of beautiful colours and finishes including antique brass for a traditional look and chrome for a contemporary twist. The chrome version is available with champagne, smoke grey or stunning red crystal drops to add that wow factor to your home.
Cygnet 12 Light Chandelier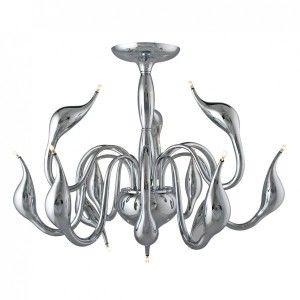 Unlike traditional style chandeliers, the Cygnet 12 light chandelier has no hanging beads or crystal drops. Instead, it features a sleek, contemporary Italian crafted design with elegant swan necked metal arms that curve upwards towards the ceiling. The tips are finished with twinkling halogen lights to illuminate your room. This makes it a great choice for rooms with lower ceilings as the eye is drawn upwards, creating more height visually.
If your room has low ceilings, the dual mount Cygnet chandelier can be fitted flush to the ceiling to conserve space.
The Cygnet 12 light chandelier is available in a range of colours to match every decor. Choose from classic silver, black and white designs or choose it in red for a contemporary look. If you're a lover of luxury, the Cygnet also comes as an opulent 24 carat gold chandelier. Perfect for adding a style statement to small rooms.
3 Tier Wine Glass Chandelier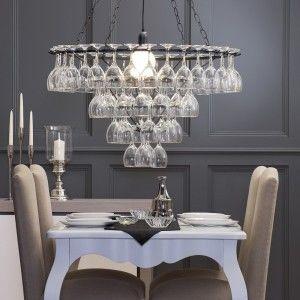 If your home has low ceilings, you can still enjoy the look of a chandelier with clever placement. Try hanging a chandelier in an area with no foot traffic, where it will become a feature of the room without being impractical and causing a hazard. For example, this stylish wine glass chandelier may not work well in some rooms with low ceilings, but it would look great hung above a dining room table. Putting it above the dining table will draw attention to the table and create a focal point.
We have a wide range of wine glass chandeliers, but this 3 tiered version is only 42cm high. Many chandeliers such as this one feature an adjustable chain so you can raise or lower it to your desired height. As with all chandeliers, check our minimum and maximum hanging dimensions to find out if it will work for your room.
The 3 tier wine glass chandler comes in 3 different finishes: black, white and silver. Litecraft also stock a 3 tiered champagne flute chandelier for a slightly different look.
To find out more about dining room lighting, read our buying guide click here.
Montego 6 Light Ceiling Light
Lastly, whilst not it's technically a chandelier, we have a great alternative for houses and apartments with very low ceilings. If you love the elegant look of a crystal chandelier but you need to conserve ceiling space, why not opt for a semi flush ceiling light with crystal drops. With a height of just 26cm, the Montego 6 light ceiling light has all the glamour and sophistication of a sparkling chandelier but without taking up much height.
The Montego 6 light ceiling light is available in sleek, contemporary chrome as well as a traditional gold finish to suit your decor.
We stock a wide range of chandeliers for every room in your home, including chandeliers for low ceilings. Whether you want a classic and traditional look or you want to create a contemporary style statement, you will find the perfect chandelier ceiling light at Litecraft. As always, check our product dimensions before buying to ensure that your chosen chandelier will fit in your room.