Track lights are one of the most smart and versatile lighting solutions available. Whilst often seen in commercial settings. These contemporary light fittings can also be a great addition to your home. If you're looking for a source of task or accent lighting. Track lights are a functional and affordable solution. Our guide to track lights will answer all of your questions about this type of lighting.
What is track lighting?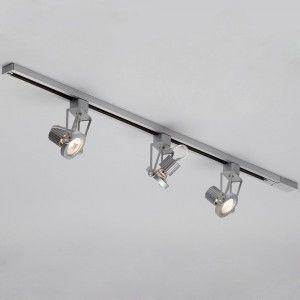 Track lights are a system that involves an arrangement of spotlights along a plastic or aluminium track. The track contains electrical wiring inside. When individual spotlights are attached, they are powered by metal plates. These make contact with the charged wiring inside the track. This means that each spotlight can be separately moved anywhere along the track. Spotlights can also be added or taken away at any time if you need more or less lighting. Standard track lights involve a straight track, which can also fix together in 'L', 'T' or 'H' patterns.
As a result of their minimalist style, this lighting works best in contemporary settings to offer an interesting alternative to standard spotlights. If you're looking for a functional but stylish lighting solution, track lights are a great choice.
How to buy track lighting?
Litecraft's range of 1 metre track light packages makes it easy for you to purchase track light kits for your home.
To choose the right package for your room, first decide on the type of spotlight you want to use. All of our spotlight bars are available with either GU10 halogen or LED light bulbs. If you want to save energy in your home, LED spotlights are extremely energy efficient and long lasting, making them a cost effective choice.
Next, decide how many spotlights you need. Think about the requirements you need from your task lighting and how many areas need direct lighting. Our track lighting is available to buy with 1, 2 or 3 spotlights, but more spotlights can be added or taken away at any time.
Finally, choose a finish and style. The sleek and simple designs are available in a range of modern finishes; choose white track lighting to blend seamlessly with your ceiling or make your lighting a feature with a contemporary silver finish. Spotlight heads are available in a range of styles and shapes to suit your décor, from functional designs to more decorative styles.
Where can I use track lighting?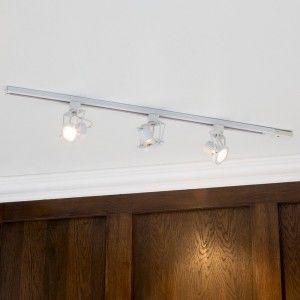 Whilst track lighting can sometimes be the main source of ambient lighting for a very small or narrow room, it is generally seen as a source of extra task or accent lighting. The main purpose of task lighting is to highlight features or create an atmosphere. In general, it is important to combine track lights with other lighting sources in a room. With this in mind, track light kits are suitable in most areas of the home.
In The Kitchen
This style of lighting is a popular choice for kitchens. Tracks can be put above kitchen islands and close to counters to provide useful overhead task lighting. Spotlights are adjustable, meaning you can shine light on specific work areas such as hobs and kitchen sinks. The great thing about track lighting is that it can be moved around and adjusted to accommodate different activities.
In The Home Office
Track light bars is an ideal addition to home office lighting. Direct task lighting will illuminate important work areas and prevent eye strain that can often occur from a single light source. Place a strip of track lighting above a desk or next to a book shelf to light up key areas. Track lights can also be cleverly positioned to avoid glare on a computer screen. Additionally, if you decide to rearrange your office or highlight different parts of the room on different occasions, track lights allow you to adapt your lighting easily.
In The Living Room
Although track lights don't typically provide enough brightness for general ambient lighting, it is perfect for adding accent lighting to a living room or dining room. If you want to add a little extra illumination to your room, track lighting is a great idea. Use it to highlight sideboards, book cases, shelves and pieces of art work.  When you feel like a change and decide to move furniture or wall art around, track lights allow you to easily adjust the position of your lighting.
In The Hallway
Track lighting is perfect for adding multiple lights to small areas such as hallways and corridors. Run a single track light strip along a hallway for a versatile lighting option. Lights can be individually directed at art work and decorative features to add a touch of welcoming accent lighting to the space.
How to install track light kits
Track lights are simple to install using the wiring from an existing ceiling fixture.  If you already have a single ceiling light fixture in your room, you can easily switch to track lights. The track also allows you to add multiple lights to a room without doing extra electrical work, making it perfect for room renovations. Track lights are easy to install in new areas or new homes. For safety reasons, Litecraft recommend hiring a professional electrician to install all track lighting. Leaving it to a professional means your lighting will be quickly and safely installed with no fuss.
Litecraft stock a range of halogen and LED track light packages for the home. To view the full range, click here. Alternatively if you want to see our track lights in the homes of customers, why not check out our Instagram?