For many of us it's important to stay current and on-trend. For some it's fashion, others want the latest gadget and there are those that like to keep their home-ware, lighting and accessories up to date, and that's what we're going to look at today. When it comes to lighting and interior trends, it all boils down to personal taste.
First of all, ask yourself, can I live comfortably in a home of this style? That's where trends are great, because they can be overlapped and combined to suit your individual tastes.  Take for instance the rustic reclaimed trend, this look can be paired with ornate and vintage lighting to create a rough luxe style interior. Scandi is another great style, mix with modern fittings, whilst minimalism works well with the copper metal trend. As with most trends, a lot will be recycled and come back round after a few years. Whilst others stay with us every year, such as the nautical trend.
So where is 2017 going to take us in lighting?
2017 looks to be an exciting year for homeowners, we're seeing a lot of adventurous lighting styles, some old some new. Here we give you a run-down of the top 5 interior lighting trends for the upcoming year:
nature Inspired;
industrial;
black & Gold;
oversized Lighting;
geometric Designs.
Nature Inspired
First of all, lets look at the nature inspired trend. To be one with nature is a must in our current technological climate. Earthy textures and tones create a warm and welcoming feeling. 2017 will see the return of earthy textures such as wicker and bamboo with cork being a newcomer.
How can this look affect your interiors?
Designs featuring natural wood grains and organic materials create a look that is comforting and homely. They heighten your senses, making you feel harmonious and calm.
Greenery as been announced as the colour of 2017 by Pantone. The perfect tone to collaborate with your nature inspired fittings. Cacti and succulents are a must for this trend too. Low maintenance but highly appealing. A beautiful partnership for this trend. Check out our wicker and bamboo ceiling lights here.
Industrial
A big hit for the last couple of years has been the industrial trend and it shows no signs of slowing down. We've firmly taken hold of this trend, adapting it to suit our own tastes. Homeowners have become braver and more adventurous with their home décor and it's really showing. Rustic diner pendants in bronze and copper finishes will suspend over breakfast bars and dining tables. Adjustable scissor and swing armed table and wall lamps will be a big hit for bedrooms and lounges. Exposed bulbs with filament wires will hang from stripped back industrial beams in loft conversions and apartments.
With this trend becoming more and more accessible on the high street it's moved from urban city centre apartments and taken root in rural and suburban estates. Our industrial range is getting bigger and bigger by the month, our in-house design team are filling our ranges with stunning rustic designs in vintage finishes. Head over to our website for a closer look.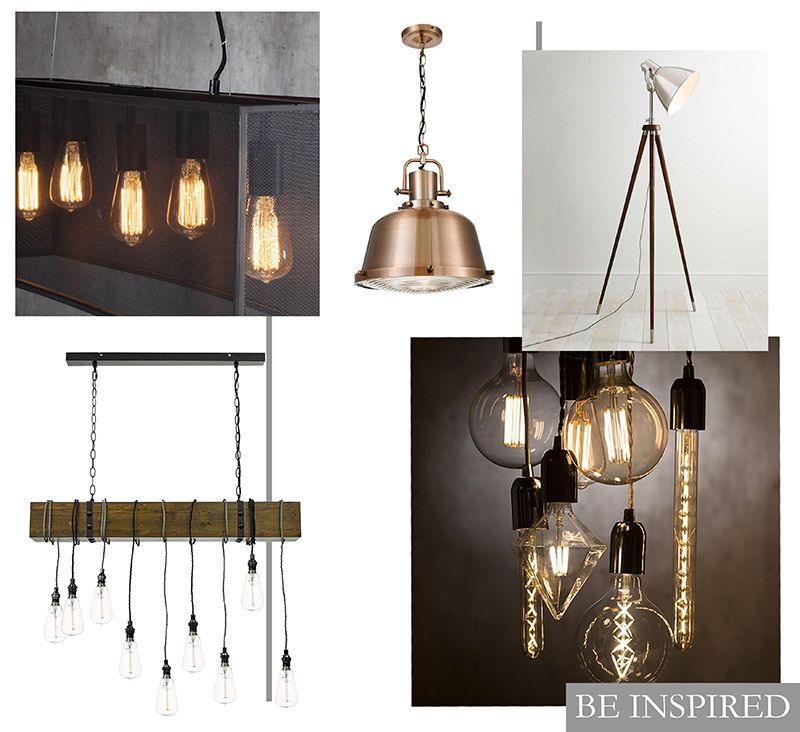 Black & Gold
The epitome of opulence, Black and Gold will give your home a sophisticated Art Deco vibe. Think The Great Gatsby. Bolder finishes will take centre stage in 2017 with Gold being a front runner. We're seeing more extravagant conversational pieces that will make a statement in your home. Metallic and mirrored accessories will compliment this trend, choosing reflective furniture will help bounce light around your room, giving extra light, the illusion of more space and ultimately create a warmer and more inviting ambience. Furthermore, this is a minimalist trend, so keep accessories to a minimum but choose pieces that exude flare and extravagance such as a large piece of artwork or a metallic framed mirror.
How to make this trend work in the living room?
When introducing this interior trend into your living room choose one gold statement piece then accessorise with black and metallic coffee and side tables. Our Bulla range showcases extravagant finishes and ice-breaking effervescent glass detail. Suspend central in your lounge. A striking black sofa in a crush velvet or suede will sit comfortably underneath.
How would your room benefit from this lighting trend?
Choose practical wall lights for evening reading sessions. Mirrored wall lights are ideal when applying makeup. Complete the look with an opulent black chandelier such as our Somerset or Marie Therese fittings. 2017 will see a lot more soft furnishings being introduced to the bedroom area. Therefore choose Scatter cushions, plump throws and hints of faux fur in black and gold tones to tie this trend together.
Can this trend be used in the Home Office?
Office chic is certainly going to be popular for 2017 and that means exciting Home Office spaces. We're seeing more creative ideas going into home offices. As a result, coloured task lamps, inspirational wall art and decorative filing systems are just a few of the accessories we'll be seeing in 2017. Task lighting is key for this room as directed light is paramount for a practical working space. Our selection of desk lamps offers a mixture of adjustable designs including flexi and swing arm as well as clip-on mechanisms.
Oversized Lighting Fixtures
Move away from convention with oversized lighting. It's clear from the previous trends that 2017 is going to be all about making a statement. Therefore, creating an impact with your lighting and accessories is key for your interiors as its shows character and personality. Oversized pendants create an instant focal point, drawing your eye to the centre of the room.
The increase in open plan living areas and studio apartments has opened the door for large scaled pieces. As a result, spacious interiors require lights and accessories to define certain areas, for instance define the kitchen area from the dining area with a large pendant over your dining table. Adding oversized captivating pieces also gives an almost sculptural artistic feeling, in addition setting your fixtures apart from your other accessories and giving them more appeal.
It's not just ceiling lights that have been blown out of proportion. Table and floor lamps have also received some magnifying treatment. Giant task lamps and parabolic styles serve as a fun and practical addition to a home and can be placed in pretty much every room in the house. We're also seeing a rise in oversized bulb style table lamps. These unusual and funky designs create a big impact and are a great talking point when entertaining guests.
Geometric Designs
The breakout star of 2016 was most definitely the geometric pattern. Again this is an impacting design and one that is proudly walking into 2017 with the help of some complimentary copper and the ever popular grey shade. Geometric is such a versatile design, it's no wonder we've all taken it under our wing. It can sit in pretty much any room and can be integrated in almost all home-ware accessories if you're after just a hint of the trend. Consequently, we're seeing this in a selection of accessories from artwork and cushion designs to lamp bases and plant vases.
Where can geometric design lights fit?
Scandi and minimalist interiors are great to combine with this trend. Most of all, keeping a muted palette that Scandi adopts will help this print stand out. When choosing lighting opt for sculptural accent lighting such as table lamps that have a geometric shaped base or for a quick interior makeover choose an easy fit shade that features a geometric print. Furthermore, spiro and gyro style pendant fittings work well incorporated into this interior trend.
In conclusion, whichever lighting trend you choose it's safe to say 2017 is looking exciting. What's your favourite interior style? Let us know in the comments section below.