Add Nautical Trend for Interiors and Exteriors
Nautical trend is a great way off creating a refreshing interior and exterior look that will let a beachy breeze in your home, even if it's nowhere near a coastline. In addition, seaside atmosphere reinvigorates our bodies and refreshes our minds. It's a must have summer trend for every home. Consequently, it can be styled in many different ways to suit everyone's taste. From soft greys and tranquil blues combined with light driftwood to bright red, white and blue mixed in with rustic metalwork and obvious seaside motifs. All you have to do is pick your favourite. We have created 3 interiors looks inspired by the nautical trend to bring a refreshing nautical breeze into your home and it's exterior.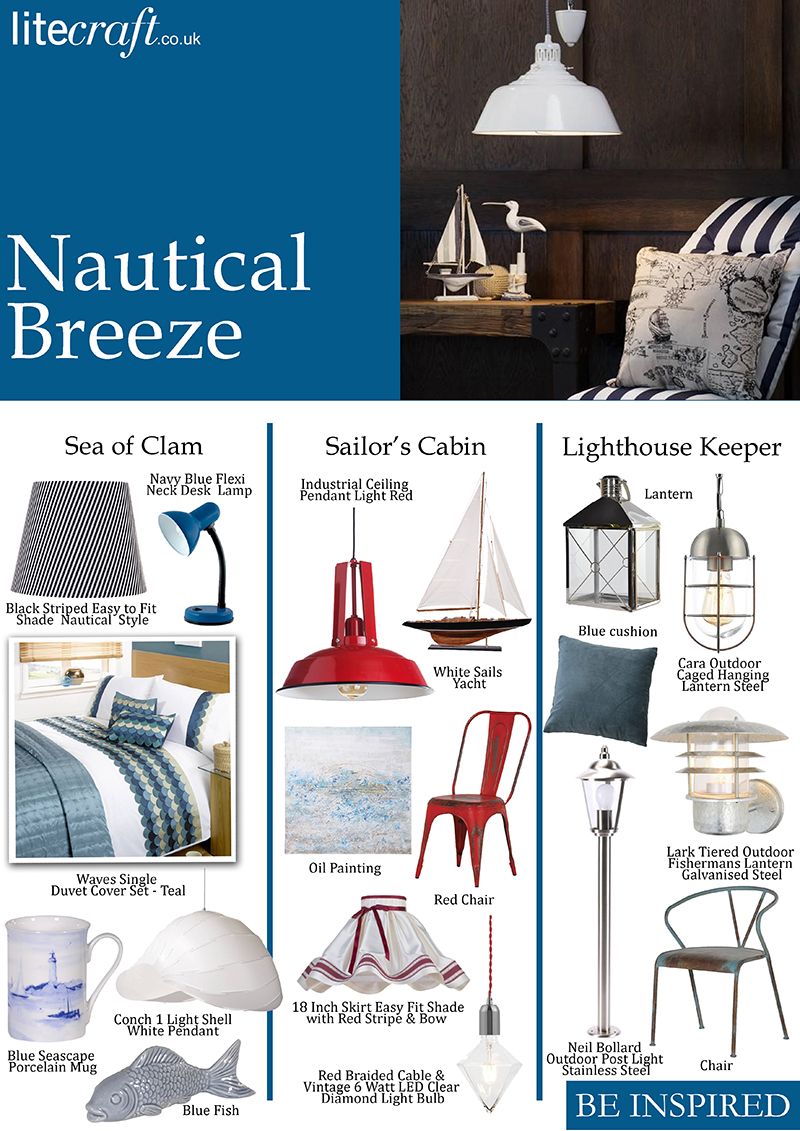 Blue is the colour of the sky and sea. It's calm and relaxing features are considered to be beneficial for body and mind. It's the perfect colour for a restful bedroom. Choose white as your base colour and add shades of blue to create a nautical look in your bedroom
Duvet Set
Recreate the nautical trend by adding hints of seaside inspired accessories and integrating maritime motifs in furnishings. Moreover, our Waves Duvet Set features wondrous teal blue and cream fabric panels that resemble continuous waves. Add a blue throw of different texture for a contrasting look.
Table Lamps and Wall Lights
Go for airy seaside inspired designs when choosing the main light fixtures. For accent lighting, such as table lamps and wall lights, the traditional nautical stripes and navy blues will fit in beautifully. In addition, our limited edition Conch Shell Pendant is a definite winner when it comes to choosing a light fitting for nautical trend inspired interiors. It's light and airy design inspired by seashells will bring a salty air and sandy toes feeling into any bedroom.
Create a stunning nautical trend inspired dining room that will leave your dinner guest breathless. Punchy lighthouse reds and neutral whites will create an eye catching contrast. Further more, Industrial designs combined with nautical elements and weathered finishes will create a striking look.
LED Bulbs
Industrial lighting will look spectacular. Our Industrial ceiling Pendant finished in bold red will add a pop of colour and style to the whole room. For a more unconventional look choose exposed bulbs that will create a focal point above a dining table. Our new range of Decorative LED Filament Bulbs is an energy efficient way of setting the mood in your dining room. These trendy bulbs are fully dimmable allowing you to create the perfect dinner ambience. Pair them with a Decorative Light Cable for the ultimate nautical look. Add seaside accessories and maritime inspired artwork to finish this look.
Exteriors
Don't forget about your outdoor spaces when it comes the nautical trend. In addition recreate the beach hut look by adding steel lighting and nautical exteriors garden furniture. For smaller gardens and balconies choose wall lights and lanterns to create a cosy spot for late night star gazing. Further more weathered chairs and comfy blue cushions will create a contrasting look.
For larger gardens and driveways go for outdoor pendant lights and post lights that will give off more ambient light and make your exteriors space feel cosy and safe. Nautical trend is the way to go when it comes to transforming your outdoor space into the perfect spot to enjoy the calm summer nights after those hectic days in work.
We hope this has inspired you to add that bit of nautical breeze to your interiors and exteriors. Take a look at our Nautical Breeze Pinterest Board in case you need some more ideas.