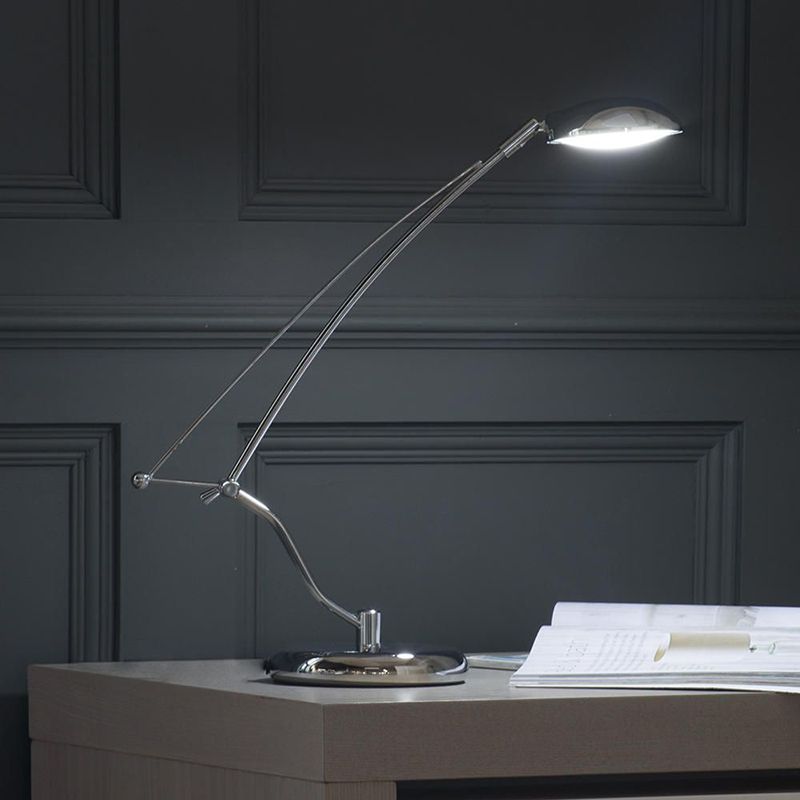 Workplace Rule 1: The main lighting rules for your workplace
Workplace is somewhere you will spend a lot of your time during the week. So it is an environment that you must be sure to design in a way which is suitable for the task. Also comfortable to spend extended periods within. Bringing the right style of light into your office is an important step in producing an area that will maximise productivity. Whilst also ensuring that you feel comfortable and unrestricted in the process. There are many different light fittings to consider for the workplace. So this article looks to give you a few helpful pointers to guide you towards a truly wonderful working environment!
Workplace Rule 2: Which styles of lighting are best suited to the workplace
Now, the area that you work in tends to be very interchangeable, so it is unlikely that you'll be able to make any major changes such as tearing out the ceiling lights and having your own choice of fitting installed. This means you'll need to look towards a more portable, plug in style of light. This is opposed to a hard wired fitting, but this won't limit your options at all. With a huge range available. Desk lamps are an excellent way to give a focused and direct style of light to a localised area. Thus giving you a clearer view that will help you to concentrate on the task at hand. You can also utilise floor lamps for a wider spread, but less focused style of light. Therefore creating a more comforting and pleasant atmosphere within your office or work space.
Litecraft top lighting picks
Here at Litecraft, we have a wide selection of lights that are perfect for use in a workplace environment. There is sure to be something to suit your office's themes and décor. Here are our top suggestions when it comes to illumination an office space:
Alpha Poise LED Task Lamp – Black: This sleek modern piece is perfect for giving a practical style of light inside of your desk. The lamp has 3 different lighting modes, providing a versatile and purposeful form of lighting to the area it is directed to. With an adjustable arm with multiple pivots, you are able to manipulate this light to give the perfect style of illumination for your workspace;
Mother and Child 2 Light Floor Lamp with Bulbs - Titanium: For a more rounded and effective style of light in your office, this fantastic 2 light floor lamp is an ideal choice, with each light offering a contrasting style of illumination to the room for a more complete lighting theme. The lamp has an uplighter, which offers a softer wash of light across the room, alongside an adjustable task light which gives a more focused and purposeful form of illumination to the interior.
Workplace Rule 3:Extra lighting tips
One of the main rules to keep in mind is that you need a lighting theme. This is done to makes you feel comfortable. This will also provide a useful and practical form of illumination. Therefore to help you complete tasks and activities in a more efficient and productive manner. To bring a little bit of a natural theme to your office, try facing your desk towards a window. This will help to make the room feel much bigger and less confined. This allows for more creativity and imagination. Leading to a more inspired period of work. The colour temperature of the lights is also an important rule to consider. You will need a cool glow for brighter and clearer shine in your task lighting. However a softer and more soothing glow is better suited to your ambient accent lighting.
Litecraft offers a brilliant range of office lights for use in your workplace. Along with all the guidance and help you need along the way. Thus done with our friendly staff available for a chat either in store, on the phone, or via live chat so be sure to get in touch today!
For more guides and articles, head over to our dedicated blog page where we are constantly bringing you the latest trends and news from the lighting world, or to start shopping with us you can simply browse out online catalogue or visit us in one of our UK locations for a first hand look!
Check out our Instagram page for more inspiration on office lighting.