Towards the end of 2017 the use of dark interiors really started to take hold. With the popularity of industrial design soaring over the last few years it's no wonder we're moving over to the dark side. A major factor when it comes to dark interiors, especially in the kitchen is that you'll still require a light source. Particularly in the kitchen, you should install a practical lighting scheme as well as a decorative scheme for ambience and atmosphere. This blog looks at the best lighting tips to compliment a dark style kitchen interior.
Pendant Lights for a Dark Kitchen interior
Ceiling lights are a must in the kitchen. Pendants are ideal for over Kitchen Island and breakfast bars whilst recessed lighting should be used over practical areas. Track lighting with adjustable heads are great over work stations such as the preparation area and sink area as they can give a direct and fixed pool of light onto a specific surface. Litecraft recommend an industrial pendant with a rustic bronze, brass or copper finish to compliment the dark interior. Placing two or three together over your kitchen island or breakfast bar is one of many great tips. See our 3 top pendant picks below:
Retro Style Dish 3 Light Industrial Ceiling Pendant — Our new industrial Retro Pendant is the ideal choice for a dark and urban kitchen. The shallow dish shade gives a subdued illumination which will add to the dark and moody style of the kitchen. Hang low over a kitchen surface for a focused pool of light.
Lighthouse Style Copper Pendant — Copper is a great finish to add to a dark kitchen interior, the warm tone adds a warm ambience which in turn creates a welcoming and cosy atmosphere whilst the orange contrast adds depth and character. Our Lighthouse Pendant also boasts an industrial fisherman accent. One of many great tips is, hang two or three over a breakfast bar for a statement piece.
Orbital Pendant in Rust — Rust metal finishes are the epitome of industrial design, so our third pendant top pick had to be a pendant from our new Heritage Range. Our Orbital Pendant in Rust is a daring piece only for the brave. Perfect for those adventurous souls and who are lovers of all things dark, rustic and industrial. This is a larger than life piece, so install above a large kitchen island for optimum effect.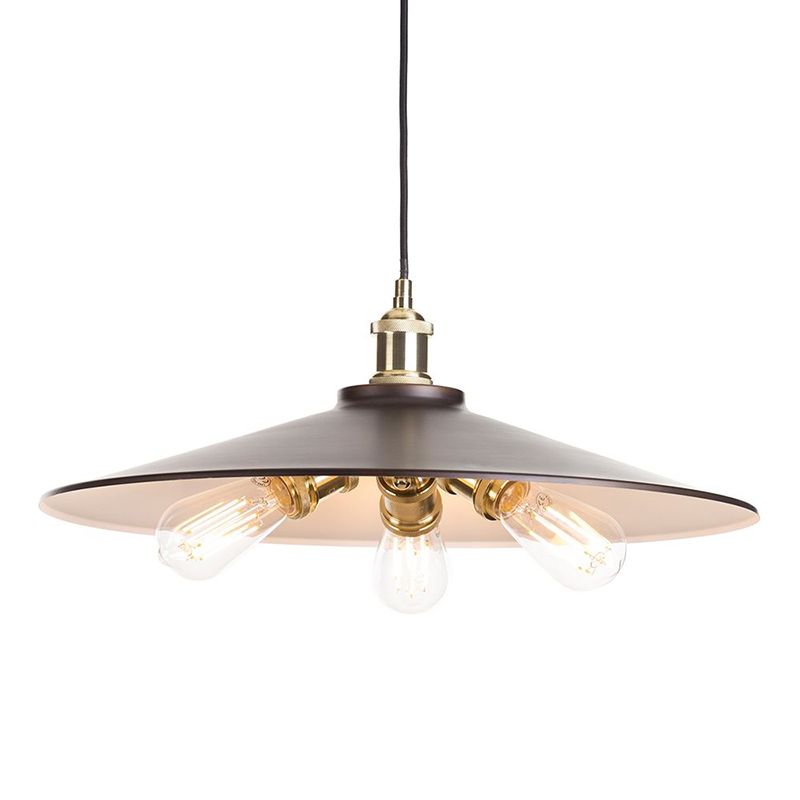 Recessed Lights for a Dark Kitchen interior
Practicality and safety is key when it comes to lighting a kitchen area. Certain areas need a fixed pool of lighting for chopping, cooking and washing food. Recessed spotlights offer a slimline lighting source that can be adjusted or fixed to direct a specific pool of illumination. Install these over the busiest surfaces in your kitchen. Recessed lighting can work well amongst kitchen pendants and chandeliers. Here are our top picks for recessed spotlights for a dark kitchen interior:
Brass Square Fixed Recessed Down-lights — Adding hints of warm brass to a dark kitchen interior will give a regal tone as well as depth and contrast. Black, Navy and brass is a popular palette we're going to see a lot more of this year. Our pack of 3 Brass square recessed down-lights will give a contemporary ambient light to the kitchen whilst also offering a practical illumination for kitchen surfaces.
Heka Twin Rounded Black Aluminium Down Lights — In keeping with the dark tone is our Black and Aluminium Rounded Heka Recessed spotlights. These slimline down lighters offer a discreet yet impactful pool of light. Install alongside a pendant or chandelier for an ambient lighting scheme.
Chandeliers for a Dark Kitchen interior
For a classic twist to your dark style Kitchen interior, opt for a large armed chandelier. Litecraft offer a large collection of black bronze and brass chandeliers, ideal for vaulted ceilings too. Here's our top picks for chandeliers for a dark kitchen interior:
Somerset 8 Light Chandelier — Elegance meets industrial charm with this 8 armed delight. Black finished metal arms entwine to create this beautiful chandelier. A great focal point suspended central in the kitchen. Our Somerset range is also available in two smaller sized fittings, ideal for smaller and low ceiling rooms.
Wineglass Chandelier 3 Tier in Black — Chandeliers add focus and an air of statement to any room in the home. But when installed in an unusual place such as the Kitchen, the level of statement will go through the rough. A bold elaborate choice would be our Wineglass 3 Tier Chandelier in Black. This adventurous fitting features 3 Tiers of black metal with 28 clear 12oz wineglasses placed around each tier. When lit each wineglass creates a sparkling light display. Give this fitting the statement it deserves by installing it centrally in the kitchen area or above a large kitchen island.
Shop for lighting for a dark kitchen interior on our Litecraft website or head to one of our 6 UK stores to see our beautiful lights first hand. For guidance chat to a member the Litecraft team in store or via our online live chat. For more inspiration check out our latest Dark style Kitchen Lighting board over on Pinterest. We hope these great lighting tips will help with your new lighting schemes.