Just like the cherry blossoms and daffodils, bright colours and bold prints are popping up everywhere this spring. Exuberant hues are great for adding a touch of interest to your room and create a fresh look. So if you're about to take on the big spring clean and refresh your interiors here's some inspiration on how to invite colour into your home.
Home decor and accessories are a great way of adding colour to your home without having to fully redecorate. Whether you're mixing different colours or simply various hues of the same shade, just few decor elements such as a colourful light shade or a printed cushion can make a difference.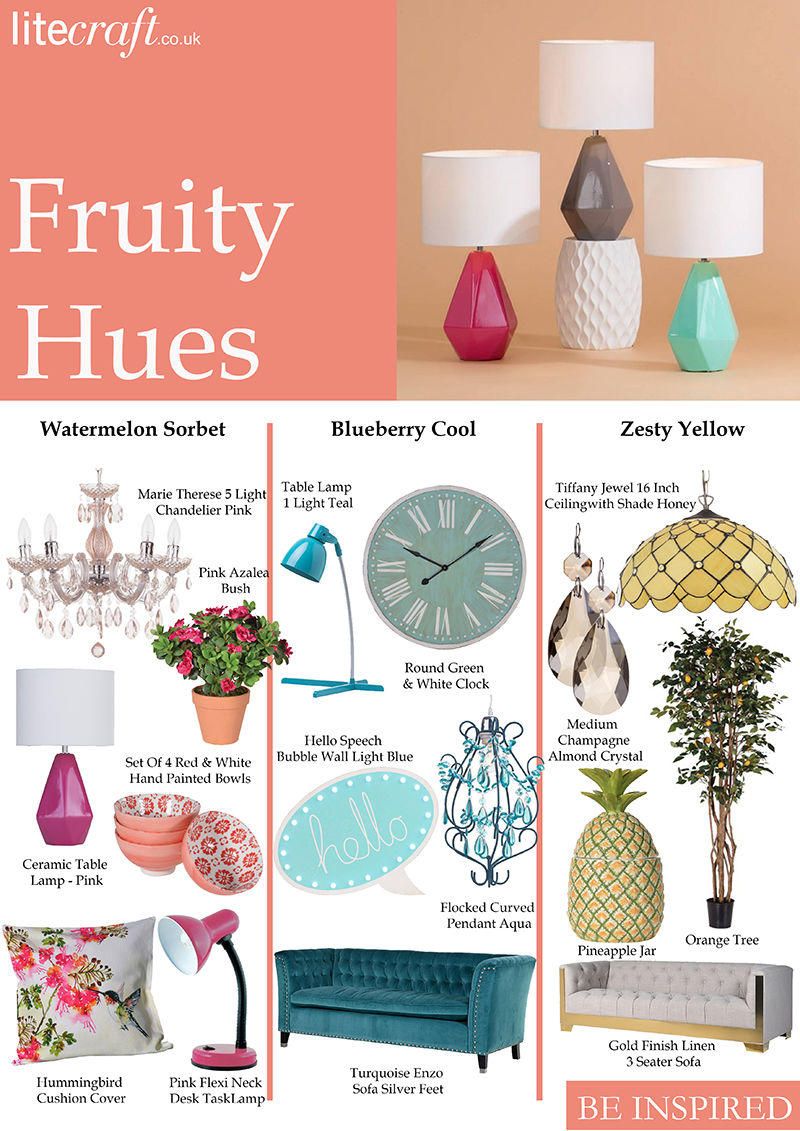 Watermelon Sorbet
We can't get enough of pink this spring, it's just such a fun shade to integrate into your home decor. Make you interiors look vibrant and welcoming by adding splashes of pink. Combine the bright pink accents with more neutral tones, like soft creams and greys for an energetic look that's not too overpowering.
Our Ceramic Table Lamp in Pink has a contemporary design that will brighten up your living space. It features a white fabric drum shade and a geometrical ceramic base in bright pink finish for a modern look.
Create a strong focal point with a vibrant ceiling light. Our Marie Therese 5 Light Chandelier in Pink has a stunning design that would look amazing above a dining table. Decorated with crystal effect acrylic droplets this light fixture will add charm and elegance to the whole room.
Complete this fun and trendy look by adding bright cushions with vivid prints as well as plant pots or fresh flowers.
Blueberry Cool
Blue is the go to colour when you want to make your interiors pop and create a tranquil & relaxing atmosphere at the same time. Blue symbolises stability and depth, it's considered to be beneficial for human body and mind… and it's simply a fab looking colour to have in your home.
Choose statement furniture pieces to create a strong focal point in your living room. An elegant turquoise sofa or an arm chair will look gorgeous in a neutral coloured room, or if you're a bit more daring why not go for a trendy feature wall in blue?
Our Flocked Pendant in Aqua will definitely take a centre stage in a Blueberry Cool inspired interior. Decorated with aqua blue crystal droplets it will add a pop of colour and interest to the whole room.
Accent lights are great not only for adding extra ambience, but also can serve as a decor element. Choose a practical desk light or a decorative wall light in blue. Our latest addition to our decorative wall light range is this swanky Hello Wall Light in Blue. Featuring 23 integrated LEDs this trendy wall art will definitely light up your interiors and add some fresh hues to the room.
Zesty Yellow
Bring some sunny tones into your home this spring by adding yellow lighting and home decor, this will create a warm and welcoming atmosphere and make you forget about the cold April showers.
Inspired by the stunning stained glass artworks of Louis Comfort Tiffany, we introduced two extensive new lighting ranges at the end last year. Our Tiffany Honey Lighting Range will fill your home with charm and warm ambience. Featuring honey coloured glass carefully pieced together and decorated with iridescent glass beads, these light fixtures are a true reflection of luxury and craftsmanship.
If you prefer something more contemporary and sparkling, you can easily transform the look of your room simply by swapping the clear crystals on your chandelier with some striking coloured ones. Our Champagne Coloured Almond Crystals are available in 3 different sizes to allow you to create a unique look.
For a truly zesty feel why not get a real orange or lemon tree. This will finish the sunny look and fill your room with refreshing citrus aroma.
What's your favourite fruity hue this spring?
For more design inspo head over to out Fruity Hues Pinterest Board.