Be inspired : Decorating Ideas for a Rented Home
When you're renting, you might sometimes feel like your decorating options are limited; you're bursting with creativity but feel like your hands are tied. Life doesn't have to be all 'cream & beige'; you can make your house a home with some easy, affordable decorating tips.
Lighting
One of the most important features in a home is lighting, it can help set the mood and atmosphere of a home at the flick of a switch. In rented properties the options for ceiling lighting can sometimes be limited, some properties will already contain fittings which may not be to your taste, others will have basic spotlights with little imagination, but most will have a single light bulb having from a cord.
Shades and Easy Fits
If you're lucky enough to have the latter then there are some great easy fit and non electrical options available at most home-ware stores, these types of fittings are easy to assemble, they simply attach around your existing light bulb, they can create a focal statement and will leave no marks or wires on the ceilings. Crystal easy fits are great at bouncing light around the room whereas shades will diffuse the light for a moody glow.
Table and Floor Lamps
Try to avoid using a single light source, this can sometimes be too harsh, instead add extra task lighting such as table and floor lamps around the room, this will create separate pools of light giving an overall subdued effect, this is known as layering. Floor lamps are great for lighting up forgotten corners or arched over a reading area, table lamps are great for creating light at eye level.
Walls
With most rented properties you can be faced with one of two situations, if you're lucky and your landlord is a property developer, someone who owns a few properties and works with reputable estate agents you will more than likely be greeted with a neutral palette, plain cream walls, subtle coloured carpets and white ceilings. If you're renting privately, a blank canvas isn't always optional, you might have to endure the past owners taste in décor, so be prepared to spend a year or two sat in-front of a dramatic floral wallpapered chimney breast, unsightly patterned carpets and faded kitchen cupboards. Fear not, with these little tips you'll be able to inject your own personality into your new home.
Wall Canvas Art
If you're a dab hand with DIY then get your creative juices flowing and spruce up your walls with some canvas wall art. It's such an easy way to create a feature wall for your room, all you need is some fabric or wallpaper, a cheap canvas and a staple gun, you'll find these at most stationary shops. We recommend using fabric as this can be stretched without tearing but if you have your heart set on a particular wallpaper design then just remember to be gentle when pulling over the canvas. You can find a wide variety of fabrics in art and textile shops but if you're on a budget have a look in your local second hand shop for ex display stocks of linen or for a vintage feel root through the racks at your local charity shops. Choose what size canvas you want depending on your desired wall space, larger sizes work well above fireplaces, on larger walls or for a dramatic effect hang a canvas from your ceiling above your bed. Smaller sizes are great for filling small awkward spaces, together with photo frames or simply sat on a shelf with complimenting ornaments.
Tip: When making your canvas it's best to pull the fabric tight over the canvas and staple all the corners first.
Photo frames and Pictures
If you're not really a 'do-it-yourself' kind of person then simply purchase some artwork of your choice, for a relaxed vibe rest some artwork on a shelf with other ornaments, this will create a mini focal point in the room and can be swapped and changed about as the seasons change. For a bigger statement choose a feature wall and compile a selection of your favourite photos together in an assortment of sizes, add some mirrors and clocks for an eclectic feel. Remember if you're hammering a lot of nails into the walls be prepared to fill these up before you leave the property. If your aim is to cover up wallpaper then maybe choose a large framed mirror, more substantial mirrors can be positioned leaning against a main wall for an artier vibe.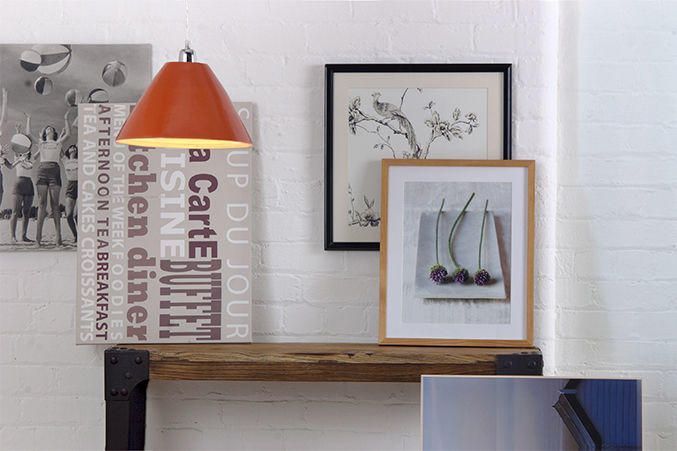 Soft Furnishings
Soft Furnishings are the best for injecting a pop of colour, choose vibrant blinds complimented with colourful throws and cushions, a rug is always a great accessory to cover up any distasteful carpets or flooring. Bring your favourite colour into the room through bed linen and throws, white or cream walls are great as they go with any colour, if you're stuck with coloured walls then choose accessories that compliment the wall, make the most of the colour. If you have a rug or a piece of vintage textile you can always hang this on the wall, this style of wall covering is ideal behind the bed acting as a  funky bed head or on a long feature wall in dining rooms and lounges.
Outdoor Lighting
Don't spend money on expensive outdoor lighting, solar stick lights are affordable and energy efficient, plus you can take them with you when you leave. Position them along pathways for a welcoming glow to visitors or place in shrubbery to create spots of subtle light around the garden. This type of lighting requires no mains power and works solely from daylight, it's easy to install them too and needs little maintenance.
"What are your tips for making a rented property feel like home? Share yours in the comments below"